Best Muscle Cars
Dodge Challenger Hellcat Redeye Hearse!
By
|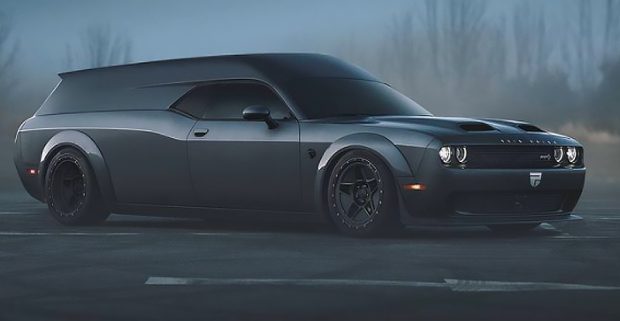 By Dave Ashton
We have come across many renderings of muscle cars in our time. Some of these being more realistic and viable than others. In this case, the rendering of a Dodge Challenger Hellcat Redeye Hearse by 'rainprisk' is one of those examples where the old synapses fire and say, 'yeah, that could work.'
The quality of the image is the start point. Time and effort has obviously gone into making the image look as realistic as possible, with excellent color grading and attention to detail. The roof line and extended body seamlessly match the front of the car, covered in what looks to us like a very dark slate grey. Rather than what could have been a more obvious jet black paint job. Plus, the wide-body look, just like on the roadgoing versions, nicely finishes off the whole design.
One of the initial things to pick up on with the design is the lack of a windows in the rear of the vehicle. At first the lack of window seems like an obvious omission. But on closer inspection, The roofline slopes down towards the back of the car, as with the extended line from the top of the side window. This would have made adding rear side windows look very squished together. Maybe it's an idea they tried before settling on the final design.
One other point is that the roofline which has been raised up by a foot or so, doesn't detract from the overall muscle car aesthetic. This shows that it's the front design of the car that provides muscle car credibility, not necessarily the typical very low roofline.
Nitpicking aside, we hope this design has given some carmaker out there food for thought for their next possible project. We were thinking this design could easily be turned into a work van of some sorts. The lack of rear side doors maybe a bit of a hindrance, but turning up to a job in an elongated Dodge Hellcat widebody is sure to get continuous bookings.
View this post on Instagram
Donate To Fast Muscle Car
We spend a lot of time bringing you muscle car content. If you would like to donate something to help us keep going, that would be fantastic.