Muscle Cars
Car Talk: Would You Choose A Saleen Over Another Ford?
By
|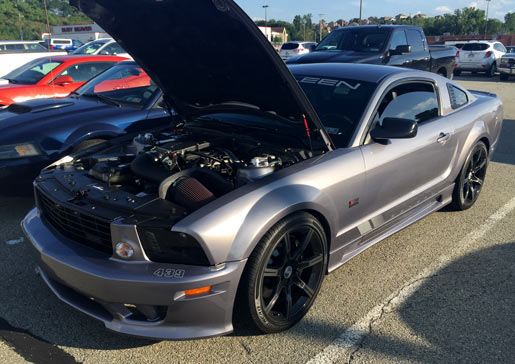 By Mark Weisseg
Jumping cat fish, I saw this at a show recently and it got me thinking. We have Roush out there as well as Shelby but with Saleen's issues of late, do they matter?
This Mustang was beautiful. Supercharged with high tech loud exhaust pipes as it rumbled in. After the dust settled, I walked over to get a good look at it. The car was well maintained and the owner was full of pride. But, with Saleen done at Ford, does this car make sense? I mean does this car have future value? Will buyers in the future want these cars over a Shelby? Will they care?
I am on the fence on this one as I love all Mustangs except maybe the Mustang II era. But, the owners of these Saleens are very tight. They are loyal and love the car. But will it be just another Stang or will future buyers crave these?
I brought my Shelby to the show and just watched as people came up to it and checked her out. Yes, it is a bad ass car but I did not open my hood. If I had they would have seen a supercharged 5.8 liter engine. They the spectators would have no idea that a chip was installed to make my Shelby a street monster. But, back to the Saleen, the car sat in the sunshine looked great. No better or worse than mine. And that is what got my gears in my brain to turn. Will anybody care say in fifteen or twenty years that the gray or silver one was a Saleen car? I guess I will find out if I live long enough.
Mustangs are everywhere now. The big seller was the Boss 302 up until the latest Mustang arrived this year. Any car show you attend is full of Mustangs, Camaros, and now Challengers. The planet is over loaded with these three makes. So, in the future with so many available does it matter if you have a Saleen, a Shelby from Ford Motor Company or just the run of the mill cool 5.0?
Sales figures always climb when the numbers are small and the availability is low. But with the big three they are making hay while the sun shines and that may hurt us regular folk somewhere down the line. Your thoughts?
More Muscle Cars For Sale – http://fastmusclecar.com/muscle-car-for-sale/
Donate To Fast Muscle Car
We spend a lot of time bringing you muscle car content. If you would like to donate something to help us keep going, that would be fantastic.
Car Talk: Would You Choose A Saleen Over Another Ford?

,