Muscle Cars
My Car Restoration Update
By
|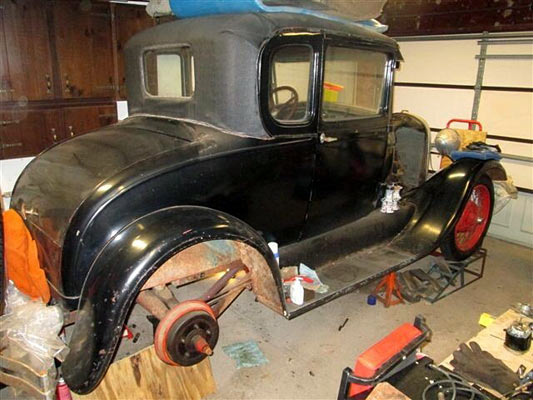 By Mark Weisseg
I wrote an article a few months ago about my 1928 Ford Model A. When I bought it the car ran and stopped but I knew it was going to take more to make it right.
Many provided there opinions that I should drop a big engine in it, update the brakes and make it a big time hot rod. That seems to be the "in" thing to do these days. Others advised me to rat rod it and make it a wild crazy machine while the last group said leave it alone.
Well, as mentioned once before my older brother restores my cars and trucks. He asked me what I wanted and I told him my vision. Well, just last week the town in which he lives did a newspaper article (again) on his tasks. It's a great article but has a few mistakes because the newspaper did not bother to fact check a few items. But, overall the article hits the right buttons.
Here is what he has accomplished thus far. All four wheels ( brakes) are completely redone. All the wiring is being replaced and done in a professional way. Someone else did the wiring a long time ago and really hacked it up.
It's amazing the darn thing did not catch on fire or just quit running. He spent hours chiseling mud, grease and petrified dirt from the underside. The car sat for 25 years so a lot of items just stuck to the car. He has lost count on how many times he has power washed this cars underside. He redid the upholstery on the seat and tore out some terrible 30 year old upholstery that covered nearly everything in the interior. It smelled like old carpet that a dog made its own. He has had to add back the old horn that came with the car as it quit working. So, he rebuilt that horn and took off a terrible vacuum operated wolf whistle horn someone put on top of the manifold. The glass is original and in good shape. The body is solid and there is no rust through. I bought five new tires for the car and need to make a few more decisions like should he install a wiper motor and blade. Someone took it off somewhere along the line. The windshield still pops put like it should and he rewired the rear stop light to make it original. With all that said I have bad news.
This is the last restoration that I will give him or he will do I guess. I am tired of buying these projects and he is tired of rebuilding them. Afterall, we are not young guys anymore. Hence, I bought a 2013 Mustang Shelby Cobra GT 500 the other day. He wants to golf more and rest his tired body and now that I have built my car collection I want to start to drive them, stare at them and quit spending tons of money. But, if you desire his expertise he is more than willing to answer your questions or provide you an opinion. For now, you can reach him through me here. But, he is in the final stages of finishing this car and I will give you one more update after he and I both drive it and enjoy it.
More Muscle Cars For Sale – http://fastmusclecar.com/muscle-car-for-sale/
Donate To Fast Muscle Car
We spend a lot of time bringing you muscle car content. If you would like to donate something to help us keep going, that would be fantastic.