Readers Rides
Car Pickers: Have We Picked Too Much?
By
|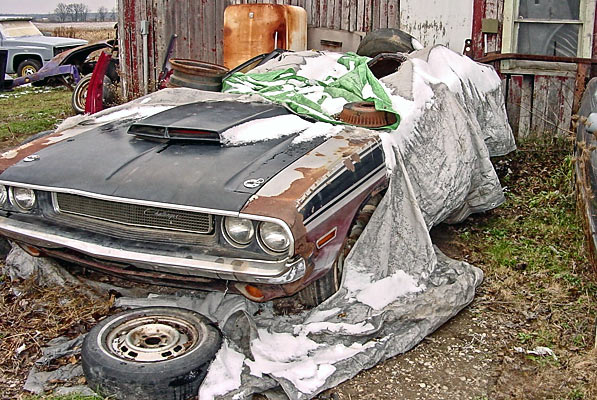 By Mark Weisseg
Remember when the popular TV show American Pickers came on several years ago? We all saw these two guys go into barns and garages and find rare signs, antiques, unusual stuff, and of course old cars.
We would sit in awe of what other people have collected and better yet, what they would sell the stuff for.
I cannot prove it but it seems that since shows like this came on board, prices of these items have really gone up.
Cruise Craigslist or EBay and look at what older classic cars now go for.
For example, I just saw a 1929 Ford AA truck that was dragged into the sunshine for the first time in 60 years. Rough would be the term I could think of in that the engine and transmission is a big unknown. The tires are rotted off, the interior was dinner for mice and other rodents years ago and the body was fair. The asking price- $ 7,000.00. Now I may not be a Harvard Professor, but holy smokes this seems like a lot of money for something that needs to be completely restored from the ground up.
I saw the 69 Plymouth Satelite that Ma or Pa stuck in the garage about 1979 and it sat with piles of junk for years. Someone dragged it out of the garage, stuck a for sale sign of $9,000.00 or best offer on it.
Now take it one level up to the auto auctions on TV all year. Have we gone mad? Occasionally I will see a 83 Caddy for five grand go down the shoot but when the 69 GTO or the 70 Chevelle rolls up the bidders go wild and the prices paid plus the fees could pay for my kids College career. My gosh, I love classic cars more than… Well you know but $130,000 for a Superbird with a 440 engine? And the seller refuses as he has a reserve of 150K! Lord have mercy. For the sake of the hobby I hope the bubble bursts and bursts soon. If not, this hobby will eliminate us regular guys and be for the wealthy only. Do we want our hobby to turn into the fine wine clubs, or the high end art snobs? I mean, these are cars we drove without any thought that 30 plus years later someone would pay 25K for a Dodge Duster?
The only way we can fix this is if it is an inside job. No, not a watergate or other such situation. We must stop this madness and refuse to pay such out of the world prices. I know you always wanted a classic car but I hope you understand the mountain you have in front of you. I beg of you to stop and think about the time, the effort, and the endless money you will need to throw at your new used 40 year old classic. Now I am not implying not to buy your dream car but please be careful and think it through. Take a deep breath, take a friend who might be the other side of your brain, but don't leap into the deep end of the pool before you know what you are in for. The web sites are full of half done classics and there is a very good reason for it.
In the meantime, enjoy the holidays and start the new year by watching the rich and famous buy the toys you and I only wish we could own.
More Muscle Cars For Sale – http://fastmusclecar.com/muscle-car-for-sale/
Donate To Fast Muscle Car
We spend a lot of time bringing you muscle car content. If you would like to donate something to help us keep going, that would be fantastic.
Car Pickers: Have We Picked Too Much?

,