Muscle Car
Bar Talk: The Fun Of Re-building An Engine
By
|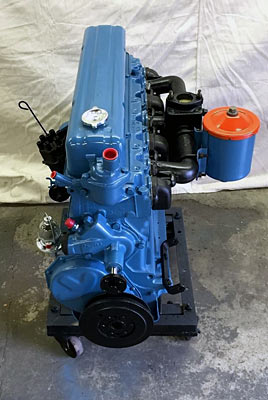 By Mark Weisseg
For many years I tore engines down to the block, rebuilt the parts and put it all back together. All kinds of engines. I loved the tear down process and even the cleaning of the parts.
Today, we will look at the wonderful process of tearing down an engine, then rebuilding to make it run like clockwork.
One key element is simply taking your time. I watched rookies take out a camshaft or put one back as fast as they could. The only way to do this is very, very slowly. Coming out, go very slow and do not bang it on anything coming out. When putting a cam back in, lube the lobes in the proper lubricant and I mean lube it a lot. The more the better going in. Go very slow until you get that gear on the cam all the way back to match up with the distributor. Guys have a tendency to rush a rebuild and this is where it could go all wrong.
I still use Zinc in my break in oil because the engines are the same but the oils are not. We have seen guys rebuild engines and in less than a minute lose them to a rapping or knocking sound. Go slow, lube everything. Don't just put hydraulic lifters in a can of oil over night. That is not the right way to lube a hydraulic lifter. If those lifters don't get proper lubrication you will know very quickly you did something wrong.
Another no no is let the engine idle for a couple of minutes which gives them the green light to start revving the engine. No. Let her idle and get good and hot. It's your chance to check for leaks anywhere and watch the thermostat open. Once you get some miles behind you on the road, change the oil and filter again. I would still use a little bit of zinc additive in the oil. It won't hurt anything but, it will be an extra insurance policy for your oil.
The straight six from Chevy featured here, is a blessing. They can be a great engine to practice a rebuild. They will run forever if you do the basic maintenance on them. Remember the distributor moves and has lubricate in it so do not be alarmed if the entire distributor moves a bit. You can adjust the valves by taking off the valve cover and please follow the instructions. None of this, I will do it by ear thing. In the old days some people would use toilet paper in the oil filter canister. Go buy the correct paper element. Toilet paper is made to…. You know.
These engines had a simple one barrel carb. that is easily adjustable. Older models had Manual chokes and manual throttles but into the 1960's the GM folks built in a electronic choke so you were off the hook. Five Quarts of oil, a good paper element, six good spark plugs, adjust the points, throw in a new condenser while the cap is off and this engine will purr for years.
Keep the maintenance up my friends and practice, you know it makes perfect.
More Muscle Cars For Sale – http://fastmusclecar.com/muscle-car-for-sale/
Donate To Fast Muscle Car
We spend a lot of time bringing you muscle car content. If you would like to donate something to help us keep going, that would be fantastic.
Bar Talk: The Fun Of Re-building An Engine

,