Muscle Car
Bar Talk: Fantastic Old Car Inventions
By
|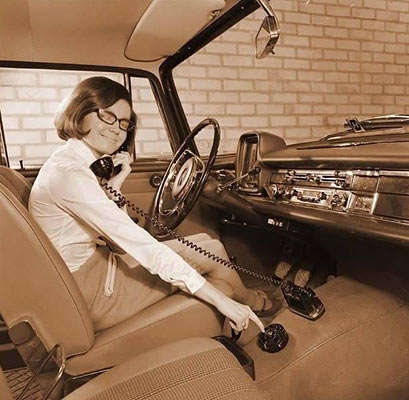 By Mark Weisseg
I dig the photo of the woman using some sort of car phone from the bygone era. It reminds me of those inventions that come and go in cars, which we will never see again.
A couple of things really stood out in this picture other than the dial pad on the floor. One, look at that dashboard. Isn't it the coolest dash you have seen in a while? I look at the dashboards of the old cars and honestly they were artwork. Chrome buttons, levers, switches, knobs for things, sliding levers, lights on everything and so on.
Most of the dash boards labeled everything as well so you knew where the wiper switch was. Today, it's anybody's guess. I have one of those cars today that the wipers come on as needed. It's maddening at times but, that's how its done now.
The dash boards of the old cars were solid as a rock too. Bang your noodle off of one of these and you either were knocked out cold, killed, or had a lump the size of a watermelon for days. No air bags, cushions, or seat belts at times. Remember sitting on the huge bench seats and Dad would swing the beast around a corner too fast and everyone would slide to one side? The turn signal indicator noise was huge. How anyone driving could not hear what sounds like the Bells of St Mary's is beyond me but back then like today some boob would drive 20 miles with the blinker on.
The old AM radio. They looked confusing but all they did was turn on and off and you manually had to search for a good station once in a while. Today's cars have so many buttons and controls for a radio I feel I am programming a space shuttle.
Two speed wipers. Either so fast you thought they would unhinge themselves and land on the car next to you or go so slow, it was like Chinese water torture. The glove boxes were like suitcases. We used to store maps, flashlights, napkins, ketchup bags, shoes, a 19 inch TV, and all of Dad's suits and jackets in that black hole. As a small child you could climb in. Today, you are lucky if the 400 page owners manual fits.
My 69 automobiles owners manual I think is about 15 pages. Today, they devote more than that on how to put a seat belt on. Remember, the giant steering wheels and horns? Our family car sounded like a barge coming near a fog at the stroke of midnight. Today's cars sound like you stepped on a mouse. The rear view mirror usually was so large that if you turned it on its side you could get a full body shot of yourself and back in the day there was no little manual switch for someone behind you with bright lights on.
The new cars today have about eight buttons on the mirror and yet it claims to do all the important stuff automatically. Then, it makes me afraid to touch any of the buttons for fear I will eject the passenger or something worse. The sun visors were so big on these cars that when you flipped them down it was like you closed the curtains in your living room. Total darkness.
Remember ash trays in cars? They even had ash trays in the arm rests and for the smokers in the back seat. Everyone, smoked hard because we could manually open a floor vent and bring in cool fresh air from the outside. Today, the thing that is called the vent control is on the dash and just recycles the bad air in the car.
Some car inventions come and go, some stay with us. Some we are glad have gone the way of the dinosaur, some we wish they will bring back.
Today, with builds like restmods or any type of custom car, we can have what we want. It may cost, but the options are there.
if you like a totally stripped out, basic vehicle or the latest and greatest, doesn't matter, but bear in mind where all the latest inventions came from.
More Muscle Cars For Sale – http://fastmusclecar.com/muscle-car-for-sale/
Donate To Fast Muscle Car
We spend a lot of time bringing you muscle car content. If you would like to donate something to help us keep going, that would be fantastic.