Best Muscle Cars
Awesome Tips To Protect Your Muscle Car's Interior From The Sun
By
|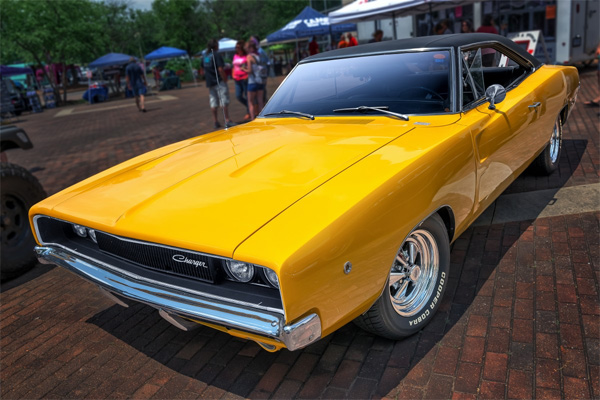 By Will Creech
Whether you're driving a classic muscle car or a modern tire shredder, you obviously want to keep it as pristine as possible for as long as possible. When it comes to protecting the exterior, we all know to obviously keep it clean and coated with a good synthetic wax or ceramic coating for the best protection. But what about the interior? Unless you own a garage queen, your car is going to be exposed to the sun for extended periods from time to time. You may initially think of products such as a windshield sun shield, seat covers, dashboard cover, or even a car cover. None of these are ideal obviously. Who wants to have to fumble with a sun shield every time you get in or out of your car, cover up your gorgeous leather seats or dashboard with a less than appealing seat or dashboard cover, or have to deal with the hassle of a car cover often.
Manufacturers Protection
It should be noted that the older your car the less protection it will have when it left the factory. Newer vehicles will have more UV-blocking coatings applied to the glass and possibly other surfaces. As the decades have marched forward, vehicle glass has advanced from no UV protection to very good UV protection today. It is also common for newer cars to have an urethane UV protective coating applied to leather surfaces. This coating also has other benefits to help extend the life of your leather such as reducing abrasion wear and helping the leather retain moisture to prevent premature cracking.
Even if you're the owner of a brand new car, the factory UV protection isn't perfect and varies from manufacturer to manufacturer. Improving upon the factory protection is the smart option. If you have a convertible you have very little protection while the top is down so you'll definitely want to do what you can to help improve your car's interior protection. Let's dive into some effective alternatives to the less than appealing options, such as seat covers, that were previously mentioned.
UV Protectant Spray
The first option to consider is a proper dash protectant. Most dashboards are a synthetic material such as vinyl, plastic, or combination. The best protectant to use is a quality protectant with good UV rejection. It works similar to how sunscreen works on your skin. Aerospace 303 Protectant is regarded by many to be the absolute best vinyl and plastic protectant. Unlike some other dashboard dressings Aerospace 303 Protectant leaves a matte finish that isn't sticky and won't trap dust and dirt onto any surface it's been applied onto. You'll want to thoroughly clean all surfaces that you apply Aerospace 303 Protectant onto so that it will adhere well. It isn't meant only to be applied to your dash. It can also be applied to any other vinyl or plastic interior pieces to protect them as well. It will need to be reapplied from time to time but it is obviously much preferable to something like a seat cover.
When it comes to leather I was surprised to learn that Aerospace 303 Protectant is also the best leather UV protectant used by enthusiasts and detailers. This product is water-based and is excellent for almost any type of surface. It allows it the leather to breathe and remain properly hydrated, remaining supple.
You will also need to clean the leather thoroughly before coating with UV protectant. Leather is often used not just on seats but on all surfaces that get handled frequently. Shift knobs, steering wheels, door handles, emergency brake levers, and the like are often wrapped in leather. Leather is a great choice for all of these because it is so durable. But because it is used on these frequently handled objects it gets very dirty quickly. Body oils rub off and attract dirt which gets ground in. A good leather cleaner will gently clean the leather and prepare it for moisturization.
You'll need to apply a proper moisturizer to your leather once it has been cleaned but prior to applying the UV protectant. There are plenty of great leather cleaners and moisturizers on the market and most well established brands work very well. When cleaning your leather it's smart to use a purpose-designed leather cleaning brush that will help pull the body oils and dirt up and away from the leather without damaging the factory leather protective coating on newer cars, or causing unwanted abrasion to leather on older vehicles. A microfiber towel is great for wiping and buffing but a brush is going to make the job of loosening oils and dirt easier and more effective.
I know the last few paragraphs read like a promotion for Aerospace 303. I should mention that I'm not affiliated with the makers of Aerospace 303 Protectant and I make no money from them. I'm simply sharing what I and the majority of professional detailers have found to be the best overall product. Don't take just my word for it. Check out the r/AutoDetailing subreddit or the AutoGeekOnline Forum to confirm what I'm sharing here. Accomplished detailers swear by this product.
Ceramic Window Film
The other excellent suggestion I have is my favorite. Some people tint their windows to cut down on heat and UV rays passing through the glass. This is a great option if you want to darken your windows, but I'm not a fan of that look personally – from the outside or the inside. An awesome alternative to darkening your windows is to use a clear UV-rejecting film. The best performing UV-blocking tints are commonly referred to as ceramic tint. Most manufacturers offer varying levels of light transmission – dark to almost perfectly clear. To be as upfront about this as possible, you won't be able to find a true UV-rejecting film that is 100% clear. All will block some visible light and therefore darken your windows slightly. The effect will be subtle and probably not noticeable unless doing a side-by-side comparison.
A huge tip when it comes to tinting to block UV and cut down on interior heat is to be sure to tint the windshield. For a long time it never occurred to me that this was an option. Laws vary from state-to-state on the ability to do this. If you're going with the clearest tint possible you should be able to tint the windshield completely in most states, although you may have to jump through some hoops to do so. Contact your local tint shop and ask them about what's involved and how to get this done. Also ask them about the best performing tints for heat and UV rejection. It should be noted that tint shops usually don't offer products from every tint manufacturer and will push only a handful of products from a couple of select manufacturers. These may or may not be the best on the market. I'm not a window film expert but from what I understand most of the top performing window films perform similarly well. You may want to do your research before settling on a single tint shop. You'll want to research which tint performs best currently as well as which local shop has the most talented installers and warranties.
Some quality tint manufacturers that produce awesome UV-rejecting tint (In no specific order) are:
3M – Crystalline
LLumar – Forumla One Pinnacle
Prestige Films – Spectra Photosync
Huper – Optik Ceramic
Madico – Wincos
SunTek – CarbonXP
These aren't the only options but these are some of the most well respected products.
The less your car has UV-rejection built into the glass the more you'll benefit obviously. Older vehicles will benefit the most but some modern cars don't have as much UV-rejection designed into their glass as I'd like to see. No matter the age of the vehicle you should see a good improvement in protection with the addition of a quality UV-blocking ceramic tint.
Conclusion
Other than covering things up, the best option is to filter out ultraviolet rays that are the source of damage to your car's interior. This is best done by applying it directly to surfaces inside your vehicle as well as to the glass. The more you filter out harmful UV rays the less damage your interior will suffer. Using a good UV protectant like Aerospace 303 protectant is inexpensive and very effective. Ceramic tinting is also excellent although far from inexpensive. Doing both will obviously get you the best results.
For more unbiased detailing tips and how-to articles check out the Ultimate Detailing Guide at DetailDIY.com.
Donate To Fast Muscle Car
We spend a lot of time bringing you muscle car content. If you would like to donate something to help us keep going, that would be fantastic.