Best Muscle Cars
1968 Bullitt Mustang Build By Jonn Huck
By
|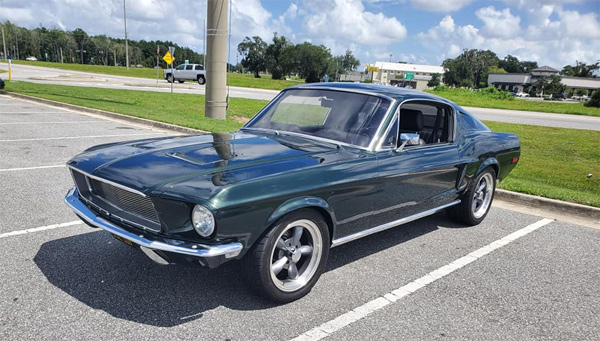 By Jonn Huck
https://www.facebook.com/jonn.huck.3
This was my dream car from the time I was 12. I finally had a little money saved up, so I bought the car for myself on Father's Day 17 yrs ago. I was 40, it started it's life as a red on red 68 GT J code, first year for the 302.
I drove from Savannah Ga. to Dallas Tx with the help of a friend on a weekend, straight there and back, over 40 hrs. I already had in my mind what I was going to do, my version of the Bullitt car. I had a 390 built for it and bought a new tremec tko 600 5 speed with the help from my Dad. I got a 9″ with disc brakes on it out of a Lincoln Versailles and had a 373 gear put in it with posi.
When I got it home I first sand blasted it and put in epoxy primer. I drilled holes through floor pans into the front frame rails and sprayed it with rust inhibitor with a wand I built to hook to a paint gun. I also sprayed inside the cowel vents.
I sound proofed the inside and under fender wells and bottom of the car with Quiet car and I painted it with the finish paint. Having it up on hand built saw horses 4′ off the ground made it easier to work on. I then removed the real louvers at the sail panel and welded in some steel. I took the fake vent in front of the rear wheels and added about 3″ of metal to make it a real vent that goes through to the rear wheels so it won't fill up with muck and rust. Doing this made the upper and lower vents line up. I also purchased and installed a new grab-a-trac suspension. I shaved the door handles and put in actuators and poppers, I installed electric window tracks. It had originally been on a rotisserie and had the floor pans replaced.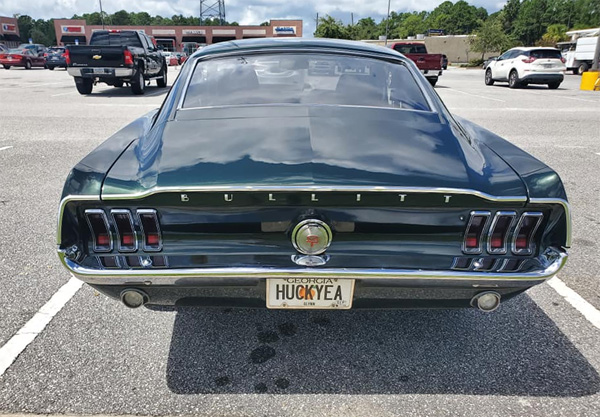 Working on a limited budget all this work took me 6 yrs. 2008 was rough on the economy and all work stopped. I installed the engine and tranny so every once in a while I would fire this beast up for motivation.I had installed 3″ Magna flow all the way back from my hooker long tube headers so the sound was amazing!
I would try and do bodywork because that didn't cost me much, wishing my Dad lived down here to help since he is a bodywork master, I had figured out I was not good enough for me to be happy, so it sat, and sat….
I started my own business in 2017 and this was a game changer, I was able to do what I wanted so I bought all the parts to finish my build, new interior, leather Scat seats, wiring kit, Dakota VHX gauges, Fast 2.0 fuel injection, stereo components, so I could build what I wanted. 1 piece fiberglass headliner that has a carbon fiber look. It was like Christmas every day for months.
Finally, paint was applied and I cried like a little girl, it was happening and I was witnessing it. I pretty much did everything else myself, I did have help with some wiring and fuel injection installation. After what I thought was completion I started having engine issues, running hot, the block was also bored too much and a cylinder wall cracked.
It was a nightmare, I told myself if I had to pull the engine again I would get rid of the shock towers and put in a rack and pinion. After taking like 6 hours to change spark plugs and wires, it continuing to overheat and pulling the motor for the 3rd time because of issues, I was done.
I was heartbroken and thinking this was never going to end. I ordered a rack and pinion and dug out the firewall. My wife walked out and looked at me and started crying. What are you doing she gasped, the time, the money, OMG. I said don't cry, it is going to get better I promise, it will be ok!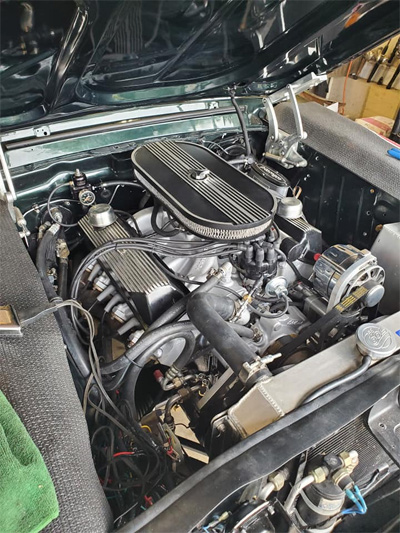 After installing the kit from Rod and Custom, which I swear was the easiest part of the whole build and getting a friend to weld er up after I tacked it off I felt like I could finish it. I got some great advice from an engineer and got rid of the cheap aluminum radiator and got a Be Cool radiator and fans.
Deleted the antifreeze and just put in water wetter and water when it started running cooler. Now she leaks tranny fluid and oil from the same spot. I pulled the tranny to put in a front seal and the FE rear seal.
Now the Mustang is running and it has a little more horsepower and I feel better about her being finished. As we all know it's never finished. She is a selfish bitch and I have cussed her out 100 times, but she is mine and she will be mine till I die. People say everything is for sale. Not true, I built this car because it was my dream car at 12 yrs old and still now at 57 yrs old, I didn't spend 17 yrs and countless time to one day get rid of her. This is a muscle car build for life.
Donate To Fast Muscle Car
We spend a lot of time bringing you muscle car content. If you would like to donate something to help us keep going, that would be fantastic.
1968 Bullitt Mustang Build By Jonn Huck

,