News
A Turbo Dodge Omni GLH Hits 9.99 Secs. at 143mph
By
|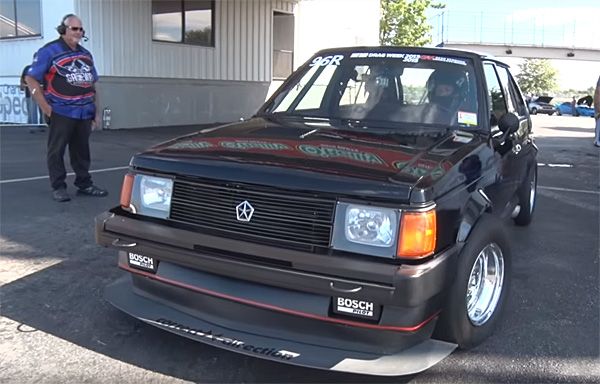 By Dave Ashton
The Dodge Omni is one of those vehicles which for muscle car fan, or at least Dodge fans, they would probably like to forget. The Dodge Omni was produced between 1977 and 1990, during the considered low point for muscle cars. By this meaning, compacts ruled and small European sized engines became the norm. Nothing like the huge, growling V8's of old and their imposing size.
However, the model did have some high points such as the 1986 Shelby GLHS, which had a 2.2 L engine, producing 175 horsepower and a Turbo II setup. The car was also marketed to the Europeans in the form of the Chrysler or Talbot Horizon, which I actually owned back in the day. From my faltering memory, it was a solid runner, with the only downside being a synchromesh transmission, which meant you had to be at a complete stop before you could put in first gear for some reason. The only other problem was in its basic form, it was just a runaround, not exactly a performance vehicle. In all other respects happy memories and I can't remember it breaking down once.
Which brings us onto this video, which shows in the right hands, you can turn any car into a mean machine. Proven by their impressive time of 9.99 seconds at 143mph. You'll also notice that the skinny tires are at the back, with thicker slicks upfront as its front wheel drive here.
The engine in this one is a 2.5L, a GT 3582 turbo, with the transmission out of a Dodge Daytona Shelby Z. As the car completed almost a 1,000 miles, over four tracks during drag week without a hitch, shows that these little beasts still have reliability.
Goes to show, that looks can be deceiving and with the right tweaking, these not so obvious rides can be loads of fun.
Donate To Fast Muscle Car
We spend a lot of time bringing you muscle car content. If you would like to donate something to help us keep going, that would be fantastic.