Readers Rides
You Don't Always Need a Hemi In A Dodge Challenger
By
|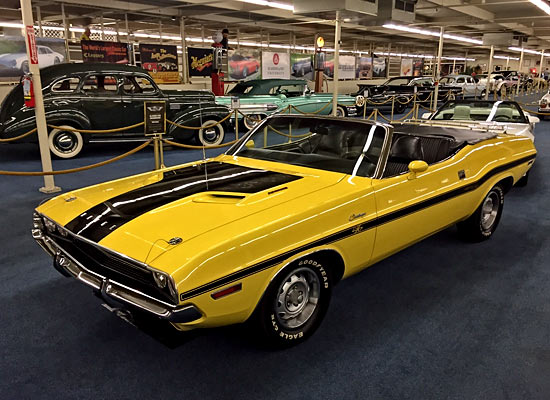 By Mark Weisseg
This 1970 Challenger convertible had the 340 V8 under the hood. Some would raise there eyebrows that it did not have a 440 or a Hemi but let us stop and reflect.
The 340 engine was a massive hit with the Dodge line up. The Dodge Demon had that power plant and I can tell you first hand that it had power to spare.
Let me tell you exactly what happened one fine summer day many years ago.
My brother had a friend that had a Demon with a 340 under the hood. He had the automatic transmission and the car had many standard features. This young man had a wild wire in him and at times that wire sprang to life.
So, he and I were out one day and we were cruising around the Chicago area where all the streets criss cross with one another.
It is very hard to get lost in this city as everything runs north/south or east/west with ease. This young man stands on the gas pedal and the mighty Demon takes off like a missle. The last I looked at the speedometer we were over 90 mph and increasing. I was yelling at him to slow down or stop and let me out as we came very close several times to hitting some other cars or being hit. To this very day it is the scariest, most foolish thing I have ever been in a part of in a car. When the driver finally slowed down we were both amazed we had not been hit and killed. Why he did that is beyond me to this day.
So, back to the Challenger here the issue is not power, but resale value. Clearly you will pay more for the bigger engine in order to have bragging rights. Remember, it's not a power issue, it's a money issue. We all would love to say we have a Hemi Challenger or maybe a big block, but the 340 will get the job done. Too many people will act as if this car has a slant six in it. Guys, a 340 is a great running engine and not everyone can have the Hemi.
Look closely at this car and its lines. It was a winner then and of course when Chrysler reintroduced the name a few years ago they nearly copied this winning style.
Iconic paint stripes, the hood blackened out, the black bucket seats and that beautiful yellow paint job make this car special. Throw in a convertible and you have something you cannot get.
We are all aware of the Hellcat engine in the Challengers and Chargers but a rag top would be a nice addition. I have not heard of one in the making but I will lay odds it's coming and soon to compete with Camaro and Mustang. In the warmer climate areas of the country it is a no brainier to have the top down.
I hope the above goes a little way to make you rethink this 70 Challenger and the great 340 engine.
For all muscle car parts – http://fastmusclecar.com/muscle-car-parts/
Donate To Fast Muscle Car
We spend a lot of time bringing you muscle car content. If you would like to donate something to help us keep going, that would be fantastic.