Muscle Cars
2020 Dodge Charger Widebody Now Available For Hellcat and Scatpack
By
|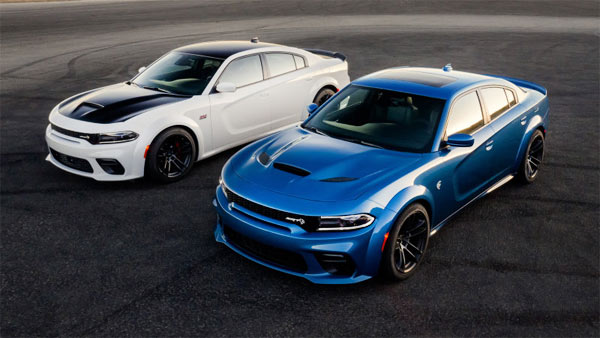 By Dave Ashton
Since the Dodge Challenger got its wide-body version in 2018, the Charger has felt a little bit left out. The Challenger SRT Demon didn't help in the envy stakes, with its widebody looks showing how current muscle cars should stand out with their beefy looks. Now, Charger fans have the same widebodied option available early 2020.
So, what do you get with this new version? Wider fenders mean an extra 3.5 inches added to the width of the car, which also means fatter and grippier treads can be fitted in the form of huge 20×11 in. wheels with 305/35 Pirellis tires. This also translates to faster times. 0-60 mph in 3.6 seconds, a quarter-mile in an ET of 10.96 seconds, a top speed of 196 mph and 2.1 seconds faster round a 2.1-mile road track…. and of course it looks so much cooler.
The Hellcat will have the same 6.2-liter supercharged V8 with 707HP, with stopping power via 6-piston calipers and 15.4-inch rotor Brembo brakes, the same as with the Charger Scat Pack Widebody conversion. What has been changed is the suspension setup amongst other things. The Hellcat will feature Bilstein adaptive dampers, a stiffer suspension setup with larger sway bars and extra driving modes. Launch control and line lock will come in both models optimizing launches and producing more tasty burnouts. There's even been some tweaks to the interior with accent stitching, upgraded trim materials and a slightly redesigned instrument cluster. Prices yet to be announced.
Initial impressions
Wider body, better suspension, better wheels and tires, a few interior goodies. Power is the same, but this wide-body version should be able to throw things down more efficiently. Essentially, a more optimized and quicker Charger. But, this wide-body version now looks like how the Charger should have been from the start. It's a muscle car, it should look beefy and this wide-body version just adds that little something that rounds off the final design, especially in a Hellcat.
It's unlikely that Dodge would make the wide-body a standard feature, as those who paid extra for these features wouldn't be exactly happy. However, widebodies should be the way to go. They just look so much cooler. Angrier, beefier and dare I say it, more sports car like, which translates to a wider appeal. No bad thing when most carmakers are bricking themselves thinking everybody is going to be driving electric tin box SUVs in 10 years.
These midcycle enhancements should keep all Mopar fans happy until both the Charger and the Challenger get a complete design refresh in the next few years. Initially, it was thought that the new design would be based on the Alfa Romeo or Maserati platform, but reports point to a complete upgrade to the latest platform……hopefully with widebody, please.
Donate To Fast Muscle Car
We spend a lot of time bringing you muscle car content. If you would like to donate something to help us keep going, that would be fantastic.
2020 Dodge Charger Widebody Now Available For Hellcat and Scatpack

,