Muscle Cars
What the Corvette C8 Means for American vehicles
By
|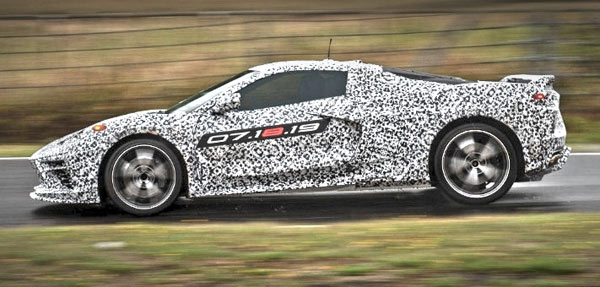 By Dave Ashton
The upcoming Corvette C8 has definitely raised eyebrows, not just for 'Vette fans, but also for American sports cars, super cars and even muscle car fans. Why….it's going to mid-engined to join the supercar club, a new platorm for 'Vette fans and it's going to bring more of the spotlight to American vehicles, which hopefully should trickle down to muscle cars and the like.
The release of the new 'Vette is likely to be July 18 2019 at a special event in California, according to recent reports. GM have increase their workforce with 400 jobs at their Bowling Green Assembly Plant, Kentucky to hit the release date. Plus, orders are already being taken, already pulling interest away from the current and most amazing 'Vette yet, the C7.(more on that later….)
I spy..
So, with more predictions online about the upcoming C8 than a Medieval soothsayer's diaries, we have the following certain maybes.
The base powertrain could be a version of the Corvette's 6.2-liter LT1 V8 engine with 500HP. Other powertrain variants may follow like a 1,000HP hybrid. Designwise, everything has been shaken up to be very supercar-like with reports saying the exterior looks very Ferrari-like.
All sightings have been up to now of camo. versions, but at least it gives a small indication the final design which looks to also have heaps of C7 influence. Just check out the video clip below.
Power levels
A predicted thousand horsepower hybrid, 8 speed dual clutch transmission and a base model with 500 horses, with a possible middle version producing 800HP. Autoweek have put together some great info-graphics of predicted power to weight for a range of supercars and possibly where the C8 will fit in. The same goes for their other graphic below which shows the dollars per HP value.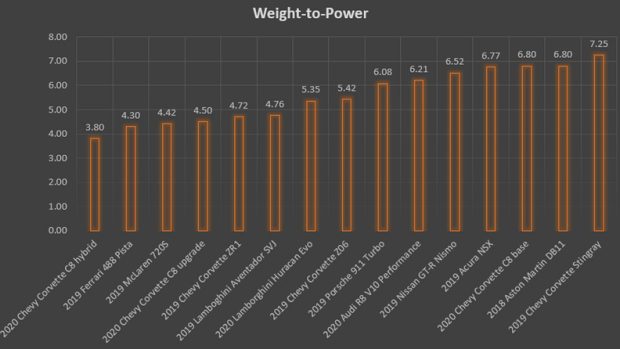 The 1,000Hp hybrid C8 beats out the Ferrari 488 Pista and McLaren 720S. While the base version C8 stacks up against the Aston Martin DB11 and Acura NSX. If pricing is correctly predicted, then the new C8 sits on top for value dollars per HP, just like a the rest of the muscle car pack.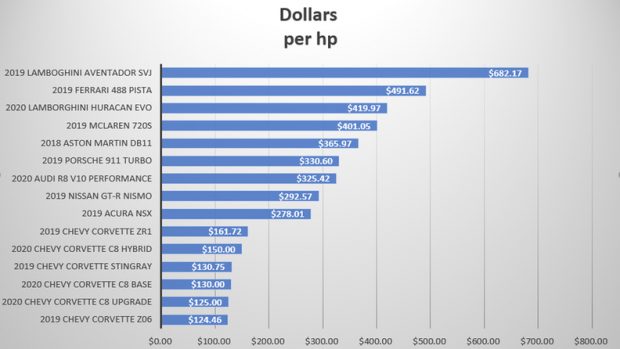 Images by Autoweek
Sales
We all want the latest, most shiny things and this has proven to be the same with the C8. The general consensus is that C7 sales have slowed as many people are waiting to buy the C8, rather than the current C7. Even though the C7 'Vette is said to not just be the best version ever, it's also an amazing car in its own right. Even so, having a 'supercar' badge rather than top end sports car, will always be the preference. Superman just wouldn't be the same if he was just called 'Man.' 'Super' just has a special significance for us all.
'Vette sales fell around 12 percent in the first quarter of 2019 from 4,457 units than the previous year to 3,943 units this year.
Chevy are even offering $3,000 off any 2019 Corvette model in May 2019 to current Corvette owners or 0% APR on certain models. This is a rare offering by the company, but a definite indication that the C7 is still the center of attention.
According to a Bloomberg article, one Corvette dealer says they have been taking deposits for the C8 Corvette since 2014. 'People are canceling their orders (on 2019s) and starting to hold back, because they want to wait and see what's going to come out, ' said Sean McCann, floor manager at Stingray Chevrolet near Tampa, Fla.
Win one…
If you want to try and win a 2020 mid engine Corvette C8, then the National Corvette Museum have secured themselves a build slot for one of the C8 cars. The raffle will take place in August with tickets costing $250 each, but there are only 1,500 tickets available.
Trickle-down effect
The C8 Corvette is a Halo car, meaning that its light will shine over the rest of the range. The hope is to attract younger buyers, but also a ligit supercar fom Chevy means focus may also turn to other American vehicles and even the muscle car clan. Basically, those who look at the C8 may also take a passing interest in other American vehicles. 'Hmmm, whats that Hellcat thing or that GT500…?' Even if it's just a passing glance, it's at least raising awareness that these vehicles exist and provide not just a thrilling ride, but also some of the best HP per dollar value.
So the C8 maybe going up in status, but hopefully it will bring the rest of the league with it. At the least from an awareness point of view, even if it is to just find out about long-standing, carmaker rivalry.
More Muscle Cars For Sale – http://fastmusclecar.com/muscle-car-for-sale/
Donate To Fast Muscle Car
We spend a lot of time bringing you muscle car content. If you would like to donate something to help us keep going, that would be fantastic.
What the Corvette C8 Means for American vehicles

,