Readers Rides
There Is Always One Car That Gets Away…..
By
|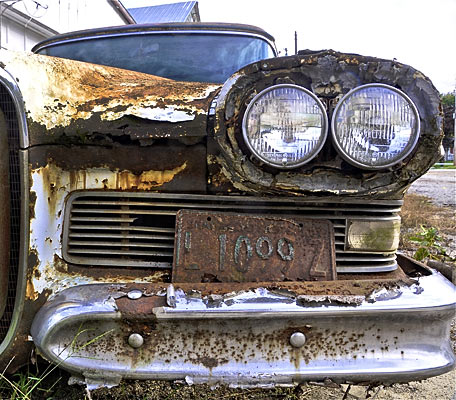 By Mark Weisseg
A few years ago I was driving through a small town near home and not paying much attention to anything but the road. How about that revelation. No cell phone stuck to my ear or texting or anything dumb.
I came to a light and on my right I see this load of old cars sitting along a building. Gulp. I do what anyone else in our hobby would do. I wheeled in there, parked my car and proceeded to walk the line. They were all in rough shape but I counted at least fifteen because they were behind the building as well. I was in awe as who collects these and why? I had to find out due to being nosy. I walked up to the door of the building and the door is locked and the lights are off. So, back to the parking lot to look over all the cars and take mental notes. One of my mental notes was to return in a month or so and get to the bottom of this.
So, a bit later than a month I was in that area and decided to go back and this time I was going to be Dick Tracy and ask as many questions as possible. I hoped it would lead to more cars and maybe another collection or who knows. I wheel in there and all the cars are gone. Poof. There was not a trace they were even here. Am I in the right place? I double checked where I was and I was right but how and where did all these cars go?I looked in the building and it was still dark inside and nobody was around. I wrote a note and put it in the mailbox out front and I wedged another between the front doors. I left my name and number with a note that claimed I needed to urgently speak with the owner of this building. I never heard from anyone and I have passed this place several times since and it is empty.
So my questions as to where they were, who owned them, why did they take them away and better yet where are they now? This brings me to my point and hopefully you will listen and learn. What I should have done that day is I should have taken five more minutes and asked the nearest house or business who owned those cars. Maybe, just maybe they would have known and this story would have a completely different outcome.
I kick myself for not doing so but I never imagined someone would remove all these cars so quickly. Now, I know to never pass on an opportunity again. The lesson learned was to take that extra five minutes and do a bit of leg work and not wait for another day that may never happen.
More Muscle Cars For Sale – http://fastmusclecar.com/muscle-car-for-sale/
Donate To Fast Muscle Car
We spend a lot of time bringing you muscle car content. If you would like to donate something to help us keep going, that would be fantastic.