News
Will Muscle Cars Die Out With The Emergence Of Performance EVs?
By
|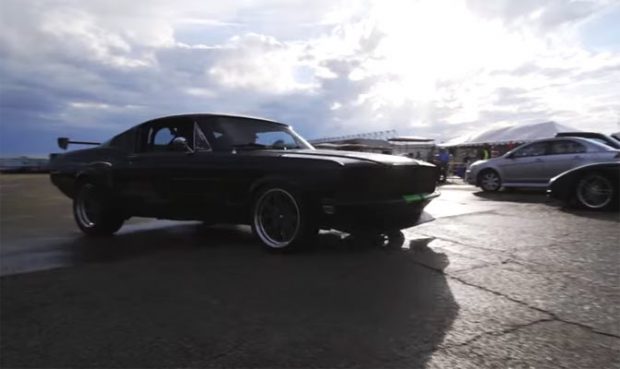 By David Ashton
This is a question posed by an article over at itchpost.com 'Will Muscle Cars Die Out With Emergence Of Performance EVs?'.
A common question which is probably mulled over by most muscle car fans, but not discussed out loud. The slightest discussion of such a topic may advance the process, but as electric and hybrid vehicles are making more of a mark every day, we have to see how the mighty muscle car is going to progress in the future.
From gas to electric?
The first question posed is, 'will the muscle finally switch to electricity for power?'
If you look at models such as the Tesla model S, which can produce 416 HP,443 lb. ft. of torque and 0-62mph in 4.4 seconds, you would think electric engines are the way to go for muscle cars, but that electric engine is just one small part of the full muscle car package.
Small outfits such as the one that built the Zombie 222 '68 Mustang as below, show how we can still have a classic vehicle with electric power. The results look fantastic, but conversion costs are still expensive compared to a traditional V8 swap.

The sound, the sensation, the driving experience, stuff that fills our whole array of senses is what makes a muscle car work, which means the electric vehicle has to fulfil a lot of criteria to eventually be labelled an electric muscle car and that's a very big hill to climb.
Alternative fuels
As the concerns that our precious dinosaur juice, which has run all cars up to now is slowly dwindling and costing more should not be the death nail for the mighty V8 engine. As mentioned in a previous article on our site about CO2 being turned into ethanol, there could just be alternative fuels out there which will replace fossil fuels, hopefully producing an environmental cycle of turning greenhouse gases into usable fuels.
This may just be the solution as it could directly replace fossil fuels and seamlessly fit into the refuelling infrastructure we have now. Electric engine seem great, but the refuelling/recharging is still a big headache and there is still no national infrastructure to refuel as efficiently and quickly as fossil fuels do today.
All this means that muscle cars are not going to go away any time soon. Electric vehicles and hybrids will become more numerous, but until a quick and efficient refuelling system is put in place nationally, we can still enjoy the grunt of a healthy V8 engine which is one of the longest lived breed of vehicles on the planet.
More Muscle Cars For Sale – http://fastmusclecar.com/muscle-car-for-sale/
Donate To Fast Muscle Car
We spend a lot of time bringing you muscle car content. If you would like to donate something to help us keep going, that would be fantastic.