Best Muscle Cars
A True Blue 1973 Chevrolet Camaro LT
By
|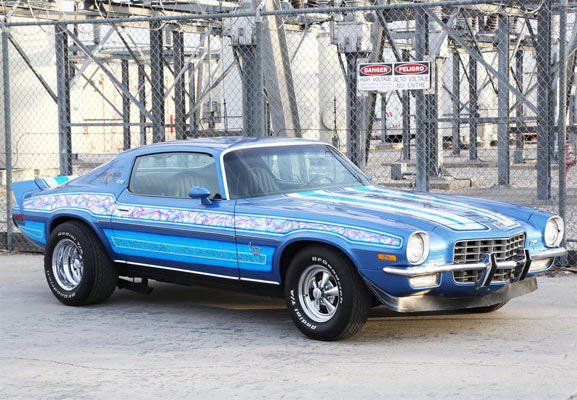 By David Ashton
When a song sticks in your head, it's hard to get it out, as is the case with my latest Madonna compilation featuring the song, 'True Blue' with the lyrics, 'true blue baby I love you' which is basically the case with this 1973 Chevy Camaro.
The paint job on this car may be a bit 'loud' by today's standards, but believe me, in the 70s, this was the thing.
Custom graphics adorn this Camaro, which does give it that 70's custom vibe. Overt and loud yes, but that was the point of these vehicles at the time and basically still is.
BUY NOW ON EBAY.
You get quite a nice back story to this Camaro which always adds to the value, with the past owner going to his pastor to keep up payments, with the pastor eventually taking ownership and keeping the car until he passed.
There's ironically no interior pictures that come with the listing, so we can only guess the interior is in the same shape as the rest of the car, but just your basic Camaro interior features.
As you can see everything is in great condition here, from the exterior to the engine bay, with the original 350 engine being bored out to a 383.
There seems to be other upgrades here, but they have not been completely documented in the ad.
The present owner admits that he bought the car for $22,322.22 three years ago and it is now asking $49,950.
Do you think it justifies the just shy of $50,000 pricetag? if everything is as sharp as it is made out to be, you may just have a bling, custom classic 70s Camaro on your hands, only needing the addition of furry dice.
Original ad. text
'For sale is this absolutely incredible 1973 Chevrolet Camaro LT1. An absolutely premium example of an original 1970's survivor show car, it remains in extremely excellent cosmetic condition. With an era-appropriate finish applied over the original "Dark Blue" GM paint, it's presentation is utterly ridiculous, and simply cool. What's even more astonishing is the astonishingly low 28,650 mileage, which has most certainly contributed to it's time-capsule quality preservation. Being a fan of sports cars, original choppers, 70's custom show vans, and other vintage vehicle oddities, this '73 Camaro, in my opinion, is as good as they come. I'm not a dealer, I'm just a serious classic car enthusiast, and while I've owned many vintage and high-end vehicles, I've never seen another car that comes close to this. This satiated my desire to own the most unique '70s original custom sports car, and I'm sure it can do the same for you. Alas, like many in my predicament, I've run out of room, and the condo lifestyle isn't conducive to owning numerous cars.'
'The best part, as always, is the backstory. I purchased this from a seller on eBay over 3 years ago. I was high bidder at $22,322.22 (see screenshot of listing below). To the best of my knowledge, and according to the previous owner, this car had been a permanent resident of Georgia. Apparently, the original owner purchased the car new, and within the next year, customized it into the vehicle you see today. Sometime thereafter, the original owner fell upon hard times, and went to his pastor for a loan. Though the pastor's wife advised against such, the pastor loaned him money, in exchange for the car and title. The original owner was never able to re-purchase his beloved custom Camaro, and the pastor left it in his garage, for several decades. Fast forward, into the next century, and after the pastor died, to approximately 5 years ago when the pastor's wife sold it to a family friend. That gentleman cleaned it up properly, did small things to make it street ready, and again, put it into storage. I purchased it on 9/11/2013 from that man's friend, and then I drove it back to Los Angeles. While it made it back in one piece, without issue, I was determined to make this car as great of a driver as it is a looker. Over the past 3 years, like so many bozos that have come before me, I spent way too much money on this thing. Turning the original 350 block into a bored out 383, installing factory vintage air conditioning, and doing everything possible under the hood. Yep, I have a book of receipts to attest to the money I've sunk into this, but heck, I wanted this Camaro to be a beast, and after tens of thousands of dollars, I got what I wanted. More info, more photos, more, more, more, to come.'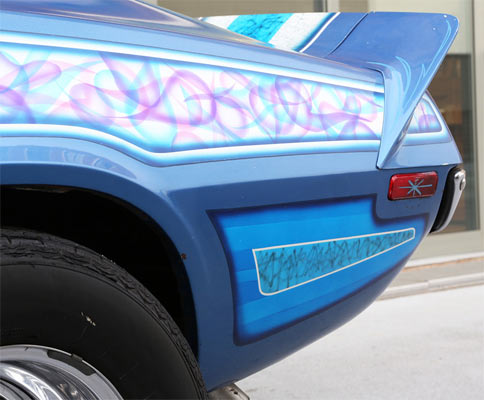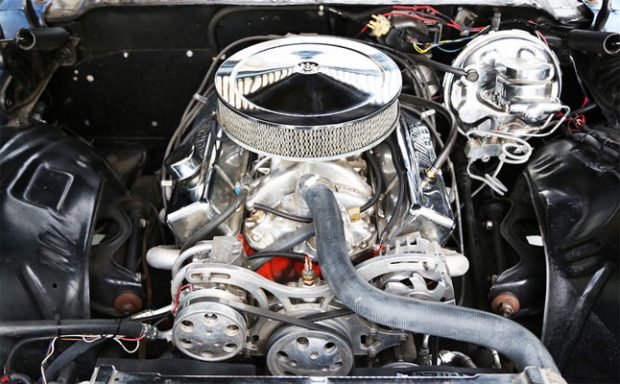 BUY NOW ON EBAY.
More Muscle Cars For Sale – http://fastmusclecar.com/muscle-car-for-sale/
Donate To Fast Muscle Car
We spend a lot of time bringing you muscle car content. If you would like to donate something to help us keep going, that would be fantastic.