Best Muscle Cars
Muscle Car Talk: The family that drives together…
By
|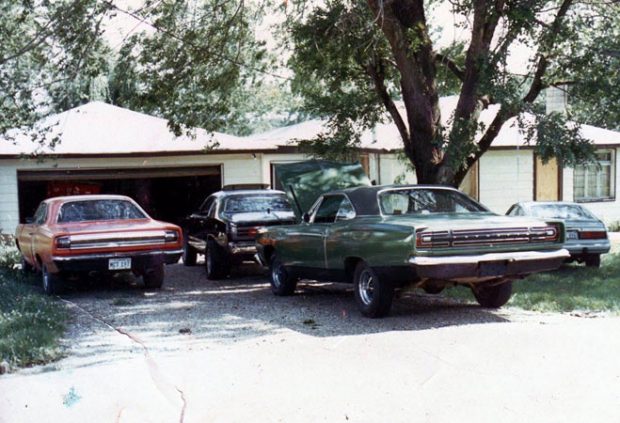 By Mark Weisseg
I am digging this picture of a driveway full of Mopar's. So, the saying of the family that drives together, stays together has some ring to it. It must have been fun times at this house when these babies roared to life. I would bet everyone knew in the area about these cars. But, was that all so unusual? No, not really.
At our house my Dad had his Mopar, my older brother had his and then one day out of the blue my oldest brother who we all looked up to brought home a brand new '71 Chevelle. The heavens rocked, the clouds thickened, the ground shook and we thought the eldest one had gone coo coo.
How could this happen? Where are the family values? How could he disgrace us? Could we ever face the church congregation again? What the heck was he thinking? He was in College so maybe he learned something us hicks did not know yet. Or, did College ruin my brother for life? Is education at the highest levels worth this? I can remember all of us just scratching our heads. We slowly approached the car and gently opened the doors expecting a two headed monster snake to come out and swallow us whole. So, we cracked the door open and man did it smell good. We never had a brand new car so now we know what they smell like. He started it up, showed us the gauges, and then took us for a ride. Gee, it rode smooth and with the 307 engine and automatic transmission the car seemed pretty nice.
But, Dad, my other brother and I still kept our distance for a while. I mean, if we touch it or get seen in it the neighbors will think we like it. So, we had better ease into this new development slowly.
Well, time went by and we welcomed my eldest brother back into the family after much discussion about him going off the reservation.
All these years later and the family has owned Fords, Mercury's, Caddy's, Mopar's, motorcycles, and more.
The point is that back in those days, having one or more muscle cars on the driveway wasn't uncommon. They were cars of their time, just as you may see a base model Dodge Charger, Challenger, Mustang, or even Camaro……maybe. Back then they felt more accessible, but in hindsight it seems incredible to see cars that can now fetch hundreds of thousands of dollars on one driveway.
You never know, keep your car for 40+ years and it too may be worth over 100,000 dollars, not a bad retirement fund…..
More Muscle Cars For Sale – http://fastmusclecar.com/muscle-car-for-sale/
Donate To Fast Muscle Car
We spend a lot of time bringing you muscle car content. If you would like to donate something to help us keep going, that would be fantastic.