Best Muscle Cars
Muscle Car Of The Day: 1971 Plymouth Hemi Barracuda With Only 2k Miles
By
|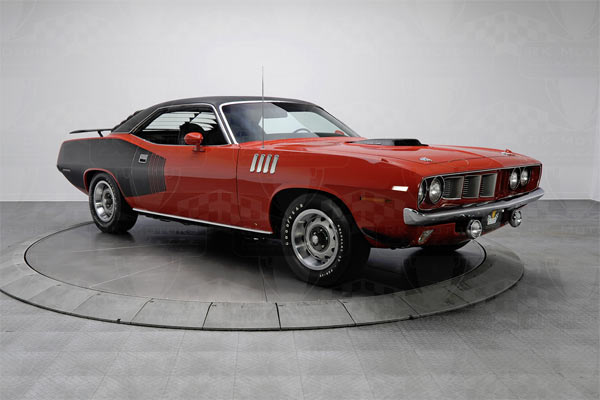 By Dave Ashton
A 1971 Plymouth Cuda with a Hemi engineis one of the most collectable of the muscle cars and fetches the highest prices. This is especially evident with this example currently on sale at RK Motors for an eye watering $1,299,900.
This example, claims its asking price as it is a completely original time capsule with a 426cu./425hp Hemi V8 with a two four-barrel carb. and a A727 three-speed Torqueflite automatic transmission, Dana 60 axle, Sure Grip differential and factory 4.10 gears. It comes in Rallye Red, fully documented and is apparently the highest optioned Hemi Cuda known to exist.
Amazingly, the engine is said to still have its factory fluids, with completely untouched parts head to toe. The list and specifications goes on and on, but suffice to say that everything on this Cuda is said to be original, as if it rolled out of the factory.
So the real question is, if this classic muscle car is worth the asking price of $1,299,900.
Comment below.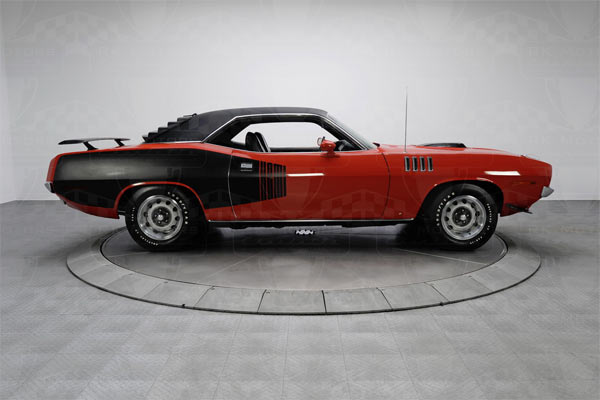 E74: 426 cubic inch, 425 horsepower Hemi that's equipped with two 4-barrel carburetors
D32: Heavy Duty automatic transmission
BS23: Plymouth Barracuda special: 'Cuda 2-door hardtop
R1B: 1971 model assembled at Chrysler's Dodge Main facility in Hamtramck, Michigan
295999: Sequence number
FE5: Rallye Red exterior paint
H4X9: Black high level trim that's complete with a vinyl split bench seat ($16 optional equipment)
000: Full door panels
216: Built February 16th, 1971
062620: Order number
V1X: Full black vinyl top
U: Built to USA specifications
V6X: Quarter panel sport stripes ($37.55 optional equipment)
HEMI FENDER: Complete with Hemi fenders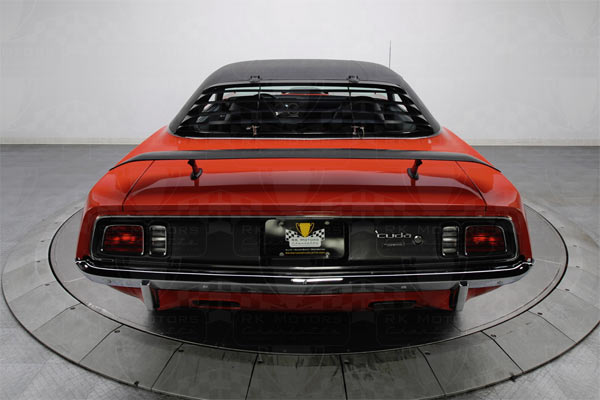 One of the many historical documents included with this amazing Mopar's sale is an original Chrysler broadcast sheet that lists the following factory build sequence:
A01: Light package ($35.75 optional equipment)
A34: Dana 60 super track rear end that's equipped with 4.10 gears ($201.75 optional equipment)
A45: Front and rear spoilers ($54.65 optional equipment)
A62: Rallye instrument cluster ($76.75 optional equipment)
A67: Plymouth backlight louvers ($171 optional equipment)
B41: Front disc brakes
B51: Power assisted brake system
C52: Bench seats
C93: Carpet or mats
D32: Heavy duty A727 Torqueflite transmission ($229.35 optional equipment)
D58: Dana 60 rear end that's equipped with 4.10 gears
D91: Sure Grip differential
E74: 426 cubic inch Hemi V8 that's complete with two 4-barrel carburetors ($883.90 optional equipment)
F25: 70 amp Mopar red cap battery
F96: Oil pressure and temperature gauges
G11: All windows tinted ($36.85 optional equipment)
G36: Painted dual outside race mirrors
G41: Day/night interior mirror
H31: Blower-style rear window defogger ($28.90 optional equipment)
J11: Glove box lock ($4.05 optional equipment)
J15: Cigarette lighter
J21: Electric clock
J25: 3-speed variable wipers
J31: Dual horns
J45: Hood pins with lanyards
J55: Undercoating and heavy duty hood pad ($20.80 optional equipment)
J68: Rear window louvers
J78: Front spoiler
J81: Wing-type rear spoiler
L05: Map courtesy light
L11: Glove box light
L15: Ash tray light
L25: Trunk compartment light
L31: Fender or hood mounted turn signal indicators
L34: Road lamps ($21.05 optional equipment)
L65: Ignition switch lamp with time delay
L74: Title switch time delay
L76: Heater control lamp
M05: Door edge mouldings ($6.00 optional equipment)
M21: Roof drip trough mouldings
M25: Wide sill mouldings
M31: Belt and hood mouldings
M88: Low decklid moulding
N41: Dual exhaust
N42: Chrome dual exhaust tips
N51: Maximum engine cooling
N65: Seven blade fan with clutch
N85: Tachometer
N96: Shaker hood
P31: Power windows ($101.30 optional equipment)
R32: Dual rear speakers ($25.05 optional equipment)
R33: Microphone ($10.75 optional equipment)
R36: AM/FM stereo that's complete with a cassette player ($337.05 optional equipment)
S15: Heavy duty Hemi suspension that's complete with a front sway bar
S25: Heavy duty firm ride shock absorbers
S77: Power steering ($106.95 optional equipment)
S83: 3-spoke Rim Blow steering wheel ($28.60 optional equipment)
U84: F60x15 raised white letter polyglas tires
W21: Rallye wheels ($54.25 optional equipment)
W34: Space Saver spare tire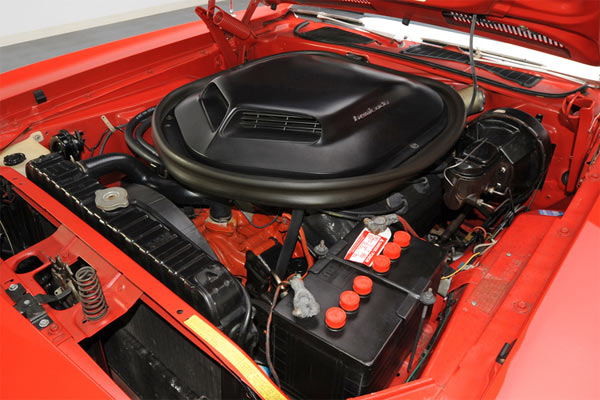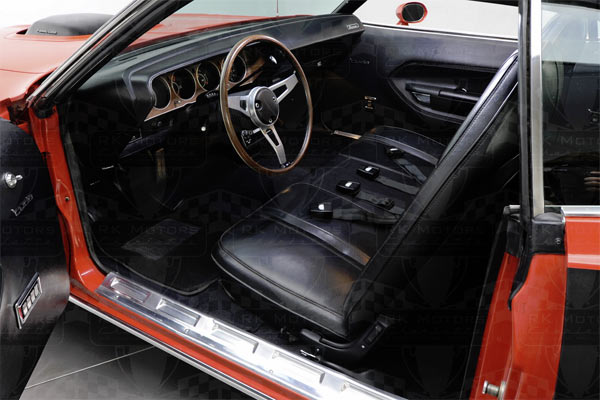 For all muscle car parts – http://fastmusclecar.com/muscle-car-parts/