Best Muscle Cars
Why Bodywork and Painting Costs So Much
By
|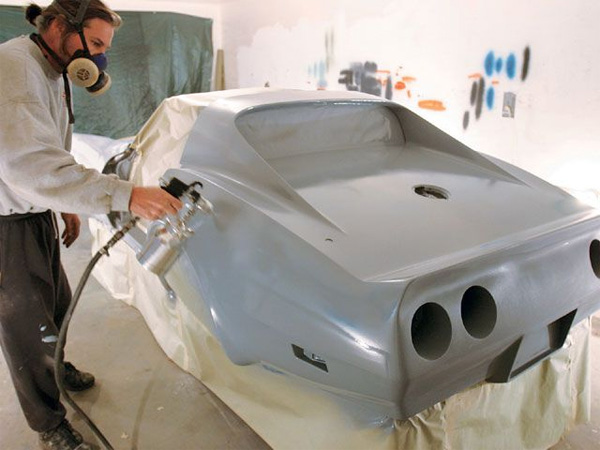 By Dave Ashton
Let's just say that you have bought a prized muscle car as a restoration project. You've gone through the arduous process of repairing all the main bodywork jobs, filled in those gaping rust holes, rebuilt the electrics and now it's ready for the final body treatment and painting. You can obviously have a go at these latter stages yourself, but if you want the final finish to look anything like a show car, then it is usually down to the professionals to lend a hand.
Depending on the amount of work and the quality of the final finish, this part of the process can easily drain your bank account. Of course, you can have a go yourself, but without prior experience, you can easily start creating more work than you had in the first place. The big caveat here is the amount of time it takes. I had this recently while trying to repair and spray up a bumper. Patience is definitely a virtue here as the majority of time is spent prepping and sanding and this still doesn't guarantee a professional finish. Adding the paint is the least amount of time spent and you still need all the professional equipment to end up with the best results.
One article which goes into complete depth on the process is over at Hemmings.com, which goes into fine detail about the whole process and how much work is truly involved. The process can start with a complete disassembly of the vehicle, a meticulous cataloguing of all the parts, then addressing all the major bodywork problems. This can be anything from small bits of welding, replacement of body areas to filling in tiny little rust holes.
Then there's things like panel alignment, especially on very old vehicles and anything else that needs to get the body work shipshape. When the bodywork is as straight and as lovely as it can be, then it can be hours and hours of block sanding before the car even sees a drop of paint.
This is why this part of the process can be so costly. It's all about time, man-hour costs and the experience of the people performing the job. In this regard, it's a good idea to wade through the Hemmings article before you start to make any decisions about how you're going you take your restoration vehicle from rustbucket to show winner.
The best of restoration processes cost the most for good reason. Clocking up hundreds of hours of work at an hourly rate soon mounts up, which means you're always going to have to factor in these costs against the final worth of the vehicle. A pretty easy equation if you're restoring a highly prized 1971 Cuda with rare options, but a harder decision when the finished car is still only worth $20k.
No matter if you're restoring a vehicle or not, it's definitely worth looking into the process and the costs involved. It may just influence the decision of buying your next muscle car and if you do want to buy into a restoration process or something you can drive away straightaway, fully finished.
Donate To Fast Muscle Car
We spend a lot of time bringing you muscle car content. If you would like to donate something to help us keep going, that would be fantastic.