Best Muscle Cars
What Are the Greatest American Muscle Cars of All Time?
By
|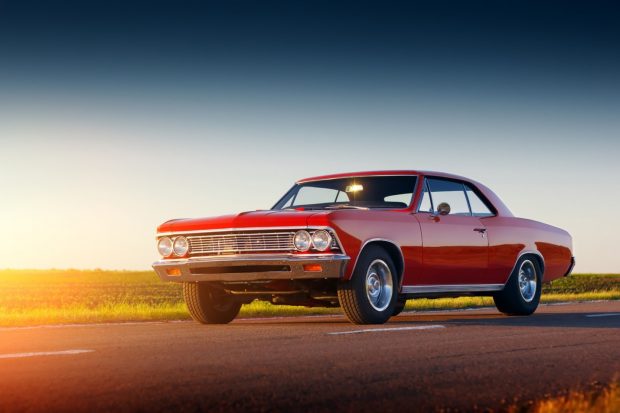 There was a golden age of American car manufacture in the 1960s and 1970s. This was when a spate of US-based marques released an array of vehicles that were then regarded as extraordinarily elegant, manly, and high-performing.
Of course, we're referring to the mythical and forever-in-style American muscle cars. Sure, these famous vehicles have been out of production for half a century. Yet, car fans and collectors still hold them in high respect and want them.
If you're new to the world of muscle cars, then no worries. You've come to the right place. Keep on reading for our full breakdown of everything you need to know about American muscle cars. We'll explore some of the greatest muscle cars to have ever made it to the market.
American Muscle Cars 101: The Basics
Okay, so the phrase "American muscle vehicles" is a misnomer for many reasons, the first of which is that it should be dropped entirely. All officially sanctioned muscle vehicles are from the United States.
So, when you think about the best classic cars under the "muscle" category, then you bet that they're all American.
Although, you may have heard of muscle cars from Australia or Latin America. But, the Detroit Three also built automobiles in other countries.
A V8 engine is standard equipment in muscle vehicles, which have a two-door body design. Cars like this are great for daily driving around town and the odd drag race. European high-performance automobiles like the Shelby Cobra are quite different from a muscle car.
Vehicles in Europe were created for agility, while muscle cars were built to be quick and powerful when you want them to be. Several blockbuster films, such as 1957's Rebel Without a Cause, helped popularize drag racing.
Muscle vehicles, on the other hand, didn't really take off in popularity until the mid-'60s. Until the 1973 oil crisis and ensuing legislation, interest rates would have remained high.
The Original: 1949 Oldsmobile Rocket 88
This was originally intended for the company's larger saloon vehicles. However, Oldsmobile engineers decided to put a strong V8 engine in the 88 to give it some more oomph.
Despite the Rocket 88's high-tech for the time high-compression V8's lack of earth-shattering performance by subsequent muscle car standards, many auto enthusiasts consider it to be the first of the muscle car breed.
The 303 cubic inches (5.0 litre) Rocket V8 engine produced around 140 horsepower. But, it was more than enough in 1949 to make the 88 a serious contender on the NASCAR racing track. It finished first in six of nine races in its first season and deserves a place in any "Muscle Car" museum.
1964 Pontiac GTO
The Pontiac GTO, a classic American muscle vehicle from the 1960s, was very fast for its day.
Most people credit the Pontiac GTO with kick-starting the Muscle Car craze in the 1960s. It was the first mass-market high-performance car to use a modified 389 cubic inch (6.4-litre) V8 engine.
This was in lieu of the entry-level Tempest's 140bhp six-cylinder. It was originally available as an option on the mid-size Pontiac Tempest.
Three 348bhp carburetor-equipped GTOs were available. As was a four-speed manual transmission, upgraded suspension, and larger wheels and bonnet scoops.
It only costs $4,500, or around £24,000 in today's money, when you include all the extras. For its day and price, the GTO's speed was so astounding that magazines of the day pitted it against the Ferrari 250 GTO to see how fast it could go from 0-60 mph. It took only 5.7 seconds.
Of course, a classic car like this one needs specialized tires. You'll want to check out Ozzytyres.com.au for one of the best tire collections on the market.
1970 Chevrolet Chevelle SS 454 
The Chevelle Super Sport (or SS) was Chevrolet's initial entry into the Muscle Car market when it was unveiled in 1964. The Pontiac GTO had a huge advantage in terms of raw power early on, but Chevy quickly caught up.
A colossal 454 cubic inch (7.5-litre) large block V8 with a claimed 450 horsepower and 500 pound-feet of torque was available as an option for the 1970 Chevelle SS.
The 1970 Chevrolet SS 454 was one of the world's fastest-accelerating road vehicles, and it's now a tremendously valuable collectible.
1970 Plymouth Road Runner Superbird
While the majority of Muscle Cars were built for drag racing – or at the very least, the traffic light Grand Prix – some significant models owe their origins to racing on closed circuits like the Indianapolis 500.
Prior to playing a prominent part in the Pixar blockbuster Cars, the Plymouth Superbird was possibly the most well-known. The car's razor-sharp front end and soaring rear wing were created to help it dominate the Nascar field.
Nascar's regulations in 1970 dictated that 1,920 units of the Plymouth Road Runner had to be road registered in order for it to participate, which led to the development of the Superbird and its sibling, the Dodge Charger Daytona, as a stock car racer. It was standard for a manufacturer's US sales network to have a minimum of two vehicles for each dealer.)
However, although the car's design was produced in a wind tunnel, its tall rear wing seemed to be built for cutting through the clear air. But, its height was actually decided by the requirement of opening the boot lid.
1967 Chevrolet Camaro Z/28
The Chevrolet Camaro was designed to counter the Ford Mustang's meteoric rise in popularity since its introduction in 1964. A fast coupe and convertible based on the Chevy Nova chassis, the Camaro arrived three years later with a variety of powerful engine choices including a 396 cubic inch V8 with up to 375 horsepower.
However, performance purists had the choice of the Z/28 package, which contained severe chassis modifications geared for racing versions, rather than the racy option packs that included the blacked-out grille with disguised headlight, simulated air intakes, and "bumblebee" striping.
Best Vintage Cars: Exploring Muscle Cars
Things can get overwhelming if you get too deep into the research process of which one is the crowned best American muscle car in history.
Hopefully, our guide has shed some light on the top American muscle cars that can compete for the title. And, if you enjoyed reading our article, then you'll love checking out our automotive section for all the additional tips and tricks you could possibly need.
Donate To Fast Muscle Car
We spend a lot of time bringing you muscle car content. If you would like to donate something to help us keep going, that would be fantastic.