Muscle Cars
Watching the Auction Of A 1979 Pontiac $79k
By
|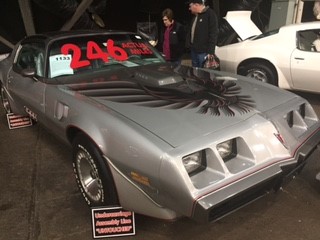 By Mark Weisseg
So I wandering around Barrett Jackson trying go to look at everything I could see. Suddenly I see this 79 Pontiac with 246 miles on it. I cannot say I love these cars but they now classify to a degree as a fast muscle car. So, I look at the sign at it says 246 miles since new. It is still wrapped up in the dealer plastic and appears to be the real deal. How can someone buy a brand new car in 79 and only put 246 miles on it? Wasn't the temptation overwhelming to get in it and drive like an ape?
So I used the word "so" again and I just stared at the car. How is this possible? And, more importantly, why did they do it? That is why the buyer bought this car way back in '79 and decide that in the year 2017 to sell it? Did they think all those years ago that the car would bring in the retirement money? That could only be the reason I could imagine. Well, I noted this because in my brain I decided that this car would be the one to watch. Jeepers, will it bring in truck loads of money?
Well, off I went to my seat and planted myself for hours watching car after car roll on by. Finally to my delight the '79 Pontiac was on deck. Holy cat chow and ku ku kachoo the magic moment was here. Big drum roll and the announcer gave a long winded speech about the car and the low miles.
After all he said it would be like driving a new car! I though it would be like driving an old new car but I let it go. The bidding starts and it's off to a quick start. Everyone is in high gear and the auctioneer is as hard as a Rock as he tells everyone how special this car is and that it should be worth three times what the bidding is. Now, I was not a bidder at this auction as I just bought a car back home and a new building to house them in. However, lots of fresh faces here and they are bidders.
The older middle aged man is in great attendance with his 29 year old " niece" at his side for encouragement. Finally, the bidding stops and everyone lets out a sigh of relief. It's over and boy it felt so good. Yes, the high bid and selling price was 75k. So, the first owner bought this car for about 12k back in the day and never really drove it. Then he had this car shipped here and paid B-J a fee to get on the docket as well as the 10 percent sellers fee. The new owner paid the 75k plus ten percent buyers fee and the shipping costs home to where ever that was. Done and done.
Well, I sat in my uncomfortable seat and within ten minutes another Firebird rolls up in the stage and it has about 46k on the odometer. Nice red color but driven and taken care of. That car sells for 70k. Huh?
Now, I don't have a degree from Yale or Harvard and I never ran a Fortune 500 company. But, I know how to have fun and I know what is fun. What I saw was not fun. Some cluck bought a car way back in the 1970's , never really drove it and sold it in 2017 for 75k minus fees. The other cluck bought a Firebird from the 1970's drove it 46 thousand miles and had fun and sold his for 70k minus fees. Which person had more fun? Cluck number two obviously.
Was it a lesson in economics? No. It was a life lesson and a bitter pill to swallow for cluck number one. Cars are not born. Cars have wheels. Unless the car is a rare car with wheels drive the sum a bitch and have fun. Then sell it years later and remember all the good times. Cluck number one can only say to his friends, " remember the time my car sat in the garage and we just stared at it ". While Cluck number two has an endless stream of funny stories and good times to share with all.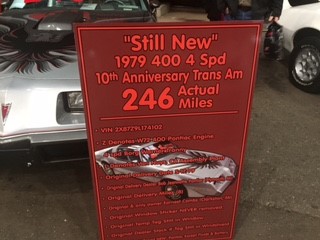 More Muscle Cars For Sale – http://fastmusclecar.com/muscle-car-for-sale/
Donate To Fast Muscle Car
We spend a lot of time bringing you muscle car content. If you would like to donate something to help us keep going, that would be fantastic.