Readers Rides
Tow Truck Classics.
By
|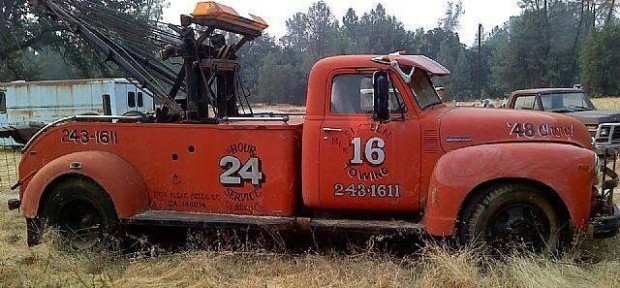 By Mark Weisseg
When I saw this huge tow truck, I wondered what ship was in port to tow. Then it hit me, I drove monsters like this back in the day. The big rubber sling, the hook for both control arms and the chains.
Today, if this beast rolls up to your 2009 Challenger, you would not let the tow truck driver do his magic. You would either push the car yourself or beg for the flat bed and today, it's the flat bed. Everywhere I look I see flat beds. One could argue that with today's smaller cars and the spoiler kits, it's the only at to go.
Tow trucks today are smaller, more efficient, generally automatic transmissions and full of creature comforts like air conditioning.
I can tell you the one I drove years ago had no a/c and what little heat it had, seeped out of the vents. I could have produced more heat from my hot chocolate.
I also recall back in the day when I was towing, nobody ever stopped me and asked me for credentials or ID. The police would stop traffic for me and help guide me out at times. I could have driven into any mall, waited for a driver to leave the car and simply pull in front of it and in minutes be locked on and pull away. All with the police helping me! Being a tow ruck driver was one of the worst jobs I had because during the winter you froze outside getting a car hooked up and in the summer you baked like a egg in the sun. I cannot say I ever enjoyed this end of the job- except once. Please indulge me. My Grandparents lived in a tiny apartment complex where everyone was given one parking place free. My Grandparents often complained to me that the guy next to them would steal there spot. So, one day I was somewhat close to the apartment complex so I took a detour over there. We just had another six inches of snow so I knew my day and night would be filled with plowing and towing. As I reached my destination I noticed the neighbor had his car parked where it should have been so I lowered my blade and cleaned out my Grandparents slot. Then, backed way up and reversed the truck a good 100 feet and got a full blade of snow and pushed it right behind the neighbors car. I did that over and over again until the snow reached a good six feet high behind his car. Then, I left. About two hours later I got a call on my CB radio to call my Grandfather. Yes, I had to go find a pay phone to call him. He was laughing and said he watched my shenanigans and got quite the laugh out of it. Later, I found out it took that guy two days to shovel his car out and I heard he never stole that spot again.
Moral of the story. Be nice to the tow truck driver as it can be a miserable, hard job and he needs to hit his relief button now and then too.
More Muscle Cars For Sale – http://fastmusclecar.com/muscle-car-for-sale/
Donate To Fast Muscle Car
We spend a lot of time bringing you muscle car content. If you would like to donate something to help us keep going, that would be fantastic.