Best Muscle Cars
Top 5 Legendary Muscle Cars
By
|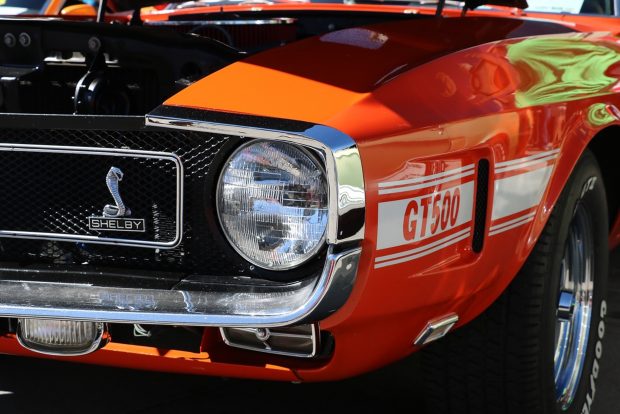 American muscle cars are among the most prolific cars ever invented. They were originally birthed during the '60s and '70s and quickly became the apple of every car lover's eye.
These heavyweight champions are the ideal companion for anybody who enjoys a variety of car specs and has an eye for vintage detail. If you're a car enthusiast who just finished an upgrade on their modern car and wants a restoration challenge, or a collector looking to buy a new vehicle, then one of these might be perfect for you!
Let's have a look at some of the most iconic muscle cars known for their unique qualities, astonishing horsepower, and classic style.
1.    1966 Plymouth Barracuda
This is a first-generation Barracuda created by Plymouth. Its design is based on the Chrysler A-body and it has two doors, heavy-duty suspensions, and rear axles with large mounted tires. The two-door 1966 Plymouth Barracuda is hard to miss, and also boasts one of the most world-renowned muscle car logos.
1966 Plymouth Barracuda specs:
Engine: 273 V8 (HEMI Block)
Power: 180 BHP @ 4200 RPM
0-60MPH: Approx. 12.4 secs
Torque: 280 ft-lb
2.    1968 Ford Mustang Shelby Cobra GT500
Manufactured by Ford, the anticipated release of this ultimate muscle car was a huge success. Its rare design has an abundance of special features, including a Tremec seven-speed dual-clutch. This car goes down in history as one of the most legendary American muscle cars, with a sophisticated design and powerful engine.
Engine: 428cu V8 (Pushrod Small-Block)
Horsepower: 335 BHP @ 5600 RPM
0-60MPH: Approx. 6.5 secs
Torque: 420 lb-ft
3.    Dodge Challenger SRT Hellcat Redeye
This Dodge car is iconic. It's versatile enough to be both a powerful muscle car and a comfy American coupe. Adjust the style of this car to suit your mood: feel the thrill of speed with the Hellcat's high torque, or sit in sport mode and keep your throttle gentle for a relaxed drive.
Engine: 378cu V8 (HEMI Block)
Horsepower: 797 BHP @ 6300 RPM
0-60MPH: Approx. 3.7 secs
Torque: 707 lb-ft
4.    1969 AMX/3
The sleek 1969 AMX/3 is one of the most awe-inspiring muscle cars ever created. Its features and performance caught the attention of many. However, there's only a handful of these classic cars left in the world — making them even more valuable for the aspiring collector.
Engine: 390cu V8 (Medium-Block)
Horsepower: 340 BHP @ 5100 RPM
0-60MPH: Approx. 6.5 secs
Torque: 430 lb-ft
5.    1984 Chevy Corvette
This fourth-generation classic is the fastest American muscle car on our list, with the ability to reach impressive speeds of 140 MPH. Its impeccable design is historical, and it's by far one of our favorites.
Engine: 350cu V8 (Small Block)
Horsepower: 205 BHP @ 4300 RPM
0-60MPH: Approx. 6.4 secs
Torque: 290 lb-ft
Last Words on Unforgettable Muscle Cars
These majestic beasts have paved the way for the cars of today, with their astonishing horsepower and eye-catching style. Owning one of these legendary cars is a dream come true for anybody with a need for speed, a passion for power, and an appreciation for classic car features.
Donate To Fast Muscle Car
We spend a lot of time bringing you muscle car content. If you would like to donate something to help us keep going, that would be fantastic.