News
Today's New Muscle Cars, Tomorrow's Collectables
By
|
What is common today, can be priceless in the future.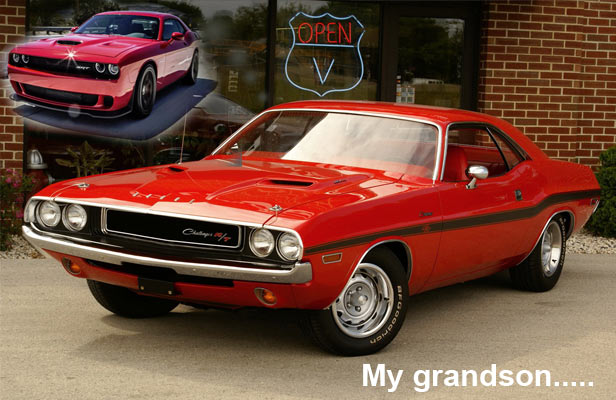 You can see and hear it all the time in the classic muscle car world. Individuals who either owned a rare example of a golden era muscle car or had the chance to buy one, but moved on to something else at the time. It's only in hindsight we can see how valuable those past 'potentials' were.
It's the same today.
Limited runs of cars from today's perspective may look just like another offering from the manufacturer or another way to boost sales, but they can become future classics.
You just have to take a look at some of the big auction houses to see modern muscle cars with very limited edition runs going through for a very nice price, thank you very much.
So what would be considered as a modern-day classic or collectable?
Concerning muscle cars, it is best look into the past to see how the most valuable cars became so rare and sought-after.
It is usually the most rare optioned vehicles, but they also came from a time when most cars were ordered from an option list. This was the more common way of buying a brand-new car, not so much arriving at the lot and choosing one you saw.
The negative is that the more options you choose, the more the car costs, initially.
So onto the modern collectable muscle cars.
Chevrolet Corvette Z06 ($78,995).
With a 650HP powerplant, the Corvette Z06 really made super car owners wake up again to the muscle car family.
Dodge Challenger Hellcat ($58,295).
It's not hard to see the new Dodge Hellcat as a future classic. Arguably, this car has done more to revive the muscle car ethos than any other vehicle.
With higher production volume planned for 2016, you can bet there will be additional packages available, but the lucky ones to buy the first production vehicles, maybe worth the most in the future.
Ford Mustang GT Performance Package ($37,125).
Performance packages, the limited-edition 50th anniversary edition and the 2015 redesign make today's Ford Mustangs possible future collectors items. The performance package being possibly the future classic.
Ford GT40
With a 2016 model planned for release, you can bet the 2005 era GT40 will just keep going up in price.
Originally sold for US$100,000 – $139,995, these two listings below show a doubling in price in roughly 10 years.
http://www.carandclassic.co.uk/car/C614001 and http://www.hemmings.com/classifieds/dealer/ford/gt40/1749096.html
Dodge Viper '1 of 1' program.
More sports car than anything else, the new Dodge Viper '1 of 1' program means future Dodge Viper collectors will be hunting for these custom vehicles.
From the Hagerty Hot List of future collectible cars for 2015, with our own picks.
Click for More Muscle Cars For Sale – http://fastmusclecar.com/muscle-car-for-sale/
Donate To Fast Muscle Car
We spend a lot of time bringing you muscle car content. If you would like to donate something to help us keep going, that would be fantastic.