News
The State of Top Muscle Car Auctions
By
|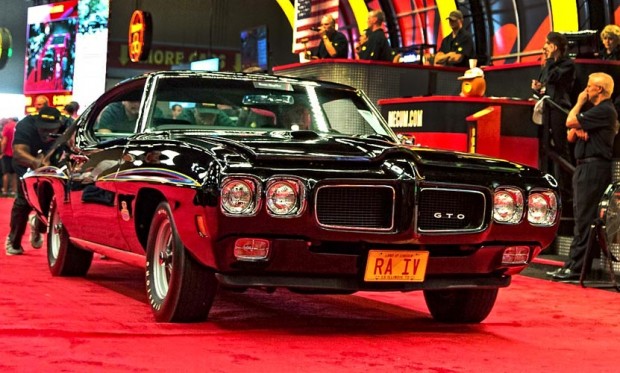 It's no secret that golden era muscle car prices have risen over the last few years faster than cornbread in a nuclear oven ( if there is such a thing!), so the question is – will this trend continue and what does it mean for the average muscle car fan, not just the high-end investors and/or collectors?
Mecum auctions have released their sales figures from there recent Chicago auction, held 8-10th October, with 494 cars being sold.
Below are the top 10 cars from the Mecum auction, Chicago:
1. 2005 Ford GT at $230,000
2. 1970 Pontiac GTO Judge Ram Air IV at $160,000
3. 1969 Pontiac Trans Am at $127,500
4. 1953 Buick Skylark Convertible at $127,500
5. 1961 Chevrolet Corvette Big Brake Fuelie at $115,000
6. 1987 Buick GNX at $112,500
7. 1966 Batmobile Replica at $110,000
8. 2005 Ferrari F430 Spider at $110,000
9. 1970 Buick GSX at $80,000
10. 1970 Dodge Challenger T/A at $80,000
On the up and up
The graph below from Hagerty.com show that prices have gone through the roof over the last few years, with many investors' websites reporting if this is just a bubble or will the price rise continue?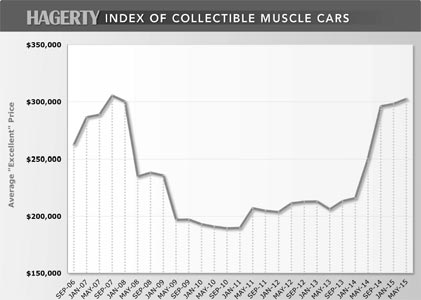 Predicting any type of future investment is like anything else in the investment or stock market, it is just an educated guess, so all we can say at this point is prices are on the rise for the short term, at least.
Fantastic news for those who currently own a rare optioned muscle car, but what about those wanting to get into the hobby?
It has been argued a few times that the top auction houses are artificially driving up the prices of vintage muscle cars, but I don't think they are completely to blame, they're just the pinnacle of the most high-end vehicles and at that level, it only takes a few bidders to spend a few hundred thousand dollars or a few million dollars to turn around the market on that make and model. (how much would a 1969 Pontiac Trans Am fetch only a few years ago??)
There are still many examples of muscle cars out there that may not be condition 1 by Hagerty standards, but they still make great working projects, daily drivers, racers and everything in between.
You could almost argue the top priced vehicles are just those few ultra-rare optioned versions, separate from the rest, not the total story of the rest of the market.
Investment or driver
The state of play at the moment looks like the most rare optioned vehicles will steadily increase in price, which will have a knock-on effect for every car in the breed, but it also looks like the market may split off into the most rare optioned vehicles and those that are for the average hobbyist or collector. In other words, if you hunt around for long enough, you will find a muscle car within your budget and capabilities, at least for now.
More Muscle Cars For Sale – http://fastmusclecar.com/muscle-car-for-sale/
Donate To Fast Muscle Car
We spend a lot of time bringing you muscle car content. If you would like to donate something to help us keep going, that would be fantastic.
The State of Top Muscle Car Auctions

,