Readers Rides
The Mighty Chevelle Before The Days Of Health and Safety!
By
|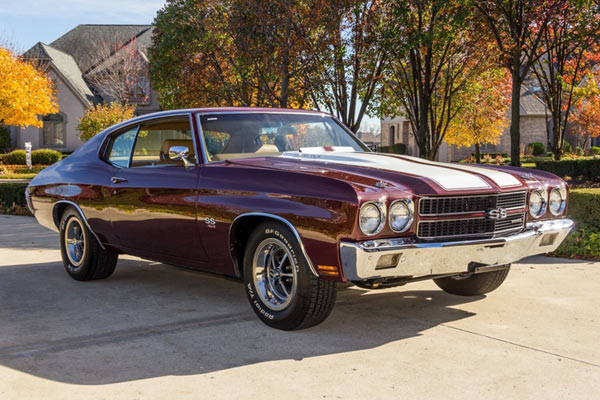 By Mark Weisseg
How beautiful a car is this Chevelle. The variations from a six cylinder, to a 307, 350, 396 and the heavy Chevy 454 are tremendous. This car was a sales award winner with Chevy selling them as fast as they could make them and for good reason. They were a great car and remain one of the best cars to this day. These cars are everywhere you go and for me I am thrilled to have witness it.
My eldest brother bought his first brand new car and it was a Chevelle. Same color as this one and he loved that car. He kept it a long time and for the most part the car was trouble free. I have a bit of a different take on it so here is my story.
I was a mechanic back in the 70's and early 80's and worked on nearly every car you could imagine. However, back in those days we were never taught anything regarding safety. We blew brake dust with an air gun. We used air chisels, drills, and guns without hearing protection, we never used any type of safety mask or gloves. No tire safety cages for split rims. We would put the wheel below the steel alignment rack and do our duty not knowing the force could have blown us all to death. We sprayed paint and liquids without any proper protection and handled what is deemed dangerous today like it was water. We used lighter fluid on the beads of tires and hit them with a match to explode them onto the rim.
And the list goes on. It was only late in my wrench turning career that we got videos and training on what not to do. The damage was done. Today, I have lost 50 percent of my hearing, my body is full of arthritis, my knees are bad from the concrete floors, and my back hurts all the time from improper lifting methods. Lord knows what my lungs look like or what else I damaged due to this work. But if you find any mechanic from back in the day that did this type of work for any length of time, he has health issues.
So, while we all love classic fast cars and the era of the 60's and 70's there was a price that many of us paid. I never thought back in the day that 30 to 40 years later we would suffer from our work. We worked long hours, were paid a fair wage and enjoyed the work. Nothing gives you satisfaction like when you tear something apart, find the problem and repair it. It's a feeling of accomplishment that I never felt in any other job I had. But, the price was steep. It is the main reason I have my classic car purchases rebuilt to my liking by my brother.
So, when I see a Chevelle like this one I have fond memories. I fixed them, I drove and enjoyed them but I cannot change time. I will always love the classic cars and the memories that go along with them. After all, are we not buying our memories when we buy or rebuild a car such as this? Of course we are. Most will say they wanted a car like this when they were young but could not afford it. Or, they had one and wanted one again. Whatever the reason I agree with you and hope you live your dream as life is short as we all know by now. But, for some of us the price just got a bit higher.
For all muscle car parts – http://fastmusclecar.com/muscle-car-parts/
Donate To Fast Muscle Car
We spend a lot of time bringing you muscle car content. If you would like to donate something to help us keep going, that would be fantastic.
The Mighty Chevelle Before The Days Of Health and Safety!

,