Muscle Cars
The Mecum Car Auction Experience
By
|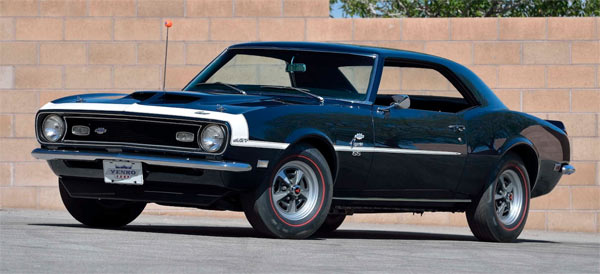 By Mark Weisseg
This past weekend was the Mecum auction just outside of Chicago. For those of you that have never been to a Mecum auction let me tell you about the event.
About a week or so before the actual auction the entire convention center is transformed. Huge tents are put up outside in the parking lots so that all the vehicles can be staged there. I say vehicles because you will see classic cars, hot rods, trucks, signs, buggies, and much more.
The auction lasted two days and were jam packed with participates and vehicles. Spectators are allowed to wander around and look at everything in advance. If you are lucky the owner may be there and you can ask questions.
How the process works is this. Any body can attend the auction and pay a daily fee to get in and just watch. Bidders must pre register to do so and pay for the privilege. If you buy you then must pay a percentage of about eight percent on top of that. Sellers also pay to have there vehicles auctioned. If they sell the vehicle they too pay a percentage. Sometimes that percentage gets negotiated if the deal is close. Normally Frank Mecum is the one that will step in to help. His father Dana Mecum is also working the floor to make everything run smooth. And it does. You will find the three main auctioneers to be very likable as is the other people working the floor. Every section has a Mecum employee working with the bidders. It's really a beautifully run machine.
If you make the deal State Farm Insurance is there to help you get the necessary insurance Home. Mecum has there own trucks so you can have them deliver your new purchase to your front door.
The bidding is very simple. Some vehicles are no reserve. Meaning, what ever is the highest bid wins the vehicle. Some vehicles have a reserve price that only the seller knows. The bidding must get to that and whomever bids the highest gets the car. There is also a place known as the bidding goes on desk. This is where if a car does not sell you can go over there and possibly make a deal there.
It's a circus like affair and I mean that in the most positive light. It's a well oiled machine. TV cameras are rolling with expert announcers to give the audience at home a bit more information. The bidding can also be done by telephone or by the internet. Social media is a large presence too.
It's a car guys paradise. In advance of the actual event you can go on the Mecum web site and see if there is anything you want to bid on. You can be anywhere in the world and watch it streaming live right from wherever you are. For those lucky enough to attend it's like Christmas morning. For example the 1968 Mustang GT 350 in the picture was bid as high as $125k but did not meet the reserve. So, that one goes back to the owner. It was a beautiful car. One thing that I want to mention is that the super bright lights for TV make almost every vehicle look great. It's only when you are there in person do you see bubbles, crack, dents, or other items you may not see on the TV. Everything is sold "as is" and you should do your homework firat.
The auction event is fun for everyone and it's an Experience you will never forget. So many hot rods, classics, rare cars, resto mods, and so on. You won't be bored and you won't want it to end. I would highly recommend going to one of these events. They are at different locations all across the country. Several companies like Barrett Jackson, Sothebys, RM auctions and so on seem to be near a major city all year long. Mecum just happens to be number one for the most sold. The entire experience is worth the time and money to go. And best of all you may be fortunate enough to buy your own fast muscle car. The auctions are just jam packed with great cars. Something for everyone is what you hear a lot.
So, now you have a better understanding of how this process works. It's time for you to get to one and enjoy the experience.
Happy Hunting
Donate To Fast Muscle Car
We spend a lot of time bringing you muscle car content. If you would like to donate something to help us keep going, that would be fantastic.
The Mecum Car Auction Experience

,