Best Muscle Cars
The History Of The 1967 Camaro
By
|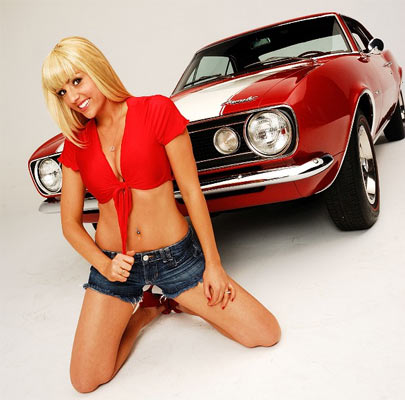 Would you believe the Chevrolet Camaro is nearly 50 years old.
In that time more than a few generations have witnessed the thunder of the Chevrolet Camaro and its various reiterations over the years.
Built in secret by Fisher Bodies with work beginning on #123377N100001 May 17, 1966. The coach was delivered to Chevrolet by Fisher Body on May 21, 1966.
if you want to read the back story building up to the first release of the Camaro, then read our other post, 'Origins of the name Camaro' – 'First Camaro ever built' .
The Camaro was launched in September 1966, with 220,906 models produced that year. You could buy a base model, sports coupe or convertible. Sports coupes came in three models: the base model, the RS or SS (overlap between these as below) and the mighty Z/28. 80 factory and 40 dealer options were available for the range.
The majority of Camaros were built into American assembly plants, Norwood, Ohio and Van Nuys, California.
Base model.
The base model Camaro had a 230cu./3.8 L, L26 I6, 140HP straight six engine or a 327cu./5.4L V8 engine in late 1969.
The basic transmission was a Saginaw three-speed manual.
In total there were eight different engines available in 1967, with for transmission options.
Engines
230 cu in, 3.8 L, L26 I6
250 cu in, 4.1 L, L22 I6
283 cu in, 4.6 L, small-block V8
302 cu in, 4.9 L, Z28 V8 (Z/28)
307 cu in, 5.0 L, L14 V8
327 cu in, 5.4 L, LF7/L30 V8
350 cu in, 5.7 L, LM1/L65 V8
350 cu in, 5.7 L, L48 V8 (SS350)
396 cu in, 6.5 L, L34/L78/L89 V8 (SS396)
427 cu in, 7.0 L, L72/ZL1 V8 (COPO)
Transmission
3-speed manual
4-speed manual
2-speed automatic
3-speed automatic
Camaro RS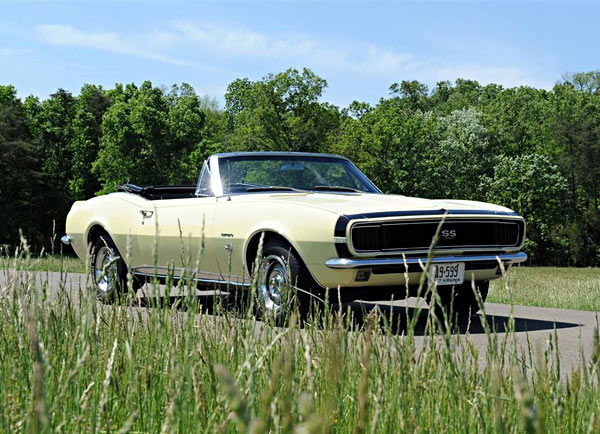 (RS/SS Convertible options)
The RS version of the Camaro was really a vanity package which included great looking hidden headlights, updated taillights with backup lights under the rear bumper, RS badging and exterior rocker trim.
The RS could be combined with the SS, to make an RS/SS package. You could also get a Z/28/RS package.
Camaro SS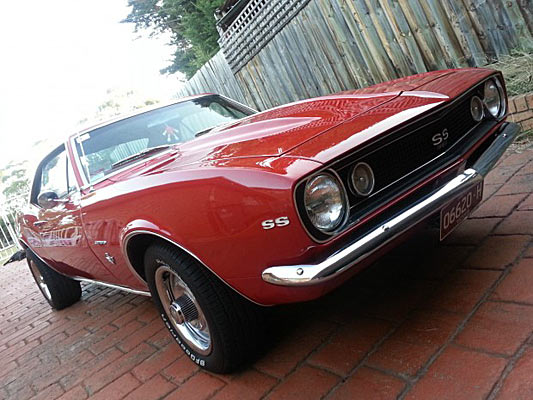 The SS model Camaro was when the fun really started.
SS originally meant hi-po and the first engine offering was a 350cu., L48, 295HP V8 only available in the SS 350. It came with a raised air inlets in the hood, striping, SS badging, new front fenders, new gas cap, new horn button, stiffened suspension and red striped tires.
0 to 60 mph tests at the time came in around 7.8 seconds and a quarter mile 16.1 seconds at 86.5 miles an hour.
Two engine options available were – The 396cu. L35/325 hp and the 396cu. L78/375hp. The base 396 V8 had 325 hp.
The base SS Camaro had an H.D. three-speed gearbox as standard, with optional 2 speed Powerglide and a four-speed.
Rear axle ratios combinations included: 2.73:1, 3.07:1, 3.31:1, 3.55:1, 3.73:1, 4.10:1, 4.56:1, and 4.88:1.
Camaro Z/28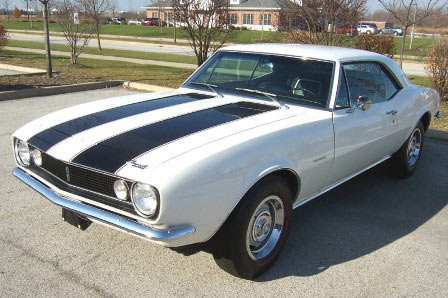 The Z28 Camaro was introduced in November 26th 1966 as a performance kit for the American road race of champions at California's Riverside Raceway. The Z/28 nameplate came from the RPO codes (Regular Production Option) of the time. (RPO Z28 = the Special Performance Package, RPO Z27 = the Super Sport package.)
Only 602 Z/28s were sold in 1967, as it wasn't mentioned in promotional material, so was unknown to most of the general public.
Designed by Vince Piggins as an almost race ready Camaro available at Chevrolet dealers, options included power front disk brakes, a close ratio Muncie 4-speed manual transmission with optional positi-traction. You got a heater, but no A/C. The heater could be deleted as an option for true racers.
A test 283 V8 engine was first used, but didn't have enough power to be a contender. A 302cu., 4.9L small block V8 was then standard with a 3 inch crankshaft – 4 inch bore, rated at 290HP. Top speed around 124mph.
The engine was made for the Trans Am series, so no engines bigger than a 305CU/5.0L.
With a single four barrel carburettor, horsepower was around 360HP and with a dual four barrel carburettor, 400HP.
As with the SS model, the RS package could be included alongside the Z/28 package.
Of Note – The 1967 Z28 air intake was fom an open element air cleaner or from an optional cowl plenum duct, not like later models, with cowl induction hood.
1967 Camaro Production numbers:
Camaro RS: 64,842
Camaro SS: 34,411
Camaro Z28: 602
Total: 99,855
The Camaro and its various options still live today and the best news is they are now better than they have ever been. (check out our sister site newmusclecars.org for the latest versions.)
Will we see another 50 years of the Camaro?
Click for More Muscle Cars For Sale – http://fastmusclecar.com/muscle-car-for-sale/
Donate To Fast Muscle Car
We spend a lot of time bringing you muscle car content. If you would like to donate something to help us keep going, that would be fantastic.
The History Of The 1967 Camaro

,