Muscle Car
The Chrysler 300: Fun From An Un-Obvious Car
By
|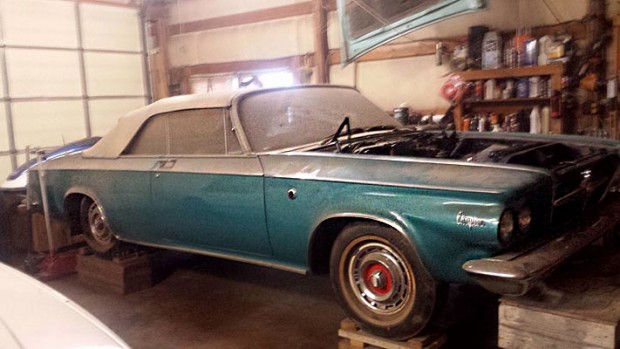 By Mark Weisseg
One must have a love affair with a car like this because it has nearly no cool classic features. Now, you may argue it's got a drop top, has a great leather interior, a big Chrysler v8 engine and more. I'll argue it is a square steering wheel, an ugly body , and no real cash value outside the owners eyes.
Beauty is in the eye of the beholder.
Some will see this Chrysler 300 I think it is a cool classic with some worth. Others will just see an ugly body and a worthless car.
But, all kidding aside that is what makes our hobby so great. What one person shrugs offs is another persons dream car. You may have gone to a car show and seen someone drop thousands and thousands of dollars into a Chevy Chevette and you can only ask " Why"?
Well, who knows the back story, but once in a while a Chrysler can be a welcome relief. Personally speaking, how many Corvettes, Chargers, Mustangs, and Camaros can one look at before the yawn affect settles in.
Hats off to a collector that changes it up a bit.
This particular Chrysler 300 would be a unique challenge as parts are tougher to come by which makes prices higher and then, after all the back breaking work, your car will be special to you and only a limited amount of on lookers.
Should that stop you before you start? Heck no, if you have dream to do this then by all means do it. Show off the push button drive, be proud of the oblong steering wheel and be thrilled there are not 30 or more just like it one row over. Like most cars I write about I have either drove them or worked on them.
One car under my care had a 383 four barrel under the hood and I do have a funny story about the car.
The car sat for a couple of years and the owner who I knew well said the engine was running bad, had black smoke coming from the duals, and he may have a fun,messy solution. I piled in the passenger side and off we went. Yes, the engine sputtered and clearly with the high miles on the car anything was possible. So, we get to a long , lonely stretch of road and he punches the throttle to the floor. Immediately as the rpm's increase the engine is missing and black smoke is pouring out the pipes. I yelled over that he might blow the engine up at this pace and he shrugged his shoulders and held his foot to the floor. Sure enough, a very loud popping noise was heard and we both spun our heads around to see what came out he exhaust pipes. It was one large cloud now but after that the smoke quickly vanished and the engine was still racing toward 130 mph now and increasing. Finally around the 140 mark he let off and we just cruised in down to that actual speed Limit.
No more black smoke, no more engine sputtering and missing, just a smooth ride that we now we're laughing at. Forget the bias ply tires and drum brakes, forget the seat belts were not clasped and forget the top was down. We just blew whatever was hanging around in the engines crevices and now blew them all over a deserted road. The car ran great after that and after pouring in a can of gum out and filling the tank with hi tech fuel that car ran good for years until one day he slammed the drivers door and heard a terrible cracking noise. You guessed it. Life was over for the 64 Chiseler, as we called it then.
It was pieced out but he did save that mighty engine and transmission. What a ugly duckling car that had one more life left in it. Hats off to the old 300 and the smoke we provided for the countries alarm systems that afternoon.
For all muscle car parts – http://fastmusclecar.com/muscle-car-parts/
Donate To Fast Muscle Car
We spend a lot of time bringing you muscle car content. If you would like to donate something to help us keep going, that would be fantastic.
The Chrysler 300: Fun From An Un-Obvious Car

,