Best Muscle Cars
The Fastest Police Cars In Every Country
By
|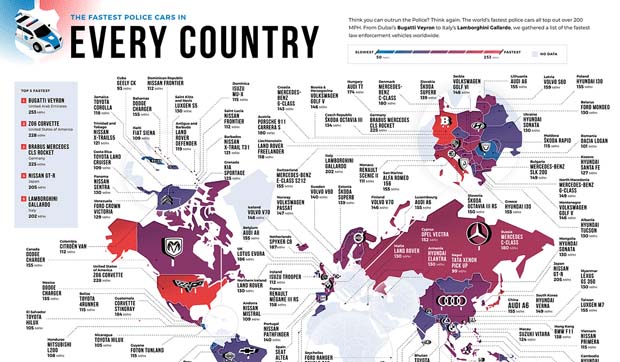 By Dave Ashton
Love them or hate them, police cars are part of our everyday culture, in real life or on-screen. To keep up with the bad guys, some Police forces around the world have employed the fastest vehicles on the planet. In many ways, this arms race between the goodies and the baddies, of who has the fastest vehicle, ushered in competitive car racing as we know it.
Obviously, as we blether on mostly about American muscle cars on this website, it would be the most interesting to see how these vehicles slot into the mix and how they compare with all the rest.
The guys over at chasingcars.com.au have put together a bunch of infographics on this subject, covering everything you need to know.
The fastest police cars in the world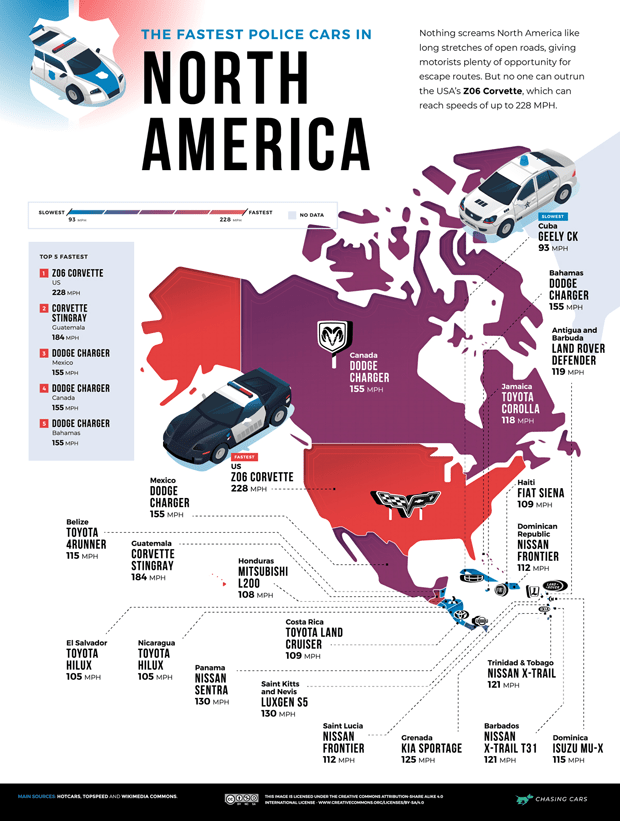 It's not a surprise that the United Arab Emirates (UAE) has the fastest police car in the form of the Bugatti Veyron. If you can outrun this 253mph/407kmh vehicle, good luck. However, the USA puts in a good showing at 3rd place with a 1,005-horsepower Z06 Corvette, owned by the New Braunfels Texas Police Department that is capable of 228mph/367kmh.
The next fastest in the American category is a Corvette Stingray, in Guatemala City, which is capable of 184mph/296kmh. The Dodge Charger with a top speed of 155 mph is a well-used vehicle in Mexico, most of Canada, and the Bahamas.
A Dodge Charger LX is the fastest police car in South America, still capable of a decent 155mph/249kmh. Europe, as you would expect prefer things from Germany, Italy, and Japan. No wonder their fastest police car is the Brabus Mercedes CLS Rocket, which can chug along at 225mph/362kmh. Italy has a bunch of Ferraris and Lamborghinis at their disposal, while the Netherlands have a Spyker C8, one of only 94 built which can hit 187mph/301kmh.
For the most ridiculously expensive police car, there is the W Motors Lykan HyperSport, which costs $3,400,000. This beast packs a 3.5L, flat 6 Porsche engine, capable of producing 750 hp.
Donate To Fast Muscle Car
We spend a lot of time bringing you muscle car content. If you would like to donate something to help us keep going, that would be fantastic.