Best Muscle Cars
The Definitive Firebird &Trans Am Guide 1970- 1981
By
|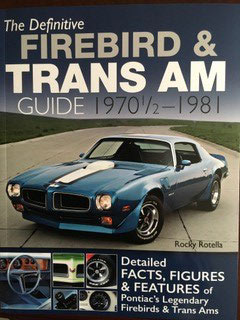 By Mark Weisseg
Cartechbooks.com has released another great book on the second generation Firebirds and Trans Am's. It is written by the well known author Rocky Rotella. The book is 224 pages and over 500 photos. With those numbers alone you know this book is packed full of information.
Pontiac is no more obviously but these cars live on all over the world. The popularity began day one and continues on as strong as ever. I can assure you that the Trans Am and Firebird of that era was huge. At the time we called them the poor mans Corvette. Why? Well, back then only wealthy people could swing a Vette. That meant the next group down would be the Pontiac's. And did they ever perform! By far we all know the Smokey and the Bandit cars were monsters. The movie made the car and if you were a guy that had one- well, you had all the moves if you get my drift. The car did not ride well but nobody cared. At the time they were pretty fast, super cool looking, and offered all the amenities.
Even today these cars are hot. When you go to any show in this here United States you are bound to see them. Some guys like them original but the current trend is about change. Resto Mods are in. Better brakes, better suspensions, more horsepower, better fit and finish and so on. The engineers back in the day never could have imagined what is going on now.
Just look at the beginning of the cars life. Little six cylinders or a small block. Only when the competition stiffened up did Pontiac really get serious. The 68 to about 72 were the big guns. After 72 the pollution control watch dogs made the cars cleaner, but slower. Looking back most of the cars has a 350 engine but the horsepower is puny. Yes, the Super Duty has a 455 but heck today's family car could blow its doors off.
When you read one of the many great books from Cartechbooks.com you must put yourself back in time. It's a time machine for those of us that lived in that period. For all you newbies the books provide you with the blue prints. When they were built, Why, where, and how. It's a wonderful history lesson to all. I have said it before and it's worth saying again. These were truly the best of times for the muscle cars. Some would argue right after World War Two but those were jalopies. Yes, they are important in the big scheme but the 60's and 70's were the top of the mountain. It just peaked too fast. But when something dies another life begins. I mean that because look at what is going on today with the muscle cars.
The roots are in cars like the Firebirds and Trans Am models. These cars were fast, fun, and easy to repair. That is one of the many reasons they live yet again. The book will fill your head with facts and figures- not junk. Trust me, I was driving these cars and loving every minute. Yes, even after the horsepower declined these cars were still fun.
Facts and figures do not lie. These birds as we called them are Collector cars for a very good reason. Buy the book and learn.
So, what's in it for the reader? Well, the author had access to the archives at GM. This access provided him with detailed information on; engineering blueprints, option codes, production numbers, and everything else you can imagine. How many of you recall the Super Duty 455 engine in the Pontiac? Remember some were Oldsmobile engines! Hmmm, now you can see how important this book is.
What I liked about the book is it's attention to detail. It's another fantastic reference guide for the millions of us out here that crave a complete reference guide. It's easy to read and follow along. The book pays homage to the cars roots and popularity even today.
So, if you need a great book to read and one to add to your collection this would be it.
Order by; www.cartechbooks.com or by calling 1-800-551-4754
More Muscle Cars For Sale – http://fastmusclecar.com/muscle-car-for-sale/
Donate To Fast Muscle Car
We spend a lot of time bringing you muscle car content. If you would like to donate something to help us keep going, that would be fantastic.