Readers Rides
The Classic Wagons Are Hot Again
By
|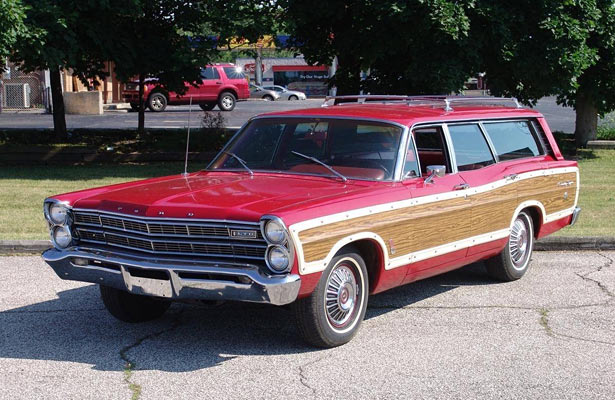 By Mark Weisseg
When we were kids we always had a used car and it was always a wagon.
Nothing special, a nine seater, V8 engine, no air con. or anything crazy. One time though, Dad went off the rails and bought a Ford Wagon like this one, but it had a 428 under the hood.
I remember two things about that car that only my siblings would remember. One, I was a young guy with a vivid imagination. So, one day I found a screw driver in the garage and decided to take the dash apart to see what was in there. About half way through, I realized I was over my head and tried to put it back together. I failed miserably. That was lesson one in car dismantling.
Wagons also had quirky features. There was a little light on the dash that lit up when the engine was cold. The little light only went out when the engine reached the correct operating temperature. Stupid idea because some drivers would sit and wait for ten minutes until that light went out. I know Dad and Mom didn't wait. Turn the key, and go. The cars in those days did need a warm up period with the carbs and such, but some people took it to an extreme and let the car idle for a half hour in cold weather.
wagons were and always the most likeable, but the one we had, had a huge engine and it was fast. Dad complained way back in the day about fuel economy because I remember we had wagons that were six cylinder slant sixes, small V8's but this whopper filled the entire engine compartment.
I guess that is why Dad did not keep this wagon very long. I think even at 35 cents a gallon, Dad understood this car would keep us kids from eating meat.
Anyway, the wagon is part of our fabric. Woody wagons were not the norm in America. Generally a wagon was bought to haul kids around and occasionally be a truck. it was common of these wagons to double as a pickup truck. The wagons were useful, big, bulky, and a necessity of life back then.
Today it is the mini van or bigger SUV. I got quite the laugh the other day when I found out my nephew and his wife bought a mini van. It's smart in that they have a two year old and his wife is due to deliver another boy this March. For most guys it is the kiss of death to drive a mini van.
Just like it was for Dad to wheel a nine passenger station wagon in the 60's and early 70's. But, they are very functional and serve a great purpose. I am sure my nephew wants my Mustang more than ever but it is official now that he is a father and life will never be the same. What he once laughed at for transportation, he now will be steering through life. Long live the Wagon and the stories that follow.
For all muscle car parts – http://fastmusclecar.com/muscle-car-parts/
Donate To Fast Muscle Car
We spend a lot of time bringing you muscle car content. If you would like to donate something to help us keep going, that would be fantastic.
The Classic Wagons Are Hot Again

,