Best Muscle Cars
The Best Muscle Cars to Invest In
By
|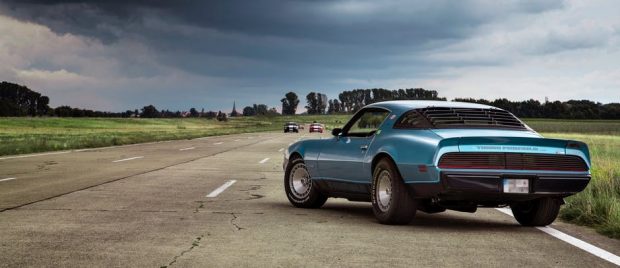 Do you want to make an investment in a classic car or truck? If so, learn about the best muscle cars to invest in here.
What's more American than apple pie? If you're an automotive guru, your answer may be American muscle cars.
If you're revving up to make your own investment in a classic muscle class vehicle, we're here to help. Here's a roundup of some of the best muscle cars to consider.
A Brief History of Muscle Cars
Muscle cars have a special place in American automotive history.
Many point to the 1949 Oldsmobile Rocket 88 as the very first muscle car on the market. It features many of the hallmarks of the muscle car class:
Sport coupe body
Midsize
Lightweight construction
Robust V8 engine
Rear-wheel drivetrain
Fast and powerful
While the Oldsmobile Rocket is given props as the vehicle that started it all, the true heyday of muscle cars was between 1950-1970. During this era, drivers and automakers alike jumped on the bandwagon for speedier, sportier vehicles.
This led to the mass production of an array of muscle cars and a culture of muscle-car appreciation. Older shoppers loved them for daily cruises and younger buyers raced them. They were a fixture of everyday life and driving.
In the mid-1970's the muscle car lost its status as a daily driving vehicle. Newer models were less affordable than before. And the Clean Air Act and a focus on reducing emissions put restrictions on engine construction. This decreased the performance power of many models.
Buying Trends Over the Years
Even though there was a shift away from old muscle cars after the 1970s, they've still maintained their popularity. Casual drivers appreciate the nostalgia they represent and car collectors know the value of adding a few classic models to their collection.
According to data from the Hagerty Price Index American Muscle Cars, muscle car buying trends have stayed strong for the last several years. They predict that this will continue to be the case since younger car collectors are drawn to many of the most popular classic models.
Best Muscle Cars to Invest in Now
Classic American muscle cars still hold an important place in many towns and cities across the country. If you head to a car show or do some research on beloved collectible muscle cars, you may come across one or a handful of these models.
Pontiac GTO
The first version of the Pontiac GTO, produced in the mid-1960s, was an influential model in the muscle car trend. Highlights include a light build and powerful engine capable of producing about 360 horsepower.
Chevrolet Camaro
The Chevy Camaro is actually still on the market today, which proves its everlasting appeal. It first appeared in 1967 as a direct competitor to the Ford Mustang. The first version was equipped with a standard 3.8-liter six-cylinder engine that puts out 140 horsepower.
Dodge Charger
It's hard to dispute the iconic appeal of the Dodge Charger. This model is also still popular to current drivers. The first version appeared in 1966 with an output of over 420 horsepower.
Ford Mustang
Around 1964, the Ford brand unveiled the legendary Ford Mustang. It was instantly popular and still is available in coupe and convertible styles. The earliest versions came with V6 and V8 engine options.
Chevrolet Chevelle
The Chevrolet Chevelle appeared in the early 1960s. It's a model that's also synonymous with the muscle car culture of that decade. Even people who aren't classic car enthusiasts easily identify this vehicle as a classic model.
It's so recognizable that it often appears in movies that feature muscle cars.
Plymouth Road Runner
The Plymouth Road Runner came at a time when other automakers were making more costly muscle cars. This model was introduced in 1968 at an affordable price and with a capable engine that would appeal to the average driver.
Plymouth Barracuda
If you want a truly distinctive old muscle car, the Plymouth Barracuda is eye-catching and powerful. It first appeared in the mid-1960s just before the Ford Mustang.
Some characterize this model as the original pony car. This term refers to a class of vehicles that are small, affordable, but sporty too.
Corvette Stingray
The Corvette Stingray is a stunning vehicle first introduced in 1963. It was considered the all-new iteration of the original first-generation Corvette. It was restyled in the fashion of a race car—and it shows—in aspects like a coupe body style and independent rear suspension.
Dodge Challenger
The Dodge Challenger came to the market in 1970, and it continues to be a major player for the Dodge brand. The first version was built on the same platform as the Plymouth Barracuda and came with an impressive selection of nine engine options.
According to the FCA US LLC, restored models can sell for six figures.
Making a Smart Investment
The coolest muscle cars can enhance a car aficionado's personal collection. But if you choose wisely, they can also prove to be a valuable and profitable investment.
Like any other financial investment, purchasing a collectible muscle car requires careful thought. Classic muscle cars require a considerable buy-in after all. Your investment doesn't just stop with the initial purchase.
There are risks to consider such as the condition of the vehicle and how much it could cost you to restore and maintain it. You'll need to work with a body shop that specializes in muscle car service and restoration you can depend on. It will also cost you to house and properly insure the vehicle.
And if you plan to sell it in the future, consider how you can recoup the costs. Will you be able to make a profit or just break even?
Get the Latest Muscle Car News
While this is a lot to think about, you have plenty of resources to help you evaluate your investment. And our blog is a great place to start.
Visit our site if you're looking for more research and information on the best muscle cars to invest in. We'll supply the latest buying tips and model highlights.
Donate To Fast Muscle Car
We spend a lot of time bringing you muscle car content. If you would like to donate something to help us keep going, that would be fantastic.