Readers Rides
The AC Cobra: Do You Choose Real or Replica?
By
|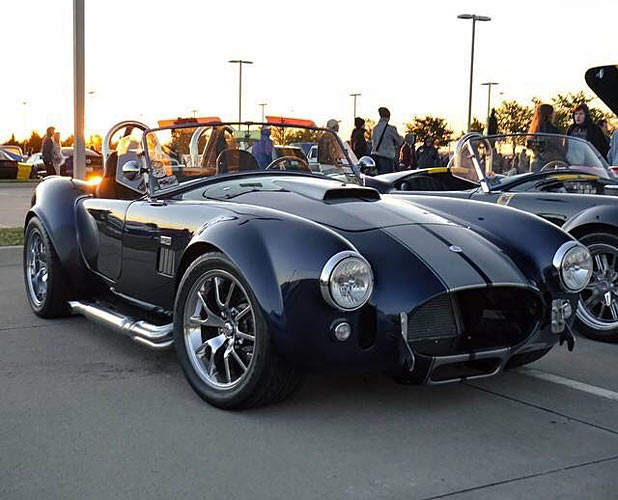 By Mark Weisseg
This could be an endless article about a car that changed everything back in the 60's. However, let's focus on two items. One, the real deal and two, the replica's.
The only thing I never understood with the Cobra was the backwards type gear shifter. Not many were made, most were raced, and now they have become a priceless car that most of the general public has no chance of owning, due to their scarcity. So, that takes us to point two.
The replica, clone or tribute car as we call them are everywhere. The pricing and availability are the main factors that make them accessible.
I at one time despised the replica craze. If it wasn't the original, I wouldn't look twice. But, I have seen the light and now don't mind it one bit. So, why not a replica?
This goes for many cars that are out of reach. The replica may not be the real deal, but it does allow you to own the same cool body design with the advantage of any powertrain and workings that you want to include in the car or can afford. This gives many car builder creativity to build what they want under the car's skin, giving you an end product that is designed to your exact specifications and will probably drive better than the original.
I konw one guy who is building a replica '65 GT350 Mustang. It's because he cannot swing one hundred or two hundred thousand dollars. At the end of the process, he will have the original car, but he will have one that looks just as cool, with all the running gear he has chosen and the pride that he has built the car himself.
The other benefit of the replica car, is that in reality, it gains just as much attention as the real thing. It's a tribute to Carroll Shelby and the team he put together to make one of the best race cars in the world. Remember, he wanted to beat Ferrari and he did. A replica or the real deal will always reflect this point.
So, enjoy your tribute cars and if anyone raises an eye brow just ignore them and drive on. My only real issue is when dealers or private owners try to sell these cars as the real deal.
I know of a major player in the market that sells really fine looking cars and before you buy you must sign off that the deal is "as is" and nothing is implied. Many people have purchased some fine looking cars from this dealer thinking that everything was 100 percent correct only to find out later it isn't. Today, Marti Reports, Internet decoding, and some great experts out there will charge you a fee, but give piece of mind to the car's authenticity and worth. So, don't rush. If they are rushing you please stop and take a deep breath.
If your heart is set on owning the real deal and you have the funds, go for it, but don't think a replica is necessarily a second-best choice.
More Muscle Cars For Sale – http://fastmusclecar.com/muscle-car-for-sale/
Donate To Fast Muscle Car
We spend a lot of time bringing you muscle car content. If you would like to donate something to help us keep going, that would be fantastic.
The AC Cobra: Do You Choose Real or Replica?

,