Best Muscle Cars
The 2020 Mustang Shelby GT500 Super Car Specs.
By
|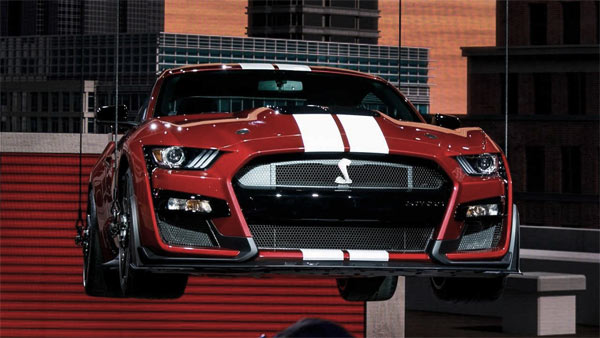 By Dave Ashton
As per usual with upcoming car releases, details are slowly drip fed to the public to keep interests high. This has been the case with the upcoming 2020 Mustang Shelby GT500, which now has its performance specs. released into the wild. Significant stuff as this release of the GT500 marks the most powerful version yet, possibly vying for super car territory. More on that later….
Up to now, we know the 5.2-liter V8 engine can produce 760 horsepower and 625 pound-feet of torque. That should keep the pony in the horsepower wars with the rest of the Detroit clan. But, how does this sixth generation Mustang lay down all that power? Ford have just released bite-size nuggets of information, which give a clearer picture to how the new GT500 will cope in the real world.
Firstly, a 0-100-0mph time of only 10.6 seconds, a 0-60mph in less than three seconds and a quarter-mile in less than 11 seconds is predicted. A 2.65-liter Eaton supercharger with 12 psi sits on top of a custom V8 engine, running through a Tremec 7-speed dual-clutch transmission, then a carbon fiber driveshaft to a 3.73:1 Torsen limited-slip diff.
The transmission itself has plenty of fancy workings, such as a ultrafast 80 milliseconds gearshift with shift mechanisms for odd and even numbered gears. These consist of a wet clutch system with five friction plates for the odd gears and six for the even gears. The transmission also includes triple-cone synchros and are controlled by electrohydraulic shift and low-leak solenoids.
Different drive modes will instruct the transmission to produce varying degrees of speed and GeForce. for example, in track and drag mode, the transmission is instructed to give extra torque between gear shifts. There's also rpm-selectable launch control and electronic line lock for those quarter-mile runs and a mild version of the launch control always being on, for quick access to hard launches. Basically, locking the front brakes to spin up the rear wheels. Hefty brakes in the form of 16.5 inch rotors will also provide the stopping power upfront.
Supercar territory??
Having 760 horses under the hood could be a super car and that 0-100-0mph time of 10.6 seconds is quick, but is it supercar territory? Caranddriver.com argue that although this is quick it's not in the region of the likes of a Ferrari 488 Pista or a McLaren 720S which can do the same in 5.3 seconds. But, let's look at the price comparisons. A McLaren 720S base price is $284,745. A Ferrari 488 Pista costs $350,000. The 2020 GT500 is predicted to cost $73,995. Even on the surface, the GT500 provides the best value per horsepower. The GT500 is also a vehicle which you are most likely to drive on a regular basis, instead of living all its days in a temperature controlled garage, staring out at the world wantingly like most super cars.
This means that the 2020 Mustang Shelby GT500 is sticking to the old muscle/pony car ways of providing relatively affordable superpower in a saloon car which can be both used on the track and as a daily driver. Using that familiar pony analogy, the GT500 is the equestrian workhorse that is happy being petted by the kids every day, working in the fields or galloping along with the best of them. Supercars maybe the thoroughbreds with exclusivity, but generally a massive pain in the rear to keep and maintain…and you have to pay through the nose for that privilege.
The new 2020 Corvette wants to be a super car, while Dodge Chargers and Challengers don't even care and that's what the GT500 should be like. Raw, snorting horse power and great value for money.
Let the thoroughbreds stay at home having their manes brushed and caressed. The ponies can then be enjoyed for their all-round fun as they were made to be.
Donate To Fast Muscle Car
We spend a lot of time bringing you muscle car content. If you would like to donate something to help us keep going, that would be fantastic.