Readers Rides
The 1986 Corvette: A Classic, But Hard To Get In And Out?
By
|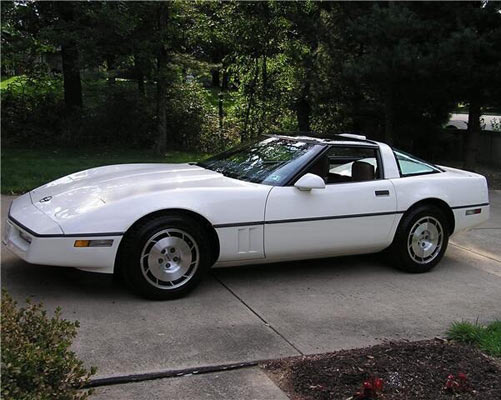 By Mark Weisseg
Several years ago I fell victim to the Corvette needs versus want issue. I did not need one, but I wanted one.
This Vette was owned by a friend of mine and when I eventually bought the car it had 17K on the odometer. He rarely drove the car as he had many to choose from at his garage.
The car had the typical options and 5.7 V8 engine, and of course the automatic transmission. The paint was great with no cracks, the tires were replaced as the originals had dry rotted. All good to go I guess, so I went for it.
The first thing I found out is that some things never change. I mean this car was very hard to get in and out of if you were over five foot five. I am much taller than that so it was easy to slide in but I always nearly fell out of it every time. Of course it sat low to the ground and that big swooping hood was out there somewhere. The engine did have plenty of power and was easy to clean when you opened that giant hood backwards. The interior was camel colored and if you opened the big glass in the rear, you could get a set of golf clubs in there. However, that is about it.
One thing I did notice was other Vette drivers would give you a wave or a thumbs up if you passed one another. Just like the biker guys and gals. You are now part of some sort of club. I guess other drivers figured you laid out too much money for this once great car.
I say once great because it really drifted into blandness up until about 2007 or so. Now, the new 2015 Corvette may be the best new car off the lot that is a true race car. That story is for another day.
So, I enjoyed the car like any other classic. Strict maintenance, covered and garaged in the winter and I kept it away from kids, bikes, and other distractions. Spring sprung so we took plenty of rides in the area and had many compliments. The whole time we owned it I learned a lot about Corvette owners and how they think.
I know the Mustangs guys and the high end foreign car guys dislike them but they really are good cars. And, they have gotten much better and rated one of the best cars in the world right now.
My problem was if we took this white elephant anywhere that involved more than a couple of hours of driving, I was miserable. When I would crawl out of the car my back felt like it was in a vise. 'Don't overreact' I told myself, but time after time I felt this way.
Gee, if I am going to have this kind of car I want it to be; fast, comfortable, affordable, safe, and most of all, fun.
Strike three on the comfort zone part for me. Clearly once I was in I was comfortable and had plenty of leg room. It was getting out that was the issue.
So, I had to try an experiment to see if I was losing my mind over nothing, or maybe I was right. I drove the car to see my Mother. I left the T tops off as it was a beautiful afternoon. I called ahead and told my then 92 year old Mother I was on my way and we would go get lunch.
I pulled in her driveway and she awaits me. I get out and open the door and she falls in. She at this stage of her life has shrunk from about Five foot five to about five one at best. And her weight is about 110 pounds if she is lucky. We start down the road and I get to the main road and let the car rip. She is holding onto her hair like it was going to fall off.
She loved the speed and roar. Hmmm, Mom is happy, maybe she will pick up the check? Well, when we arrived I get out and go around to open her door and she cannot get out. She is so far down in that seat and the door edge is so high she had to swing one leg out and I grabbed her by the hand and just about pulled her out.
When I hit home later that day my mind was made up. Either sell this Vette for a newer model or call it a day and move on to another classic.
As it turns out I sold the car to a local couple that loved the car and could not wait to make it there own. I waited about a month and stumbled on to a Mustang GT. The GT is so remarkably different, obviously I cannot express all of it here.
Do I still like Corvettes? Yes, very much so in fact I would as discussed here before like to own a 63 or 66. If not one of those two years, then I would move into the 2015 or incoming 2016. The fact is the GT has plenty of HP after I got done with some aftermarket products and best of all I can and have driven that car eight hours straight and did not want to hang myself when I arrived.
So, enjoy your Corvettes or whatever you have to drive. Just never lose the classic car passion. Once it hits you the bug never goes away.
More Muscle Cars For Sale – http://fastmusclecar.com/muscle-car-for-sale/
Donate To Fast Muscle Car
We spend a lot of time bringing you muscle car content. If you would like to donate something to help us keep going, that would be fantastic.