Readers Rides
Are Barn Finds As Rare As You Think?
By
|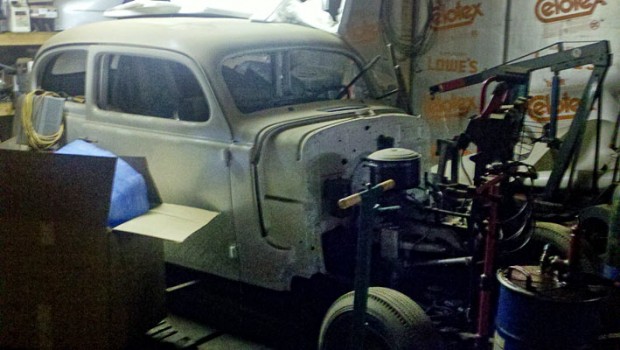 By Mark Weisseg
This Chevrolet pictured is a car that has been in a garage for many many years. I know the family that owns it and here is the real story.
The old man that owned this car, drove it for years and loved the car. But, way back in the 60's he parked it in his garage and saw it every day. He just did not drive it and had no desire to sell it. His grandchildren who I know are in there 40's and since Grandpa passed away kind of took over the family business. They knew this car as they saw it all the time. There was no secret about the car as anyone who came over to the house saw it. It was just recently the kids decided it was time to get the old Chevy ship shape again. They are laying out the plans to finish the engine which is not original but with a little time it will be ready. The work will be in the interior and the body work and paint. It's no big deal to them and they hope to get it done in the next few years and just drive it when they want to.
In the meantime we see staged barn finds all the time and the wild story that goes with them. Like, I was driving along Route X yesterday afternoon and out of the corner of my eye I saw what I thought to be a odd tail light. I wheeled the car to the side of the road and walked up to the old barn. Out of no where a farmer pops out and asks me what I am doing on his property. I tell him I saw a old car in his barn and he shows me. Whamo, it turns out the vehicle is a 56 Chevy Nomad that has been sitting for 30 plus years. Of course the farmer agrees to sell his old station wagon so I returned the next day and dragged it into the sunshine for the first time in 30 plus years.
Everyone in our hobby wants the barn find or garage find. The unknown car in a barn nobody has seen in years. In reality most of the barn finds are known and just kept quiet until the owner starts the process. Of course there are exceptions to this but over all very few finds are complete Indiana Jones finds.
Yes, pretty hard to keep even a little secret let alone a big one like this. I have written before about a guy I know stumbling onto two BMW Isettas. They were right under his nose for years. It's just one of those things that happen in life. I mean you don't walk up to every person you know and grill them on any vehicles they are hiding. No, that just does not happen. Usually it is a friendly word of mouth situation. You know, " hey I heard so and so has an old Buick in his garage and I believe he wants to sell it". Then, we get the background information and ask If we can see it. And if we like it and such we buy it. But some web sites need attention and will blast a big headline like this. " Man finds rare Buick in barn and pulls it out for the first time in 40 years". Breaking news, ding dong stop the presses.
Sometimes these finds are a diamond in the rough, but the majority of times it is usually some simple enquiry and the simple transaction.
The moral here, just keep looking for your special car, it is out there.
More Muscle Cars For Sale – http://fastmusclecar.com/muscle-car-for-sale/
Donate To Fast Muscle Car
We spend a lot of time bringing you muscle car content. If you would like to donate something to help us keep going, that would be fantastic.