Muscle Cars
Take a Hike To Find A Muscle Car
By
|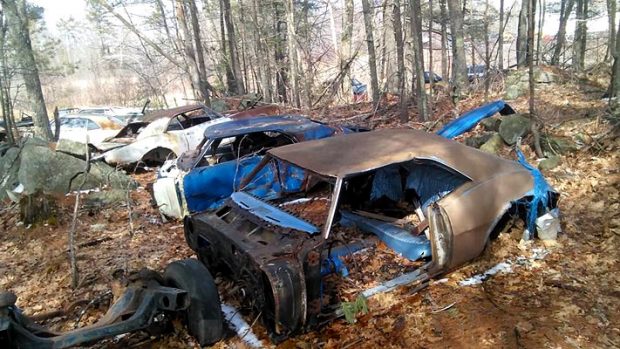 By Mark Weisseg
This is how we find them at times my friends. Getting out there and going for a walk or a hike. It's also pretty good exercise.
When I was a kid we would hike the woods near our house and get lost for hours poking around. One day we came across two old pick up trucks from the late 1940's. They were rusted out badly and all the glass was gone. So, what did we do? Like any other red blooded American kid we brought back our BB guns the next day and took target practice until we ran out of BB's. Gulp, I say now.
There were thousands of little holes in those trucks because BB's were cheap, we were in the deep woods and had nothing better to do. Clearly looking back we made a dumb mistake. We should have found the owner and asked if we could have hauled those two out of the woods for him.
Well, years went by and I moved away and I heard all those woods were now a housing plan. I drove through the new plan recently. Where was the big pond? Well, they filled it in. The trucks were gone too but the developer did leave many of the old trees for beauty. Little chance of finding our BB ridden trucks all these years later.
But, this takes me full circle about locating some of our projects. Not every project will be advertised or right in front of your nose. You may need to take a hike, or drive a secondary road to find a dream project. What seems to work for me is good old fashioned communication like we did before smart phones. Word of mouth as it once was called. I would ask anyone who would listen, I posted my needs at a grocery story bulletin board or in a local paper before Craigslist and such. People know where these blessings are but until they know who's looking they don't bother telling anyone. Tell everyone you can that you are a car and truck collector. Even if the a '59 Rambler they tell you about is not your cup of tea, you must know someone who would be interested.
Don't be shy about our hobby. Be known as the car guy. Be known for the guy who loves old cars. Hence, if someone hears of one they might just think of you. For ten bucks you can have five hundred business cards made up and pass them out at shows or cruises. All it takes is one hit. Just one. Someone might say they have a neighbor that is now elderly that has an old Camaro in the garage. You might just find that one off Yenko or COPO. You have everything to gain here folks, just don't take your BB gun.
More Muscle Cars For Sale – http://fastmusclecar.com/muscle-car-for-sale/
Donate To Fast Muscle Car
We spend a lot of time bringing you muscle car content. If you would like to donate something to help us keep going, that would be fantastic.
Take a Hike To Find A Muscle Car

,