Best Muscle Cars
A Stunning AMC Muscle Car Collection For Sale
By
|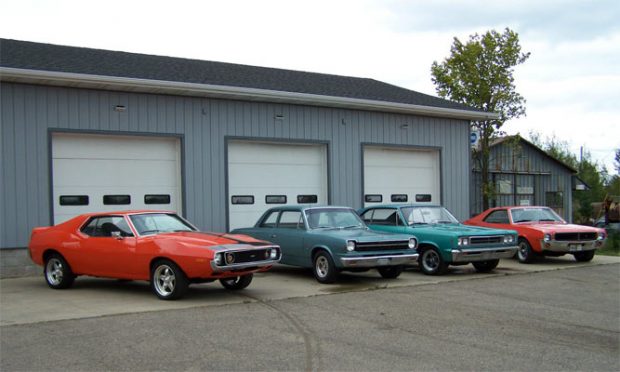 By David Ashton
It is quite rare for a seller to group a few vehicles in one listing, but here we have a guy selling four AMC vehicles.
These include a 1971 AMC Javelin AMX, a 1968 AMC Javelin SST, a 1968 AMC Rebel SST and a 1968 AMC American.
The listing starts with a mention of some YouTube videos, but they are not included with the ad. We found them on YouTube and included them here to save you the search.
The seller seems to be upfront with the condition of each car saying that they are in good condition, but will need some work to bring them up to show standard.
Also, each car is listed with not just a detailed rundown, but also all the good and bad points. However, I did notice that the images were shot to give the 'wet' look, making the paintwork look better than it is, but that's not really a problem with a detailed breakdown of each car.
Each one of these AMCs does have a lot of detail to give you a good idea what you are buying here, so its recommended to check out the full listing which we have added below.
The problem is like any car collection being sold together, you may not want every car, so I'm guessing if you give a good enough price for one of the cars individually, you may end up with the one you want. The seller even says if they don't all sell here they will be listed individually.
For any AMC fan out there, this maybe a chance to have the pick of the bunch, or even grab them all as a collection.
BUY NOW ON EBAY.
Price: US $49,500.00
1971 AMC Javelin AMX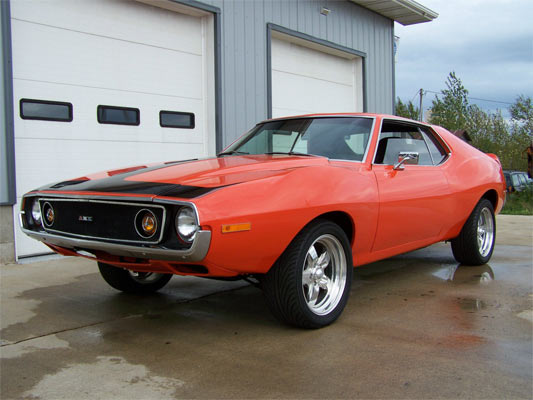 VIN: A1C798P310396
MILEAGE: 3,401
THE GOOD:
This was my first AMC. 360 CI V-8 with the Borg Warner Automatic in it. The car was originally a silver with maroon interior and maroon stripes. I purchased it from the original family who bought it new with about 75,000 on it. I list it as 3,401 because when I finished the restoration I rolled back the odometer to as close to 0 as I could get it (think it ended up being about 400 miles). It had a full restoration 10 years ago (when I finished it) and the paint is still almost like the day I picked it up from the body shop. Its painted in PPG Big Bad Orange basecoat/clearcoat, black painted stripes (the small accent stripes are vinyl pinstripe), and shaved door handles. In 10 years I put on the 3,000 miles, so that tells you how little I have been able to use any of these like I would want to. I had the original engine built by a local race car engine builder and it runs, shifts, and sounds great. I have all the paperwork for the build but in a nutshell it is bored, has forged pistons, a Comp Cams Magnum 270 camshaft, roller rockers, a double roller timing chain, an Edelbrock Air Gap RPM intake manifold, Hooker ceramic coated headers (now showing some wear), a Holly 670 cfm Street Avenger carb, a K&N Filter & top filter, an aluminum radiator, MSD distributor & 6A ignition box, and likely more I can't think of at the moment but that the engine picture should clarify.
The car has Centerline wheels and like new tires on it, Flowmaster mufflers, 3.54 gears and the factory limited-slip differential. Power steering, power brakes, and factory front discs. I also had the original transmission rebuilt by a reputable shop, and rebuilt the differential myself when I installed the 3.54 gears and Moser custom 1 piece axles. I replaced all of the steering components, ball joints, rear leaf springs, front coil springs, and ALL of the bushings with poly-urethane when I did the restoration. It handles great, can take a corner better then most modern cars I have driven. I also did all of the weatherstripping, door, window, trunk, etc. It has the hard to find factory valance on the front that took me 5 years to find one decent enough to paint. Rear spoiler is factory as well. If your adding any of this up in your head you probably have a decent idea of what I have into the car, which is right around $30-35k, a lot of which I have receipts for, some of which I don't. Keep in mind that was doing all of the assembly myself. Brake lines were replaced with pre-bent stainless steel lines, and of course the brakes were all replaced as well with new bearings installed in the front. New motor mounts, transmission mount, exhaust, both bumpers were re-chromed, etc. Basically everything that could be replaced on the car was, the interior plastic was dyed black, headliner replaced, and front seats replaced with what you see, new carpet, etc. The interior isn't perfect but its very presentable as you can see in the pictures. This is the only one of these cars that I restored, the rest I bought as you see them, so I don't have nearly as much information on those.
For this car I also have a fair amount of brand new parts on the shelf I haven't gotten around to installing, around $3,000 worth that are included in the sale with any offer within 10% of my asking for the lot. This includes an MSD Atomic EFI System, Custom Digital Gauge Set (I had built for the car, will fit a modified cluster in the same hole the original is in – also have the donor cluster to accomplish this), Header Gaskets, a Mini-Starter, an MSD 6AL Digital for the Atomic EFI, a shaved door handle actuator kit (to open the doors with a remote control), and a ton of used interior panels, a used transmission, a couple used rear ends (differentials), and about 5 totes of other random parts. Please don't ask what all is included as far as the used stuff goes, I have tail lights, tons of interior stuff, exterior trim, and god knows what else, but you'll get it all with the sale provided it's within the 10% of asking price.
THE BAD:
Has what I'm fairly certain is a drive-line vibration, only comes in at about 75 MPH. I believe it may be the driveshaft angle, but I haven't had the chance to shim the differential position to verify this. The new springs I installed in the back had 1 extra leaf, which is why I suspect that may be the case. I haven't concerned myself a ton with it since it only comes in at that speed. The 1968 American has the exact same thing at about the same speed, so if you get one of them figured out you will likely have the cure for both. The front tires will occasionally rub on the mudflaps (just on the mudflaps) during a tight turn, only at slow (5 mph and under) speed. In the pictures on the drivers side you will see the 2 holes for the Javelin emblem by the rear quarter window, on the passenger side the body man filled them in. I am pretty sure I have a pair of emblems for them, but liked the clean look so I dealt with the 2 factory emblem holes on the drivers side. The tail lights are 1972 tail lights because those are the very best I could find used out of about 3 or 4 sets. They are original, not reproductions, so they are not perfect but very decent. The hood trim has a small wave in the center of it, same thing, it was the best I could find for it. I bypassed the heater core and didn't worry about hooking up the blower motor since I never planned to drive the car in temperatures that required heat. I don't know if that is a bad thing or not, but worth noting. Not all of the factory gauges work, which is why I purchased the digital set described above. The first shaved door handle actuator kit (the solenoids that open the latch) would sometimes open the doors when cruising down the road, so I took them out and haven't gotten around to installing the new kit described above. Between the limited use and not taking it out in the rain, it never bothered me much to leave the window cracked and reach in for the interior handle. I removed the remote mirrors and never made a piece to cover where the knob would be in the drivers door panel, and removed the factory radio in the dash as shown, figured I would take care of that when I did the gauges. The door handle on the passenger side rubs slightly on the door panel, which is the white marks you can see in the pictures. Thinking it just needs a shim behind it. Cold blooded, like any carbureted car.
THE BOTTOM LINE:
Real head turner with the exhaust and handling to go with it, screams muscle car in every way. Overall I would rate the exterior an 9/10 and the interior an 8/10, with the engine compartment and undercarriage an 9/10 as well.
1968 AMC Javelin SST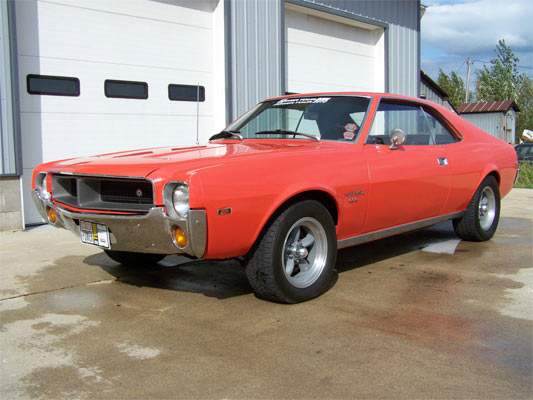 VIN: A8M797T264069
MILEAGE: 50,395
THE GOOD:
I purchased this one from a guy in Alabama a few years ago, drove it home and have since probably put about 150 miles on it. 343 CI V-8 4-Speed (Manual) Car, also wearing Big Bad Orange basecoat/clearcoat. Black interior, can't say for sure what the original color and interior color was but I believe both were as you see them, or they did a very nice job with the jamb work and dye. The previous owner said that the car was originally Big Bad Orange and that the vins match on tag and behind steering box but the drivers door was replaced at one time in its life and has no tag on it. He also said if you lift the carpet you can see the original Big Bad Orange, I never verified this. Paint quality is real close to that of the 1971 above. Was told the restoration was done about 10 years ago. Engine is a mild build with what I assume is a step under the camshaft I have in the AMX. Also has Flowmaster Mufflers, aluminum radiator, Edelbrock Air Gap RPM Intake, Holly 650 carb, MSD Distributor, and Hooker Headers. Runs and sounds great. Rear end is a 3.54 Limited Slip like the 71′ with Moser 1 Piece axles as well. Wheels are Torq Thrust D's with decent rubber on them, the black interior is very decent, has new carpet and a good headliner. Manual brakes and manual steering but I have a power steering setup that will be included with the car. 4 wheel drums as originally equipped. According to the previous owner and stickers on the windshield it was on 2 Hot Rod Power Tours, 2006 & 2010.
THE BAD:
Has a fair amount of slop in the steering, and more squeaks and such then I would like. In other-words it should probably have the front end rebuilt, and maybe the steering column. I have a factory power steering setup I will include with the car with what should be everything needed to convert it to power. It has a dime sized nick in the drivers quarter panel, appears to be from a previous repair. Aside from that one spot, the paint is very nice. The shifter is a bit tricky, likely a characteristic of that shifter/transmission. This is the only AMC 4 speed car I have owned so I can't say for sure. The throw-out bearing occasionally makes some noise, and a new one is included. It's not all the time, just randomly on occasion. The door panel inserts and arm rests could use some help as seen in the pictures, but the rest of the interior is very decent. The drivers door handle needs some adjustment (interior), you have to pull it to the end of its travel for the door to open. Cold blooded, like any carbureted car. The passenger seat, only when someone is riding in it, will occasionally release the back access and drop the passenger's back flat down, which can be quite humerus when your the driver. Overall I would rate the exterior an 8/10 and the interior an 8/10.
THE BOTTOM LINE:
Mean looking 4 speed rig you can have some fun with and make your passenger hold on while doing it. Overall I would rate the exterior an 9/10 and the interior an 8/10, with the engine compartment and undercarriage an 8/10 as well.
1968 AMC Rebel SST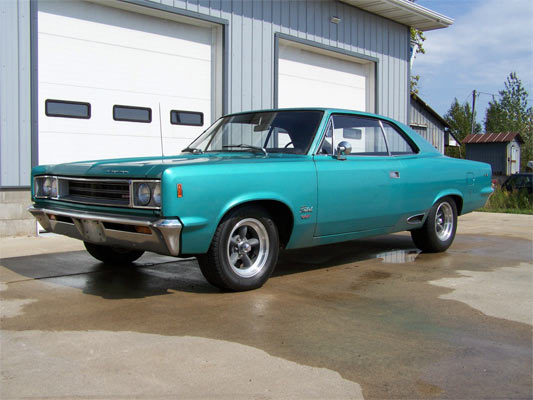 VIN: A8A197T111018
MILEAGE: 29,487
THE GOOD:
I purchased this car in Connecticut about 5 years ago. From what I can tell it's all original, with maybe only an engine rebuild 10 or so years ago (judging by the condition of the engine enamel). 343 CI V-8 Automatic. HEI distributor. Drove this one home as well. This car rides amazing, you just float right along but without that 70's Cadillac roll to it. Original industrial Teal paint, originally had a vinyl top that was removed some time ago. Interior appears original but is very decent overall. Reasonably solid car, with only a few minor surface rust spots showing on the body and nothing that I have noticed underneath. I put a re-manufactured carburetor on it last year. All in all, really decent shape for an un-restored car. Runs, shifts, and drives really well. Power steering and brakes. 4 wheel drums as originally equipped. All gauges, interior lights, and heater/fan functions work fine. I removed all of the exterior trim, but have it all. From what I remember all of it was in fairly decent shape. I had another 68′ Rebel and took both sets off and picked the nicest set for this car before selling the other car years ago, and never got around to putting it back on this one. I never cared for the excessive trim, figured when I got around to painting it I would fill all the holes and give it the clean look, but wanted a nice set just in case I decided to install it again.
THE BAD:
The right front wheel has a vibration/shimmy to it at about 60 mph and up. Haven't put my finger on it yet. I replaced the strut rod bushings and wheel bearings thinking it would be in one of those, but neither cured it. Could just need a wheel balance and alignment, but I can't say for sure. Being original it wouldn't hurt to have the front end rebuilt anyway, which is why it didn't concern me much. Weeps a little coolant out of the intake manifold bolts and it pools up on the intake corners a little. Doesn't ever run down on anything and I haven't added hardly any coolant to it, but you get the occasional coolant smell while driving. Seems like it clears up after driving it a bit, seems to only happen when cold – then pools up and burns off while driving. Also has Torq Thrust D wheels and decent rubber. The drivers tail light has a chip out of it and I was lucky enough to find NOS ones, which are included. Both seats have a tear in the upper corner of it as shown in the pictures, and the carpet is a little beat up. The wiper motor doesn't park correctly and doesn't appear to be the original or factory one, but I am including a pair of re-manufactured ones (found 2 so I bought them both) and a used one with the steel mounting panel to bring it back to the way it should be. Has a couple dings, scrapes, and bruises, all of which should be evident in the pictures/videos. Nothing major, just what one would expect over the course of 48 years and original paint. Cold blooded, like any carbureted car.
THE BOTTOM LINE:
Awesome cruising car for the days you just want to take in the sights and float along or if the old lady is sick of the loud exhaust on the two above. Considering original paint and interior, overall I would rate the exterior an 7/10 and the interior an 8/10, with the engine compartment and undercarriage an 7/10 as well.
1968 AMC American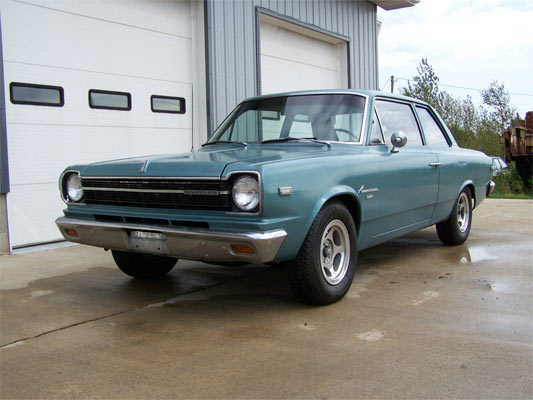 VIN: A8A060B119690
MILEAGE: 25,616
THE GOOD:
I purchased this one in California shortly before the Rebel above, and drove it home as you see it. Had the black California plates still on it, and appears to be all original in every way. 232 CI 6 Cylinder Automatic. The previous owner said he had the transmission rebuilt and some front end work done. It has factory AMC aluminum wheels on it and really decent rubber. Very smooth running, shifting, and driving car all around. I put a no name HEI distributor on it a few years back. Body is very solid. Same goofy industrial Teal color the rebel is. Like you see in your high school shop class on the 70's equipment hahaha. Interior is also mostly that color aside from the white door panels. Decent fuel mileage, if your feeling a little tight one weekend and want to save on the fuel stops.
THE BAD:
Has the same drive line vibration described under the 71′ AMX. Haven't dove into yet, figured if/when I had the time I would get the AMX resolved first and that would lead me to what needs to be done with this one. Heater core leaks but I have a replacement to go with the car. Had a windshield leak when I bought it, and the only rust on the car is on the front floor boards from this leak and likely the heater core leaking. No gaping holes, but a few small pinholes. Floor is still solid, my thought with this car was to just make a panel to place over top of the existing floor on both sides to give it a little more support. Really could use new weatherstripping, what is there isn't even full pieces anymore. No carpet, dash pad, or headliner, which never bothered me as I figured I would texture paint the roof where the headliner was, clean up, fill, and repaint the steel on the dash (looks good without a dash pad in my opinion), and put some new carpet in. The seat has a big tear right down the middle of it, surprisingly you don't notice it while sitting on it, but its quite visually apparent. Only complaint I've ever had with California cars, interior and weatherstripping, hence why this one could use both. Has a couple dings, scrapes, and bruises, all of which should be evident in the pictures/videos. Nothing major, just what one would expect over the course of 48 years and original paint. Cold blooded, like any carbureted car.
THE BOTTOM LINE:
Fun little grocery getter, one your not afraid to let the grand kid use for his prom date either. Considering original paint and interior, overall I would rate the exterior an 7/10 and the interior an 5/10, with the engine compartment and undercarriage an 7/10 as well.
BUY NOW ON EBAY.
More Muscle Cars For Sale – http://fastmusclecar.com/muscle-car-for-sale/
Donate To Fast Muscle Car
We spend a lot of time bringing you muscle car content. If you would like to donate something to help us keep going, that would be fantastic.