Muscle Car
Some Muscle Car finds Are Not What They Seem…
By
|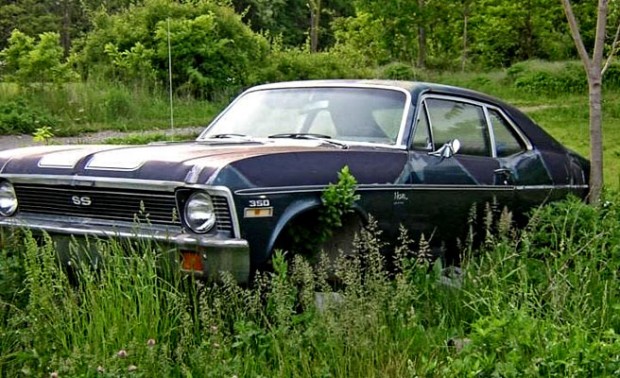 By Mark Weisseg
It appears someone gave up on this old Nova. What a shame, but if you look very close, there are signs it might not be so bad.
First, the side view mirror looks somewhat new and all the windows are up and look to be in great shape. The car has a rear view mirror and wiper blades. The body does not look bad nor the paint. So, what if this is one big joke?
This the Internet at its finest. We all need to be very careful when searching the net for cars and trucks that we do not get caught up in the moment. We all have heard tales of woe about someone going to buy something they saw on the internet that turned out to be something they did not expect.
I had just the thing happen to me but with a twist. A friend told me about a car in a barn that would be of interest to me and after several emails and such, the seller had my attention.
He inherited a lot of cars and was not a car guy, so getting valuable information was tough. However, he took pictures and sent them to me. The price was right and it appeared to be a car I could buy and restore to a degree. Long story short, the car turned out to be in much worse condition than I imagined. I did not lose any money but lost a Saturday and nearly a thousand miles of road to and from. So, it did not work for me but I really got lucky.
So, the lesson for everyone is if you decide to buy something from the Internet and they demand payment of some sort up front, please pay as little as possible to get yourself in the door. Maybe a Paypal of say one hundred dollars to hold the vehicle until you can arrange a way to see it for yourself. Years ago, a friend at work laid out nearly a grand to hold a Corvette. They had pictures and all kinds of information. They headed off to the Chicago area to go pick the L88 up, only to find the whole thing was a fraud. Yes, it was a Corvette and yes it was the same color as the picture but, like a dating site the picture was a good twenty years old. Hence, the car it was a total disaster. The seller thought the buyer would overlook some items since he drove so far and gambled my friend did not want to come home with an empty trailer. But, my friend did. He was angry and still without the Corvette he longed for.
So, I just want you to keep your ears wide open, your eyes and brain connecting and your common sense to be on high alert. Scam artists or con men or just people with no heart are out there in big numbers preying on others in many ways. Keep your emotions in check and do not be easily fooled. Take your time.
If the seller is in some huge rush, there just might be a red flag you should be aware of.
For all muscle car parts – http://fastmusclecar.com/muscle-car-parts/
Donate To Fast Muscle Car
We spend a lot of time bringing you muscle car content. If you would like to donate something to help us keep going, that would be fantastic.
Some Muscle Car finds Are Not What They Seem...

,