Readers Rides
Snow Is Coming: Snow Joke, Your Car Will Survive.
By
|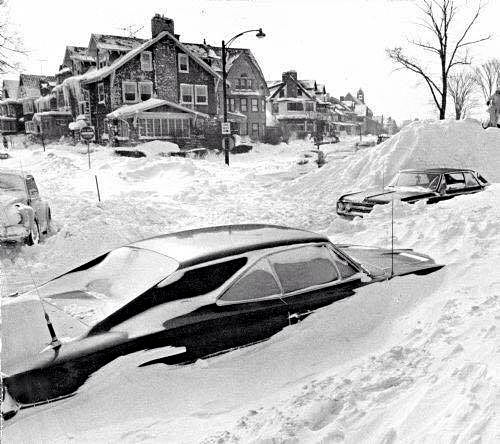 By Mark Weisseg
Yes, the weather channel and the folks who enjoy scaring the east coast of the United States are hard at it again. Remember, if you live in the Midwest or the east coast you have seen snow before. It is why we park our classics late in every year.
I saw this picture and I know you gear heads know what is right in front of your eyes. It's an older picture so if anyone is buying a Dodge Charger and you see the words never seen snow or rain just take a deep breath.
if you are of a certain age, you seem snowdrifts like this before. The road crews will eventually plow it away, they will throw thousand of tons of salt on the roads and within a day or so you will be able to go back to Wal Mart in your pajamas.
My point is most of our classic cars we cherish have seen some sort of issue. Rain, acid rain, hot sun, high winds, salt from the ocean or salt thrown out on the street. Do not panic, do not hide under your bed. Go help a neighbor or an elderly person.  Remind yourself as you are shoveling they are the same Einsteins that told you global warming would melt the ice caps and we would never see snow again. We would all bake like we were in an easy bake oven. Hmmm, that did not pan out. Reminder, in the 70's Time magazine predicted we were coming to an ice age in the very near future. Hmmmm, that did not pan out either. Everything runs in cycles. Just like our hobby.
For a while Mopar vehicles did not sell well at auctions. Yes, a few years ago a Hemi Charger sold well but not nearly what they do today. It's a cycle. Like the stock market. Up and down. Up and down. You know, buy low, sell high is the theory.
The hard part is figuring out when high is high and low is low. So, don't worry that the world may end because of one snow storm.
If I am going to throw 100k at a car I want the facts. But, I do not believe generally that a car has never seen snow or maybe another type of weather incident. I just don't buy that line and it will take a lot to sell me on the idea that the 50 plus year old car was NEVER in any harsh weather of any kind.
Therefore, it's not really the weather that is thrown at your classic that does the harm, it's how it's cleaned up afterwards that counts.
For all muscle car parts – http://fastmusclecar.com/muscle-car-parts/
Donate To Fast Muscle Car
We spend a lot of time bringing you muscle car content. If you would like to donate something to help us keep going, that would be fantastic.
Snow Is Coming: Snow Joke, Your Car Will Survive.

,