Muscle Cars
Safety Precautions When Working On Your Car
By
|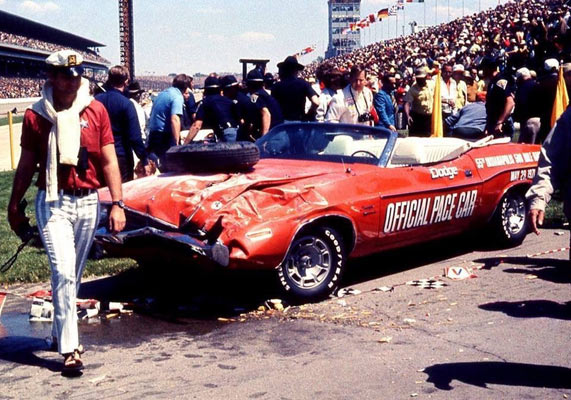 By Mark Weisseg
Many people were seriously injured back in the day due to a lack of simple safety features. Ironically today I put my seat belt on as if it was always a part of me. But I am of the age where we did not have seat belts and never gave them a thought.
The picture I hope is of that 1971 Pace car. Do you remember what happened? I do so I will recap. Before the race the track had safety cones near the entrance to the pit area. Well, during the warm up for the big race someone moved the cones to be race ready. Again, minimal safety features.
Well, when the pace car came roaring in to get off the track the driver got confused and made a mistake and hit the wall. Nobody was hurt by the grace of the lucky charms. Embarrassing however. Now, do you know who the guy is wearing the white captains hat and laughing?? It's Charles Nelson Reilly a fairly famous actor and comic.
He's gone now just from old age but that's a good trivia question for your next game.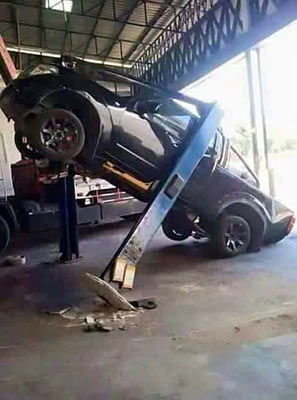 The next car fell due to the lift coming out of its anchors. Now, in my life as a mechanic I have witnessed this frightening scene four times. It's not good. The only one I saw that was funny was a '76 Plymouth with those two big rubber bumperettes on the front bumper. Our mighty Plymouth slid forward and literally stood straight up in the air balancing on those two rubber tits as we called them.
We brought in a tow truck and wrapped a chain around the rear end and slowly brought the car down. No harm, no foul, and no damage. The other three were bad like this picture. One slid off the right side wedging it against the wall and the other two slid off the back causing great harm. All four incidents were because a careless mechanic did not take the time to set the rack the proper way.
The owners were not amused and our insurance company found no laughter in it either. We were self insured and ate all the repairs. Over the years we have had fires, accidents and even a roll away. All caused by human errors. Now, we are humans and we do make mistakes but the four episodes I witnessed were because of carelessness. All could have been avoided.
I say this because many of you work on your cars in your garage in cramped spaces. We had a customer years ago that thought $19.95 for an oil change and filter was highway robbery. That afternoon the car fell off the jack ( no jack stands) and crushed him to death. He died for a lousy twenty dollars. My brother has a shop and he is always safety first. Always.
I will have a new and bigger shop of my own next year with a lift. I assure you safety will always first. It's always safety glasses and gloves. And, I always think what could go wrong before I start. I visualize what I am about to do and have a plan. I also let someone know where I am and what I am doing in case of an accident.
Please, consider what you are doing. Is it worth it to do it yourself? Generally yes but we read about someone burning the house down every year frying a turkey outside. The splash of grease and then it's over. Same with your garage. Lots of flammables in there so be sure to have the right extinguisher and be sure it's up to date. Simple things that can save your project and your life. As Dad used to say. Think!
More Muscle Cars For Sale – http://fastmusclecar.com/muscle-car-for-sale/
Donate To Fast Muscle Car
We spend a lot of time bringing you muscle car content. If you would like to donate something to help us keep going, that would be fantastic.