Readers Rides
The Rare Elvis Stutz Blackhawk
By
|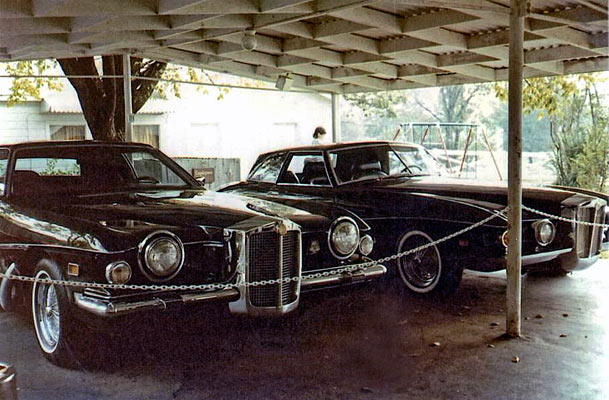 By Mark Weissg
I am a big Elvis fan so right from the start I am biased. Elvis bought and gave away over one hundred cars in his short life to family, friends, and complete strangers, from Lincolns, Cadillacs to pick up trucks and more.
The Stutz pictured here is his last car and was his car to drive only. Nobody drove this one except himself and his girlfriend Ginger Alden.
Let me give you some background on this car. The car that was basically a Pontiac Grand Prix. The car was then shipped to Italy and stripped down to the bare metals and rebuilt the Stutz way.
It has a 455cu. engine and loaded with real gold, fake side pipes, a different hood and trunk and many changes to the interior, such as a gold console shifter. This '73 is normally on display at his house, Graceland. Graceland is now a National Historic Landmark and you can walk through two of his jets, see all his awards and gold records, tour the house and see his collection of cars, snowmobiles, motorcycles, three wheelers and more.
Elvis normally drove the Stutz when he went out but, he also had his muscle cars. Yes, he had a Dino Ferrari that was black and very fast. But, this car pictured above is the last car Elvis ever drove before his death.
He and his fiancé Ginger Alden went to see the Dentist around midnight to get there teeth cleaned and a few adjustments before the upcoming tour. After the dentist trip he and Ginger drove home and went upstairs to unwind before the upcoming tour. Elvis was wound up as he normally was before a concert tour and could not sleep. Ginger was sleepy and decided to go to sleep as Elvis went off to the bathroom to read. Ginger told Elvis not to fall asleep in the bathroom and he promised he would not. Hours later Ginger woke up and could not find Elvis until she went into the bathroom were she found him on the floor dead.
I know this because I happen to know Ginger and her older sister Rosemary. Now, for something very spooky. Ginger eventually met and married a wonderful guy named Ron. They had a son they named Hunter. Exactly 38 years to the day that Elvis died, Gingers husband died of a heart attack. Exactly 38 years to the day the King died.  Then, to make matters worse a few months later, Rosemary's husband of many years had a sudden heart attack and passed away. Weird stuff.
If you desire to see this Stutz it is at Graceland with many other cars and toys Elvis had. He was a fast muscle car guy and over the years owned many fast cars. Ginger told me he would roar around Memphis with her in the passenger seat and a body ground crushed in the small area behind the seats. Tearing around Memphis in the middle of the night and seeing police cars ignore the King. So, don't think the Stutz that came out in the 1920's was a generic car. It was a car that the likes of Sinatra, Sammy Davis Jr, and Lucille Ball also owned. It was a high end, very classy car. Elvis owned more than one in his life and one was totaled by a delivery driver of all things. Some say they are odd looking, while others understand the need to stand out in a crowd. That was Elvis to a T and so was the Stutz Blackhawk.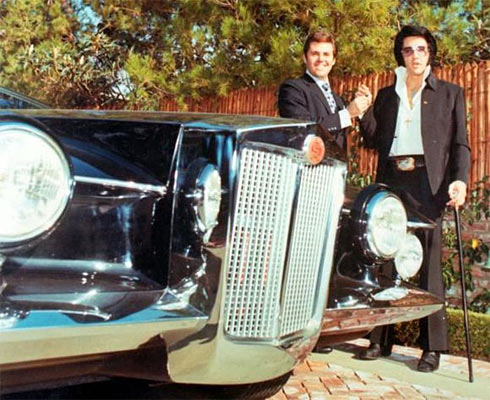 More Muscle Cars For Sale – http://fastmusclecar.com/muscle-car-for-sale/
Donate To Fast Muscle Car
We spend a lot of time bringing you muscle car content. If you would like to donate something to help us keep going, that would be fantastic.
The Rare Elvis Stutz Blackhawk

,