Best Muscle Cars
A Possible 1971 Dodge Hemi Charger Field Find??
By
|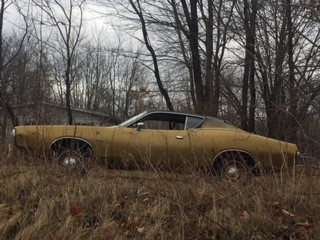 By Mark Weisseg
I was driving home last week from my newly purchased building and saw this Charger parked in the weeds near a trailer house. I could not resist the temptation to look it over more carefully so I did what many of us do. Get out and check it over.
It was not long before the owner came out and he asked what I was doing. I explained myself and he said he was alright with that. I noticed the drivers door window down and nothing to keep the elements out. So, the owner inquired why I was interested in this Charger. I told him I was always on the hunt and this one caught my eye for a very good reason.
I was checking to see if it had a Hemi engine. A Hemi engine? Yes, 1971 was the last year the Hemi engine we know was put in a Mopar. Most people believe the Hemi died after the year 1970 but that is not the case at all. In fact, this Charger could be ordered with many engines. From the 225 slant six all the way up to the mighty 426 Hemi.
Well, this Charger pictured here had a 318 engine. Yes, a very good engine back in the day but I was hunting for the diamond, and not anything but. I asked about the window and it turns out the car has power windows and this one went down and would not go back up. I suggested he at least cover it up to keep the rain, snow, etc. out but he seemed undeterred.
I asked if the car was for sale and he asked me to make him an offer. I backed off at that point as I was not really interested in a Charger with a 318. Now I will tell you the body was straight and I noticed no big rust areas at all. I would imagine it would make a nice restoration project for someone, but not for me.
We never got around to pricing as I did not make an offer and he never provided a price. So, with that I thanked him and off I went home. It's when I got home I decided to do a bit more research on the 71 Charger. I honestly did not know that 71 was the last year for the Hemi in the Chrysler line up for many years to come. I had thought like many of you that it went away after 1970. So, my simple point is that there are 1971 Chryslers out there with Hemi engines. Don't pass up the opportunity to dig a bit deeper if you happen across one. It would be a real gold mine of a find should you get lucky and find one today. In the meantime I will now look myself a bit closer at these Chargers of yesterday with a new vision.
For all muscle car parts – http://fastmusclecar.com/muscle-car-parts/
Donate To Fast Muscle Car
We spend a lot of time bringing you muscle car content. If you would like to donate something to help us keep going, that would be fantastic.