Best Muscle Cars
How to Plasti Dip Your Car – Change the Color of Your Car in an Instant
By
|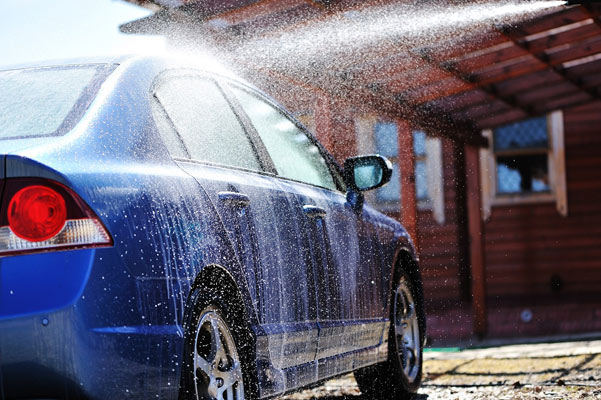 This how to plasti dip your car guide will make changing of car color fast and easy. For those who are not familiar with plasti dip, it is a new product being used to change the color of your car temporarily.
It is usually in liquid form used to vinyl-wrap cars, and you can spray it on like regular paint. As it dries up it becomes flexible that protects the paint underneath. If applied properly, it can make your vehicle looks good on the outside and keep the finish of the car well-maintained (innovatecar.com).
The plasti dip can survive the harsh weather both hot and cold without melting or warping. Thus, it is very durable. You can easily remove the plasti dip if needed.
Things you need:
Water
Towels
Spray gun and trigger
Sponges
Rubber gloves
Razor blade or box cutter
Plasti Dip
Painter's tape in a variety of widths
Painter's mask
Lots of newspapers
Goggles
Coveralls or old, disposable clothing
Buckets
If you have plans of covering the entire car and you intend to use the spray cans, you might need around 20 cans to complete the task. For a smaller car, you only need around 14 to 16 cans. If you choose to use a spray gun, you will need around two 1-gallon buckets. (yourmechanic.com)
Steps on How to Plasti Dip Your Car
Part I – Preparing Your Car
Step 1: Where to Apply the Plasti Dip. Find a place where your car can sit for a while as the plasti dip dries up after each coat, and because it will produce lots of fumes, location is vital.
Step 2. Preparing the Car. The next step is to prepare your car. A solid application of the plasti dip will lead to a great looking that will last longer. To achieve a better result, follow the succeeding steps.
Step 3. Wash the car. Using soap and water, remove the impurities on the surface of the pain until they are completely gone. The car should be washed several times to make sure that there is nothing on the surface of the paint when the Plasti dip is applied.
Step 4. Let the Car dries up Completely. This is very essential. Your car should be dried thoroughly before applying the plasti dip. Make sure there is no moisture on the vehicle surface. Wipe the car surface with dry towels several times before spraying the plasti dip.
Step 5. Protect the windows. Cover the windows with newspapers as well as other areas that you do not wish to apply. Once the plasti dip dries up, you can apply lights and emblems.
Part 2 – Applying the Plasti Dip
Step 1. Put on the Proper Attire. Wear your protected gears mask, gloves, coveralls, and goggles. Make sure you have some water near you to wash off anything that might spill on you.
Step 2. Use your Plasti Dip. For best result, we recommend that you use a professional spray gun when applying the plasti dip. It will provide a more consistent finish.
If you are using cans, you need to shake them first for at least a minute to make sure that the color is evenly mixed. For gallon-size containers, you need to stir it for a minute to achieve an even tone before using it.
Step 3. Planning how to paint. You can apply 4-5 layers of Plasti Dip for a smoother consistent coating of the paint. If you apply a thicker coat, it will be much easier to peel off if you want to.
Step 4. Determine where to Apply the Plasti Dip. Decide where you will use the dip. Lights and emblems can peel off the Plasti Dip easily, place a tape on the tires and rubber trim, so it will not get on them.
You can remove or spray the grilles and trim in place. Just make sure that you protect it before spraying.
Step 5. Plasti dip the wheels. Remove the wheels and should be washed and dried before applying the dip.
Step 6. Apply the paint. The distance between the spray or can is six inches away from the part of the vehicle when painting. Spray back and forth continuously. Avoid pausing at any spot.
The first coating is known as the bonding coat. Allow each coat to dries up for around 20 – 30 minutes before you apply the next coating. The best way to paint the whole car is to work on it in sections, switch between parts to let the freshly-painted ones to dry as you work on the other parts that are already dry.
When applying the Plasti Dip consistency is important and make sure to coat it smoothly and patiently because you cannot correct mistakes.
After the application, you can now remove the paper and tape. Use a razor blade on parts where you use tape to cover it. For parts that look too thin, apply another coating within 30 minutes.
Step 7. Let it Stand. It is best that you let the car sit for 4 hours to let the Plasti Dip cure thoroughly. Make sure that you keep the debris or moisture away from the car during this step.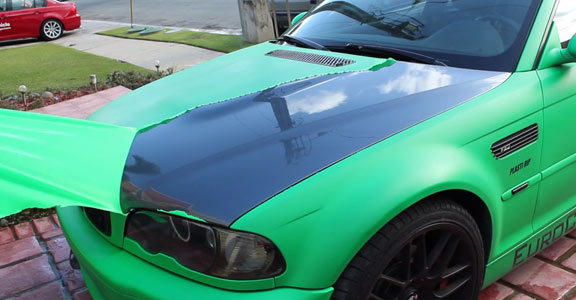 Step 8. Pulling the Edge. After drying it thoroughly, find the edge of the plasti dip and lift it up carefully. You can remove the entire patch easily once a part of it comes off. Now you can change the color of your car whenever you feel like changing it.
Final Words
Therefore, Plasti Dip is the simplest way to protect the factory paint and change the color of your car. This will make sure that your vehicle will achieve its maximum life. The process can be done on your own or with the help of your friend.
For first time user, make sure that you have read and follow this how to plasti dip guide for a satisfactory result. You can do this to decorate your car or to preserve its finish.
Short Bio: Hi, I am Stephen Foreman a car enthusiast. I love everything about cars, its parts, and the latest accessories. I support this blog to share everything I know about car care and maintenance.
Donate To Fast Muscle Car
We spend a lot of time bringing you muscle car content. If you would like to donate something to help us keep going, that would be fantastic.