Best Muscle Cars
The Ultimate Dodge SuperBee
By
|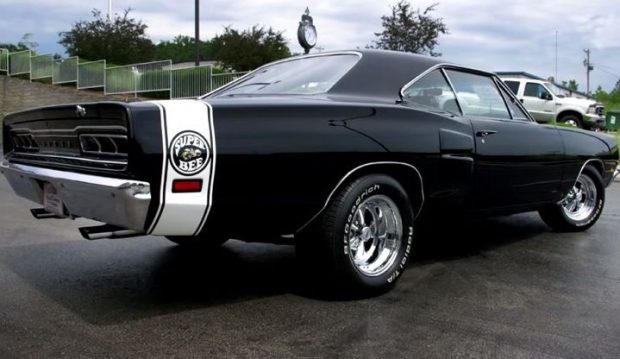 By Mark Weisseg
Let's return ourselves back to 1968 again. The Dodge SuperBee was in production from 1968 to 1971 in the United States. For some odd reason however you could get a Bee in Mexico from 1970 to 1980 as a bit different from the US models. Then in typical Chrysler fashion again in 2007 to 2009 and then for the 2012 -2013 line up. Confused? Me too. It's Chrysler mandate to revive old names that were the once popular. Rarely does it work in the sense that you feel you are really driving a Bee in 2013 that was like the 1968 Model.
Dodge pulled this stunt back in '68 to compete against the Plymouth Road Runner. Sales were so, so but the car really was cool. Some people hated the front grill but loved the taillight set up. Of course the engines under the hood were really the standard Chrysler engines. It was a B body car with the 383, 426, and the 440.
Four speed manual or a three speed automatic. Does this all sound familiar? It does and other than a really big stripe at the trunk area not much was different. Moving forward into the current life of the 2007-2009 and the 2012-13 models the car was ho hum. Chrysler or Fiat or who ever owned them that week tried very hard to revive some car sales. How? Put the stripe on the trunk area of the four door Charger , paint it yellow, and call it a Super Bee. Did you hear the thud? In general one cannot go home again after many years. Chrysler has still not learned that but today they have nothing except a Chrysler 300 , a mini van named Pacifica ( which was used previously too) and of course the Ram line up. But let's get back to business here.
The Super Bee was a cool car. Many buyers liked the front grille and the big stripe. They knew the power plant under the hood was going to deliver and overall knew what they were getting. The recent SuperBee cars are awful and hopefully they never see the sun again.
The problem with the old or original Super Bee cars is they never caught on with collectors. Road Runners have, Chargers, Super Birds, and so on but Super Bee cars just get passed over. Is it because everyone knows it really is no different than any other B body? Is it that many just are not around?
Well, if you want to be different than the status quo then find a Super Bee and restore it. Few ever show up at shows I attend. And when they do most people show no love to them. That is a shame because a B body car is still a B body car. The B body cars are bad ass.
I own one and I know from experience. Certainly I would love to see more of these out and about. Especially at most of today's car shows and cruises. They are all packed with the standards. Corvette, Camaro, Mustang, Charger, Road Runner, Chevelle's and a sprinkling of Nova's. Certainly parts would be available if you found a Bee and with some salesmanship you might be the only one at a car cruise with one. So, is it worth the trouble??? Yes said the wise old owl.
The Mopar cars of yesteryear were bad ass cars with a mean stance. They were loud, fast, and loved. So, the Super Bee does have a place in today's car world. We all need to pray to the hot rod Gods that Fiat does not bring back the name again on a four door family car in hopes that the name will draw again. Please.
For all muscle car parts – http://fastmusclecar.com/muscle-car-parts/
Donate To Fast Muscle Car
We spend a lot of time bringing you muscle car content. If you would like to donate something to help us keep going, that would be fantastic.