Muscle Cars
Muscle Car Talk: Make Friends With Your Neighbours.
By
|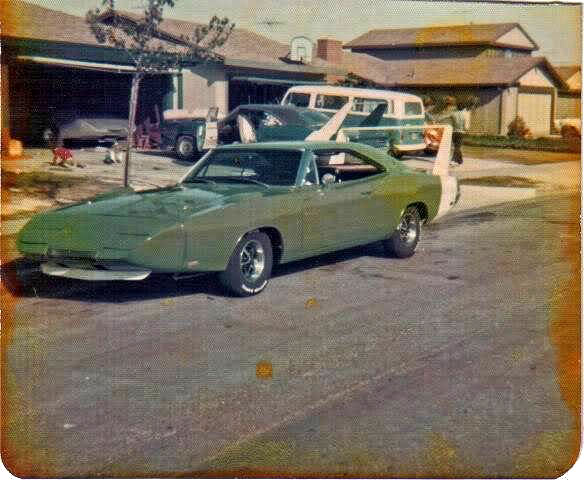 By Mark Weisseg
If you study this picture for a while you will see there is yet another Bird in the garage. One is cool enough but two wins the booby prize. Glance around the yard and driveway and you see a VW bus of all things, ma's car in the driveway, a bird in the garage and a bird on the street. My kind of people.
I lived in a neighbor with an HOA. Some poor soul down the street stacked four tires in front of his garage and another snobby neighbor turned them in. Said it was degrading the other houses and caused the values to decline. All a bunch of bs of course as there are other issues going around at that end of the neighborhood but the infighting had begun. So, any infraction gets reported. I mentioned to you my loyal followers I too was turned in last summer because some good for nothing neighbor down the street thought I was running a classic car flipping business.
The guy who had to investigate was a very nice guy and I showed him all my cars were licensed, had insurance and had proper tags. Case closed and the other neighbor looked stupid. It made me realize our next home was going to be on multiple acres with no prying neighbors with nothing better to do. In the meantime I keep things in order and desire no issues with anyone. However, without the HOA any neighbor can park a 35 foot boat on the front grass, or a motor home the size of Cleveland so overhaul I believe they are a good thing.
So, you need to decide what works for you and your fast muscle cars because let's face it. At times you gotta do some work on them and if the board rules are so strict to keep the housing values up you might have an issue.
Clearly some neighbors were not happy with this house in the picture. That is until they needed advice or help on there car and then all is forgotten. I landed up being good friends with the board members where I live and have no intention of breaking the rules but it does not take much to get the board of directors upset with you. I know this as the President of that association was so inspired by me buying and building a '49 Chevy truck, he bought a 39 Ford Truck. So, he stops and shoots the bull with me at times.
So, make sure you have understanding neighbours and explain your aspirations. It might be an issue and it might not be. But, do thy homework or be ready for unpleasant activities. some will love you, some will hate you, but at least you had the foresight to communicate with them and tell them what you were up to. The nice ones may even go for a ride with you, while the bad ones can only look on.
More Muscle Cars For Sale – http://fastmusclecar.com/muscle-car-for-sale/
Donate To Fast Muscle Car
We spend a lot of time bringing you muscle car content. If you would like to donate something to help us keep going, that would be fantastic.