Muscle Cars
The Hot Rod Javelin: Do They Ever Learn?
By
|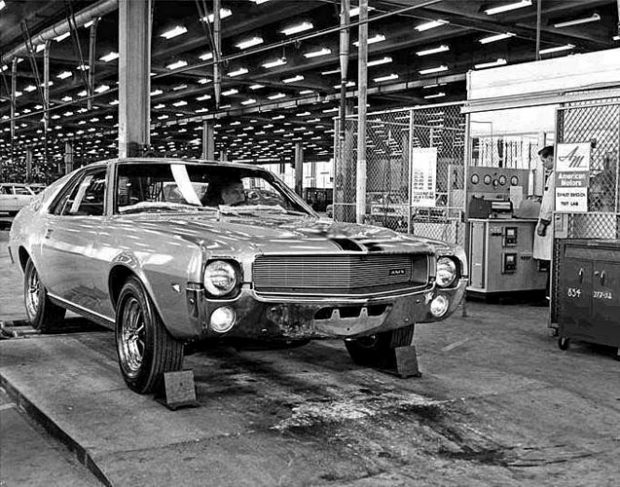 By Mark Weisseg
I know some of you giggled when you saw the title. The AMC Javelin wasn't the most hot rod of hot rods, but still a classic car.
I remember these great cars were stuck in a lousy company. That company was AMC. AMC was so desperate at one time they took on the Packard car line as well as the Studebaker car line up. Or you could say these two car companies begged AMC to keep them afloat.
Either way, Packard and Stude both were eventually gone. AMC struggled too. All they really had of any value was the Jeep line up and a few cars like this Javelin that could grab your attention.
The Javelin along with the AMC/AMX built these light weight cars with monster 390 engines. The AMX as it was known was the real fast one as it was much lighter than the Javelin. Then, AMC paints the AMX red, white, and blue and capitalized on the American pride. These cars were very fast and landed up on drag strips all over the country. The Javelin could also be a nice car for daily driving. It had all the creature comforts most drivers wanted and it had style.
The young guys are the ones that discovered the big engines and put them to use. Again, they were fast cars that had a small following but could certainly make other so called fast cars look rather foolish.
Then, as AMC teetered on bankruptcy the government stepped in to help them for a while and then Chrysler finally bought them out. What Chrysler really wanted was the successful Jeep line.
There were CJ Jeeps, Wagonners, Cherokees, and even a pick up truck. So, Chrysler saves them and shuts them down but puts the Jeep line under the Chrysler banner. Then, as we all know Daimler of Germany buys Chrysler for a while and eventually throws the towel in and Fiat takes a majority stake. I am sure there are tons of really well informed books out there for you to read this entire saga and I hope you do.
Now, today Fiat is looking for a dance partner. Why? Well, they spun off the Jeep business and the Ram truck business and up until the successful Hellcat engine stuff they were selling was sinking quickly. Even now with the success of the Challenger and Charger the only other good selling car is the Chrysler 300. FCA have now stopped making the Dart. That does not leave much to sell. Hence, they need a dance partner and soon or they might go away – again. So far none of the other auto companies have shown any public interest. The Jeep line and Ram trucks and vans are doing well but the cars are not doing so well. The worry is if FCA does not do something soon to shake up the car line up they will be in deep trouble. Yes, the cars with the Hellcat engine are doing well now but they all age quickly in the car business. So, stay tuned and keep an ear to the ground as this could get very interesting soon.
More Muscle Cars For Sale – http://fastmusclecar.com/muscle-car-for-sale/
Donate To Fast Muscle Car
We spend a lot of time bringing you muscle car content. If you would like to donate something to help us keep going, that would be fantastic.
The Hot Rod Javelin: Do They Ever Learn?

,