Car Girls
Muscle Car Talk: Should You Buy From The Top Auctions?
By
|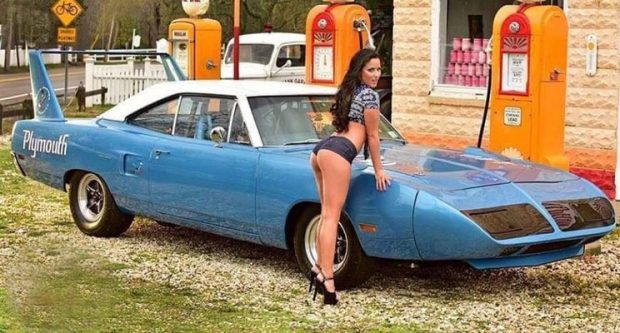 By Mark Weisseg
I was watching Barrett-Jackson over the weekend and saw the normal parade of rare cars.
At times I get bored or overly complacent with the never ending Corvettes, Camaros and Mustang parade. One after another. Ho hum. But, I noticed two Superbirds were coming on up on Saturday so I set the DVR just in case I fell asleep.
Well, the first rolls up and it's a white Hemi powered car and it has a reserve. Well, after much belly aching the mighty bird does not meet the reserve. Darn. But, later the second one rolls up and it too is a White Superbird and it is a Hemi as well. So, I drop what I was reading and paid attention. The bidding roars off quick but suddenly slows down. Then the reserve is lifted and now I am paying attention. Gong, it sells for 300k and I am shocked. I see Birds that are just simple 440 engines sell for 175-200k and they are advertised as rarer than rare. So, I assume a bird with a Hemi is going to be a minimum of 500k and could bring up to a million.
Chrysler did not make that many Hemi birds. Now, it was white and not Hemi Orange but still. A Hemi Superbird for a mere 300k? What's wrong? Was it because it was not the big auction in January?
Now 300k is still a lot of money but we all have seen these go for much more. Basically, I think someone got a great deal here. Maybe the auction house should have used a set up like in this picture. Instead, a bunch of people wandering around the stage in utter confusion. Who are all those people on the stage anyway? Did the Bird get the attention it should have had?
Buying a rarity…
It seems when a COPO or Yenko comes on stage it is a frenzy or a Shelby, I mean a real Shelby from the 1960's it seems like Steve Davis cannot let it go without saying his two cents through his sunglasses.
A rare Superbird rolls up with a even rarer Hemi and its treated like any other Plymouth. Maybe I am overreacting but I have gotten a bit bored with these auctions. At times it seems some of these cars travel auction to auction. The high bid was that rare L88 Corvette for 500k plus. We have seen this same guy before. Seems he buys all the rare Corvettes and then re sells them at a huge profit and everyone is in shock. Good for him but I am starting to become either numb or suspicious. The house was packed as it was the first time B-J came to the northeast. That is why you saw so many Porches there. But, the auction had to be a money success just some cars went cheaply. Is that because the bubble burst or smarter heads finally prevailed? I am not sure but when I see a Superbird Hemi sell for 300k I start scratching my pointy head.
I am going to Mecum in October to see for myself because there were so many commercials on at the time that we at home missed out on some great cars. They spent so much time promoting on TV and online that the auction at times was limited. Limited in that you would see two or three cars and then watch nine commercials. I know someone has to pay for all this hype but it seemed like something was off kilter here. Again, maybe it was me. I shall see for myself in a few months what's going on.
More Muscle Cars For Sale – http://fastmusclecar.com/muscle-car-for-sale/
Donate To Fast Muscle Car
We spend a lot of time bringing you muscle car content. If you would like to donate something to help us keep going, that would be fantastic.
Muscle Car Talk: Should You Buy From The Top Auctions?

,