Best Muscle Cars
Muscle Car Prices 2019
By
|
By Dave Ashton
Muscle cars, like any popular vehicle that has been around for a good few decades, have their up-and-down times with prices. The original muscle cars of the late 1960s and early 70's are now in some cases moving from the classic to the antique car category. Those vehicles that are over 45 years old and still command a tidy sum. These can also be classed as post-war era vehicles (1948–1972)
In this regard, we thought it would be a good idea to put together a basic overview of the most popular muscle cars and general values. This will include both old and new muscle cars, but don't take it as a be all and end all list. More to give a general guideline, so you know either how much your current classic is worth or is it worth buying into a certain vehicle.
General information
Buying into a classic muscle car can be done for a variety of reasons. The car you always longed for, an investment piece….many reasons. For any vehicle, there is a tick list of criteria which goes towards its ultimate value.
Condition and originality – the more original the parts, the better. From seating to engine elements, the more original, the higher the value.
Mileage – the lower, the better.
Age – not always a factor, but usually the older the better.
Rare options – base model cars fetch the least amount, while limited run vehicles with rare options fetch the most. Generally, it's the popular makes and models, with a bunch of rarely chosen options that fetch the most money.
Modern Muscle
When it comes to modern muscle cars, we're usually talking in the last 15 years or so. The four big contenders are the Chevrolet Camaro, Dodge Challenger, Dodge Charger and Ford Mustang. The Camaro has been in production since 1967, with only a break between 2002-2010. There have been limited edition Camaros over modern years, such as the Z/28.
The Dodge Challenger, which is probably the nearest tip to a classic muscle car, came back in 2008, with some collectors models along the way, such as anniversary editions. But, its the Dodge Challenger Demon with 808HP and only 3,300 units produced which is a current favorite. The Dodge Charger also came back in 2006, with a few limited edition models along the way.
The Ford Mustang has been the longest running pony/muscle car, with loads of options to choose from. Standout models include the GT350 and GT500.
As a brief overview, here are some examples to whet your appetite.
Chevrolet
2015 Chevrolet Camaro ZL1: Concours = $50,000, Fair = $25,000
2012 Chevrolet Camaro 45th Anniversary: Concours = $35,200, Fair = $12,100
Dodge
2011 Dodge Challenger SRT8 392 Inaugural Edition: Concours = $44,000, Fair = $17,600
2018 Dodge Challenger SRT Demon: Concours = $165,000, Fair = $100,000
2009 Dodge Charger Daytona R/T: Concours = $26,300, Fair = $10,700
2009 Dodge Charger SRT-8 Super Bee: Concours = $38,000, Fair = $14,200
Ford
2013 Ford Mustang Boss 302 Laguna Seca: Concours = $50,000, Fair = $29,900
2014 Ford Mustang Cobra Jet: Concours = $100,000, Fair = $45,000
2014 Ford Mustang Shelby GT500 Super Snake: Concours = $90,000, Fair = $50,000
Pricing guides
The links below should provide you with good variety of resources for finding car values, models and basic specs. of each vehicle. In no particular order, as some resources present the information better than others.
The National Automobile Dealers Association have appraisal guides for many vehicles. Free and easy to search.
Haggerty have a great valuation tool with different conditional prices, historic values and an overview of each vehicle.
Hemmings have a nice array of data, based on recent sales from the previous three years.
There are also classified ads. and guides on the website for further information.
The Historic Automobile Group International have their HAGI Index for tracking investment values.
The Collector Car Market Review tracks the value and prices of classic cars with an extensive database, featuring loads of information.
As for the information below, we searched Haggerty for the information. The site doesn't just give high and low prices, but also historical data, amongst other things and a basic overview description of each vehicle. If the vehicles you are interested in is not in the limited selection below, check out Hagerty's evaluation tool directly to find a specific make and model.
Classic muscle car prices
When it comes to classic muscle cars, those of the late 60s and early 70s, there's simply loads to choose from. There were far more models back in the day and in some cases, it only took a few ticks of the option list to end up with a bona fide rarity.
As a basic list of the most popular muscle car makes back in the day, these include – AMC, Buick, Chevrolet, Dodge, Ford, Mercury, Oldsmobile, Plymouth, Pontiac and Shelby.
As for the top prices paid for vintage muscle cars, the top of the heap goes to a 1962 Shelby Cobra CSX2000 for a cool $13.75 million. Second, a 1967 Chevrolet Corvette L88 two-door coupe for $3.85 million. Third, a 1971 Plymouth Hemi Cuda convertible four-speed, in Hemi orange auctioned for $3.5 million. Lastly, in 1967 Corvette convertible L88 sold at auction for $3.2 million. Then again, you can pick up a good condition 1970 Dodge Challenger R/T for mid $45,000.
Below are a few examples of classic muscle cars to give an idea of the range of prices. There should be a make and model out there for everybody's pocket if you shop around.
1969 American Motors AMX SS
Concours = $118,000, Fair = $48,900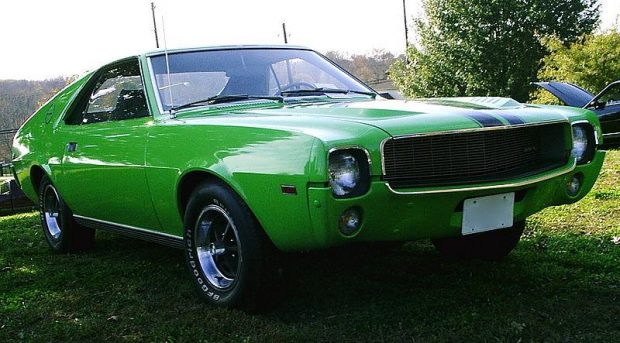 A healthy two-door fastback with a 390ci./340hp 4bbl V8 engine.
1969 Buick GS 400
Concours = $67,700, Fair = $25,300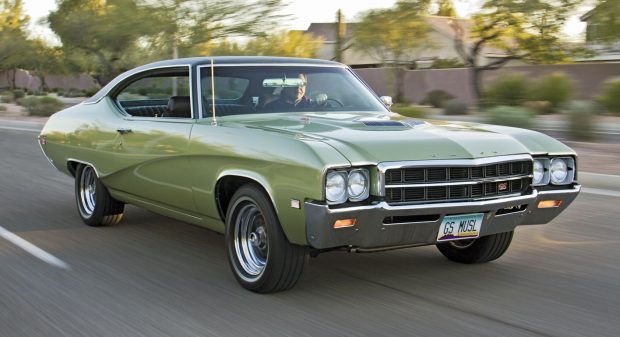 Based on the Skylark custom, the Buick GS has reasonable muscle car specs. A 350-ci. V8 with 4-barrel and 280 horsepower.
1970 Buick GSX Stage I
Concours = $194,000, Fair = $93,500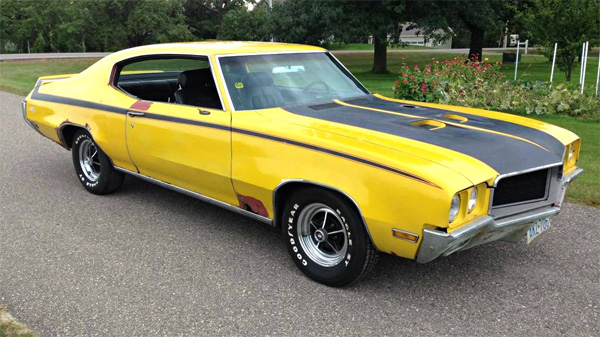 455ci/360hp V8 and a healthy amount of torque. Only 400 were produced, making this a definite collector's item.
1970 Chevrolet Chevelle SS 454
Concours = $134,000, Fair = $46,200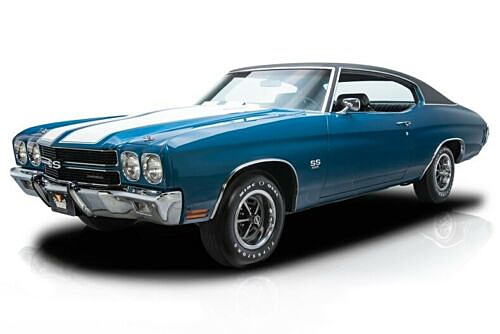 Featuring a LS6 454ci. V8 and 450 horsepower, the 1970's Chevelle SS hit the peak of the muscle car era. In many ways you can't go wrong with any year of Chevelle if you want a classic muscle car.
1969 Chevrolet Nova Yenko
Concours = $480,000, Fair = $253,000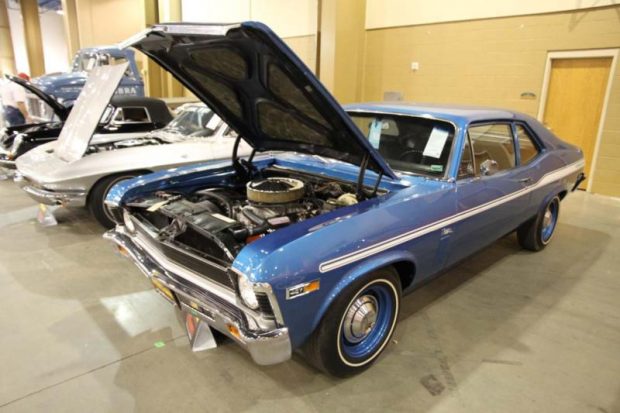 Yenko Chevrolets basically stuffed the best performance parts onto a vehicle to make the most potent cars of the time. Very few were produced, which makes them surefire rarities. The Nova version had a 427ci./425hp 4bbl L72 V8 engine with only 38 produced.
1970 Dodge Challenger R/T
Concours = $236,000, Fair = $97,500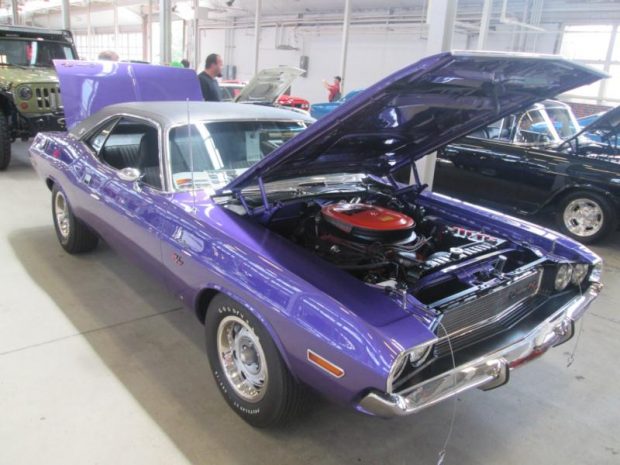 Sporting a healthy 440ci./390hp 3x2bbl V8 with the top of the tree, a 455 bhp 426 ci. Hemi V8. The Dodge Challenger came in many different variations, with many different options. If you're not too bothered about complete originality, then you can pick up a 1970's Challenger for the mid $45,000 mark.
1969 Ford Mustang Mach 1
Concours = $130,000, Fair = $47,200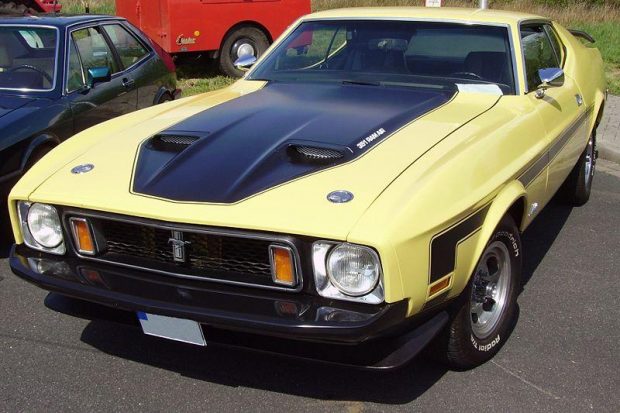 Ford being Ford, there are literally loads of different models and combinations over the years. Variations of the Mustang are the most popular, with the Mach 1 being one of many. At the top the Mach 1 had a 428ci./360hp 4bbl Super Cobra Jet V8 and although not the most classic shape of Mustang, still very valuable.
1968 Mercury Cougar GT-E
Concours = $151,000, Fair = $82,200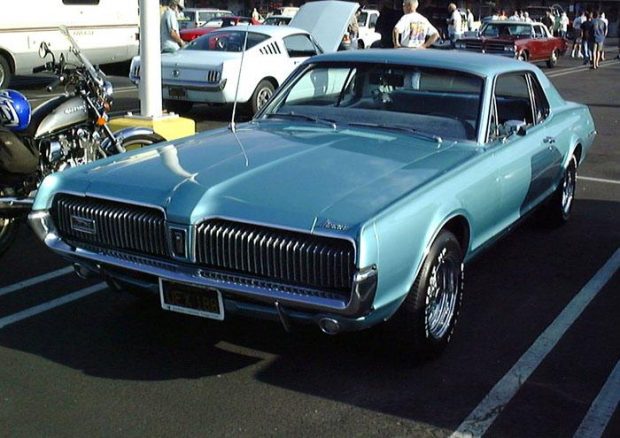 The Cougar had at the top a 428ci./335hp 4bbl V8, which had only 357 examples produced. Maybe not the most popular of muscle cars, but every bit as worthy.
1969 Oldsmobile 442 W-30
Concours = $99,500, Fair = $30,800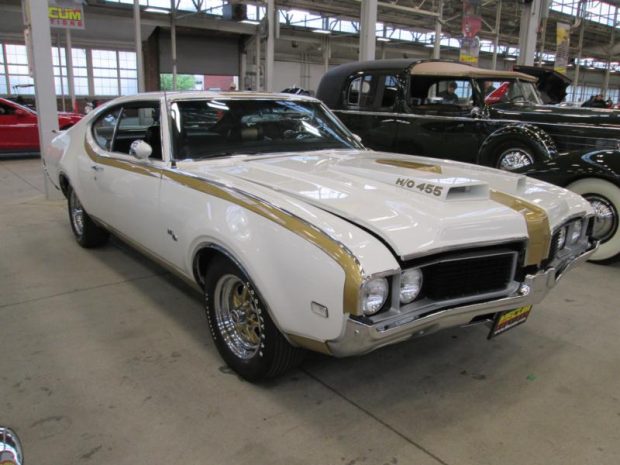 A 400ci./360hp 4bbl V8, the 442 W30 was the hotter version of the 442, which also included the W-31 and W-32 options, which had only 300 examples built. Classic muscle car looks and features.
1970 Plymouth Cuda AAR
Concours = $110,000, Fair = $42,000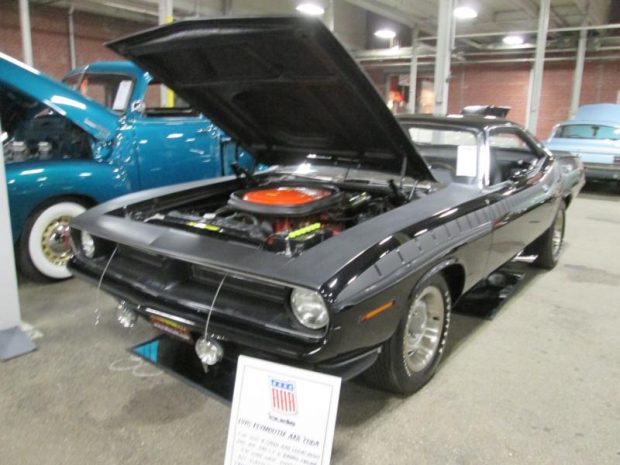 Sharing the same E body underpinnings of the Dodge Challenger, the Plymouth Barracuda is another standout vehicles from the muscle car era. The AAR had a 340ci./290hp 3x2bbl Six Pack V8 with 2,724 AAR Cudas being produced.
Hopefully this abbreviated list of muscle cars and their rough prices will give you an idea how some of the more rare models fair in the market.
Donate To Fast Muscle Car
We spend a lot of time bringing you muscle car content. If you would like to donate something to help us keep going, that would be fantastic.