Best Muscle Cars
Muscle Car News Roundup: Chevy, Dodge and Ford
By
|
By Dave Ashton
Instead of pumping out individual snippets of news, we thought wouldn't it be far more convenient to produce a muscle car news roundup each week. Hopefully, it will save you time trawling through individual news stories and provide links to further reading if you want to follow up the stories further.
So, without further ado, let's see what the muscle car world is spitting out this week.
Chevrolet

The 2020 Chevrolet Corvette is the big news from the bowtie company, finally rolling out their sports turned super car offering to the masses. The cars are being produced at the General Motors plant in Bowling Green, Kentucky, after some delays put down to the United Auto Workers strike. The first model being sold at auction recently for $3 million.
This eighth generation C8 has been completely redesigned, now moving to a mid-engined format, mostly to take on those other super car types like Lamborghini and Ferrari, but with a heavy Americana influence and more affordable price point.
A mid-engined 'Vette has been on the cards for a long time, now promising better weight distribution, traction and handling, with a 6.2-liter V8 starting at 495HP, with a top speed of 194 mph and a 0-60 time of 2.9 seconds. It's also going to be automatic transmission only, with other features like a retractable hardtop. Prices are expected to start at $59,995.
Dodge
Dodge have already crow barred the potent Hellcat engine into the Grand Cherokee TrackHawk SUV, so why not add one to the Durango this time around? You can just about catch the Durango fender and Hellcat logo at the 17 second mark, found in the 'Fast 9' trailer below.
This supercharged Durango will have lots of similarities to the Jeep Grand Cherokee Trackhawk when it comes to performance, mostly in the form of the supercharged 6.2L V8 producing 707HP, with help from the 2.3-liter supercharger producing 11.6 pounds of boost. All of this flowing through a 8-speed automatic transmission.
Expect 0 to 60 mph in 3.5 seconds, a quarter mile time of 11.6 seconds and a top speed of 180 mph. Upgrades should also include 15.8-inch front and 13.8-inch rear Brembo brakes, five drive modes and a possible towing capacity of 7,200 pounds. Most likely to be launched at the 2020 New York Auto Show.
A Charger Redeye?
The keen eyed people over at Moparinsider.com spotted the below Facebook post from Dodge, implying that a Charger SRT Hellcat Redeye could be the next big thing. However, the sponsored ad. was soon taken down, leading to lots of speculation.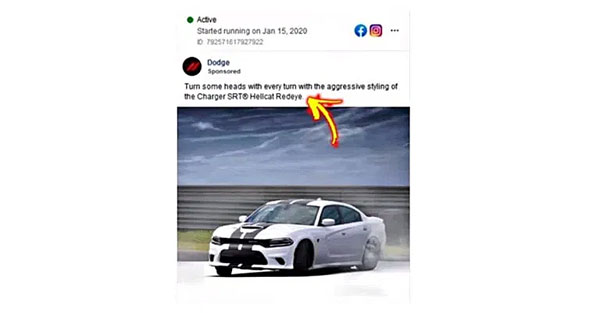 Apparently, a Charger SRT Hellcat Redeye project is still on the cards and further news may appear this summer. But, it leaves the question of if this was a very clever marketing stunt or just simply a mistake. Time will tell if this becomes a reality.
Ford
Ford for some reason, now see the upcoming Mustang Mach-E as a type of picnic hamper, according to the guys over at Motor1.com. Slapping a Mustang badge on a SUV is one thing, but implying that the Mustang Mach-E Frunk could make a ideal food outlet is weird to say the least.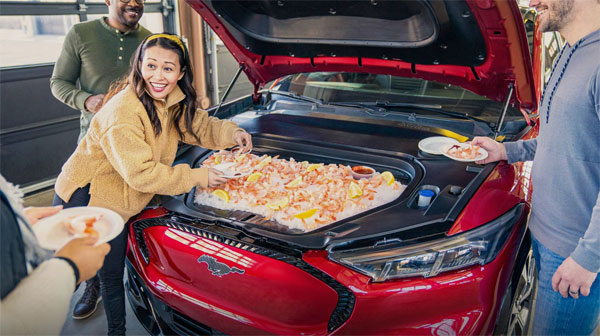 Okay, we may be taking this a little bit too seriously, as this electric SUV is aimed at being a more lifestyle vehicle and may even turn out to be a great performer in reality.
However, it's not a new model with a new name. It has the Mustang logo and name, presumably to bring to the modern day the essence of the Mustang's history. That should be more about performance and pony car ethics, especially with 'Mach' in the name. If this is the route forward, then maybe the new GT500 should show a spit roast steer been served from its trunk from a dragstrip – run a fast quarter-mile time, then serve the stands food as a nice little sideline business.
Therefore, show the performance levels of the Mustang Mach-E, along with its SUV convenience. The names Mustang and Mach-E don't exactly bring up thoughts of food trucks, unless your a Mopar person…
Donate To Fast Muscle Car
We spend a lot of time bringing you muscle car content. If you would like to donate something to help us keep going, that would be fantastic.